'Bachchan is thoroughly enjoying himself.'
Viveat Susan Pinto reports.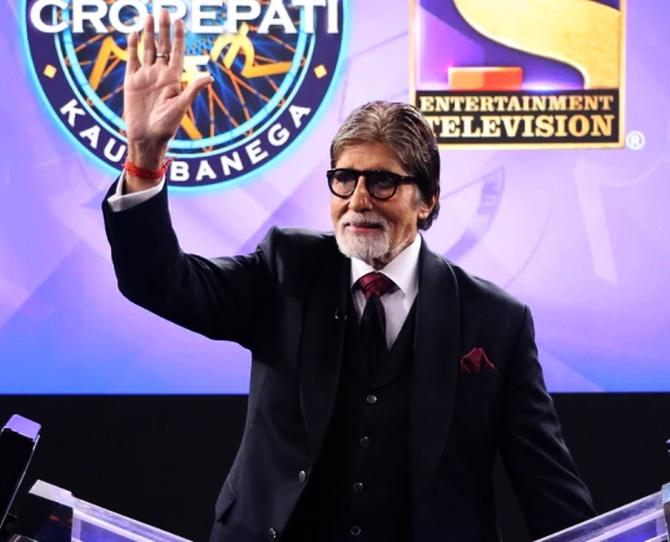 A cook, a civil services aspirant and a railway engineer, all have one thing in common: They are all crorepatis, their names are up on the honour roll of the popular game show, hosted by Amitabh Bachchan.
Kaun Banega Crorepati, the show modeled on the British show Who Wants to be a Millionaire?, is into its 11th season, but unlike last year, when viewership dropped sharply, this year has seen the programme push broadcaster Sony Entertainment Television into the leading position in urban markets.
KBC 11 has also figured consistently in the top five shows within Hindi general entertainment this year, competing with reality shows such as Bigg Boss on Colors and Nach Baliye on Star Plus as per the audience measurement agency BARC.
So what has clicked for KBC, whose host, his 'computerji' and 'hotseat', have remained unchanged through the years?
For one, Sony appears to have learnt from its past mistakes, say media planners and buyers, who negotiate advertising deals on behalf of clients on the show.
"The engagement levels are high," says Anita Nayyar, chief executive officer, India and Southeast Asia, Havas Media group.
"There is a clear attempt to push as many people through the door and into the hot seat, so this gives the show a steady pace and gets viewers to stick on. At the same time, people sitting at home can play along using the Sonyliv app. All this works," she says.
The programming team at Sony has also taken the show to more cities, getting diverse contestants, including blue-collared and white-collared executives, students, teachers, doctors and stay-at-home moms.
Episodes this year, for instance, have featured a diverse set of people -- a hoardings painter from Latur, a crane operator from Kharagpur, an electrician from Gurugram and a cancer patient from Uttar Pradesh.
"The number of questions per episode have almost doubled in the last three years," says Danish Khan, business head, Sony. "It was 10 to 12 questions per episode earlier, which has now gone up to 20 questions. More questions mean more right answers and more money to be won," he says.
Apart from the three crorepatis, at least four contestants have won Rs 50 lakh each and at least 10 participants have taken home Rs 25 lakh each in the last three months, say media industry sources.
While questions get tougher with each level, the makers of KBC have also ensured there is an element of immediacy in the list.
"The rigour and random nature of questions remains. That is something we haven't touched. Questions are designed by Siddharth Basu (KBC's consultant) and his team of people. But our observation is that participants are far more aware of things around them than they were a few years ago," says Khan.
"This is the power of knowledge. Also, the digital and media explosion in the country has given people greater access to information, which gives them the courage to try out game shows such as KBC," Khan adds.
A KBC participant has to cross five levels before getting into the hotseat. This includes stepping over a few hurdles, before getting to sit across Bachchan, in a section called 'fastest finger first' on the show.
Out of 10 contestants who make it to this segment every week, at least six land up on the hotseat, indicating the competitive nature of the show and their desire to excel.
Viewers are also allowed a glimpse of the lives of the final participants through a film that tells their story and also through Bachchan's conversations with them.
"Bachchan is thoroughly enjoying himself," says Nayyar. "The way he conducts himself on the show and handles delicate aspects of the contestant's life is commendable."
"I think it is also a humbling experience for him because he is meeting people from impoverished backgrounds who have simple dreams and aspirations," Nayyar adds.
"He's also pushing them to answer questions, asking them to use their lifelines carefully. That keeps the game show going."
In the last three months, the advertiser count on KBC has increased, with names such as Oppo Reno, Kit Kat, IDFC First Bank, LIC, Asian Paints and Ultratech sponsoring the show.
Khan says KBC is a profitable venture for Sony and that the broadcaster will continue to tweak it.