'I was confident that I would win at least win Rs 50 lakh to 1 crore.'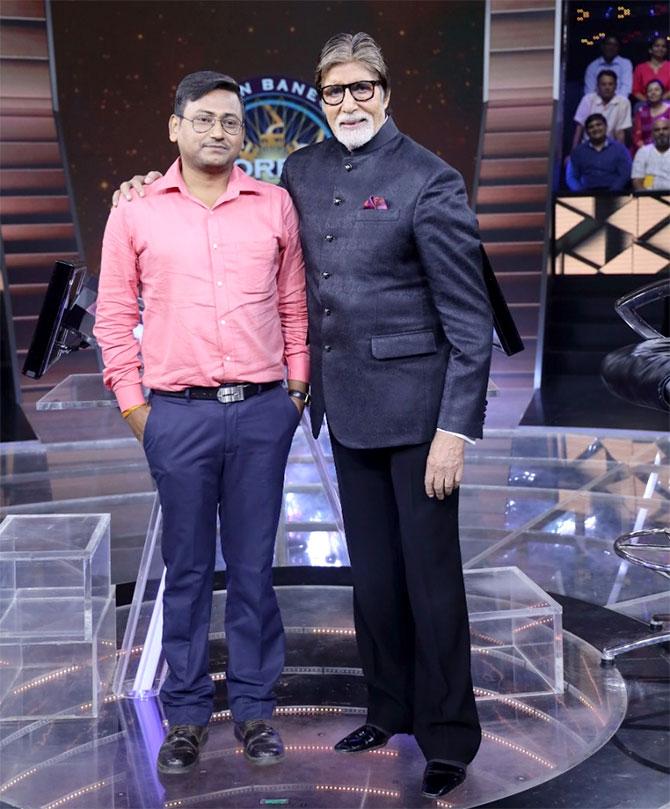 Gautam Kumar Jha becomes the third contestant to win Rs 1 crore/Rs 10 million on the 11th season of Kaun Banega Crorepati.
A senior section engineer with the Indian Railways, Gautam credits his wife for his big win.
He is currently posted in Adra, West Bengal, and has a master's degree in engineering from Dhanbad. He used to work in a bank before he joined the Railways.
"I didn't know all my dreams will come true on KBC," Gautam tells Rediff.com Contributor Rajul Hegde.
You have credited your wife for your win.
My wife told me to make use of the knowledge I acquired while giving the UPSC exams.
I was not sure if luck would favour me even after I registered for KBC, but she constantly pushed me.
It was her dream to appear on KBC and she fulfilled it through me.
I would say she was the driving force for me.
My dedication made me win Rs 1 crore.
Tell us about your KBC experience.
The entire process -- from the registration to the hot seat -- is tough, although it sounds easy.
It's not easy answering the questions, sitting on the hot seat because there is performance pressure.
Also, a big celebrity like Mr Amitabh Bachchan is sitting opposite you.
Even the easiest question seems tough.
So it feels good when you answer 15 questions out of 16.
Did you expect to win Rs 1 crore?
I was very excited when I topped the Fastest Finger First.
I was well prepared and confident that I would win at least win Rs 50 lakh to 1 crore, as the Rs 7 crore question is always tough and you cannot prepare for that.
I believe if you read more than your syllabus during school or college days, you will retain a lot. That will help you at times like this.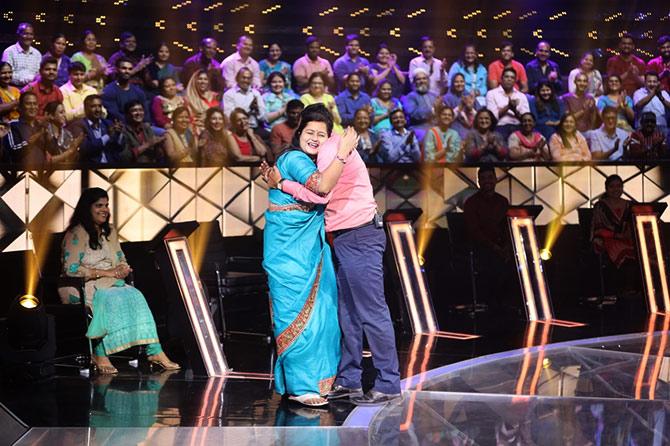 What was it like sitting with Mr Bachchan and playing the game?
What can I say about Mr Bachchan?
Jo bhi bolega woh kum hai.
He is better than what we have seen on TV.
I cannot forget the moment when he shook my hand and made me sit on the hot seat.
He is so modest.
He keeps motivating you with his pep talk during the breaks and that helped me win the money.
He is so knowledgeable, down to earth and the perfect example of a successful man.
Do you regret missing out the last question?
(The Rs 7 crore question was: What was the name of the three soccer clubs set up with Mohandas Karamchand Gandhi's help in the early 20th century at Durban, Pretoria and Johannesburg?)
No. Whatever I have achieved is through merit, so I am satisfied.
The journey is more important than the money.
What kind of reception did you get from your family and friends?
Everyone is very happy!
I am getting calls from all over India.
Some people are making their children and spouses speak to me.
I heard there were some screenings in a few place in my village.
After the promos, people are familiar with my face, so they ask for pictures.
How will you spend the winning amount?
We are planning to buy a house in Patna.
My wife's dream is to help four or five poor students in her village every year. I want to support her in this.