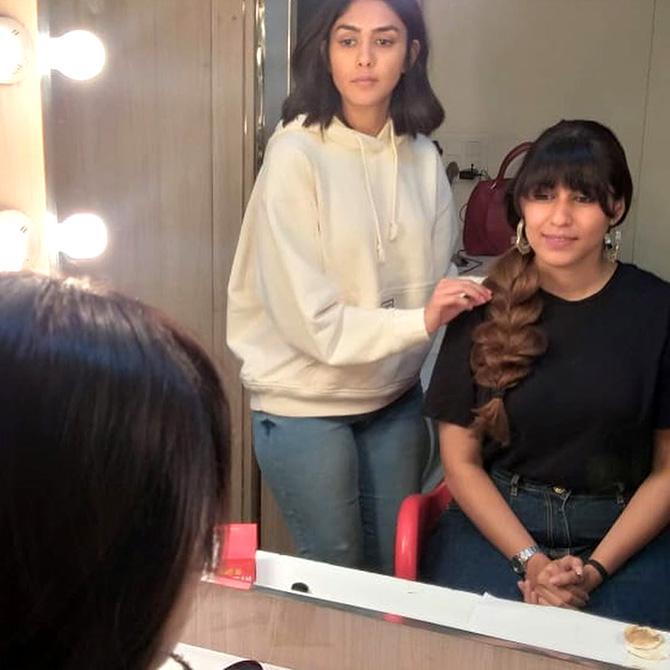 Bollywood actors are staying busy.
Some have cultivated new hobbies, some are learning new things.
Anushka Sharma cuts husband Virat Kohli's hair.
Inspired by that, Mrunal Thakur posts a video where she trying different hairstyles on her sister Lochan.
'I believe every person is born with a talent, some with many. While I have always loved acting, I have a secret passion of my own -- hair styling.'
'I make sure to spend every spare moment either styling my sister's hair or learning new techniques. The best way for me to keep myself motivated is to learn something new every day.'
'From dreamy hairstyles to men's haircuts (thanks @anushkasharma for the inspiration) I only get better by the day!'
'Thank you to my lovely talented entourage @lakshsingh_hair, @nishisingh_muah, @kimberlychu93 @missblender and @mallikajolly who keep my hair sane on set and inspire me to work towards getting better. And a special thank you for my beautiful @missblender for being my forever model and @aashianahluwalia for being my forever photographer.'
Her Super 30 co-star, Hrithik Roshan posted a video 'Inspired by the 21 day learning challenge by Vedantu (and my little pianists at home).'
'So I'm on mission piano.'
'Ps: Great for activating both sides of the brain by the way.'
'Great initiative by Vedantu to spread the word on growth and learning.'
Adah Sharma also refreshes her knowledge of the piano.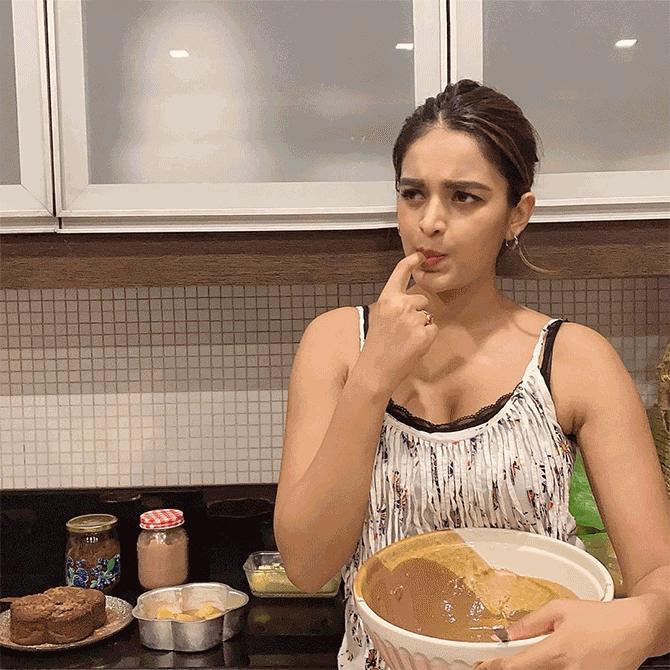 Nidhhi Agerwal baked a cake for the first time.
'Baked a cake for the first time of course with the expert guidance of @tanveagerwal.'
'1. Check whether the batter tastes good because we used maple syrup instead of sugar.'
'2. Wait for light bulbs to cook the cake.'
'3. Some coco powder seasoning.'
'4. Satisfaction.'
'Oh, and we baked the second one too.. with fresh orange... let's see how that tastes.'