Bollywood is doing all it can to keep busy during the national lockdown.
Daisy Shah tells us about her schedule here while Lata Mangeshkar is taking every measure to keep herself safe.
Here's what other film folk are doing: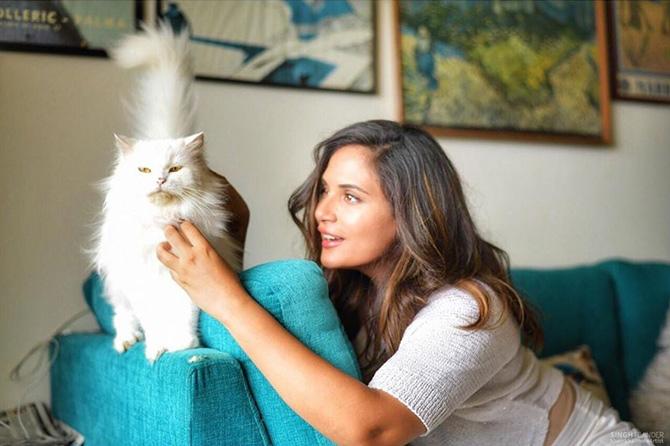 Richa Chadha gives some words of wisdom: 'A close friend today messaged me saying that he feels guilty for having a comfortable life when there are so many who are suffering, walking home without money or food or medicines...
'I told him I felt like that till yesterday. But not anymore...guilt, sadness will lower our immunity! जान है तो जहान है! You may be reading news about crores of rupees donated and perhaps feeling inadequate or overwhelmed...
'Each of us must do what we can in whatever way we can. Can you support one family through this time? Can you support one person?
'We also must use this time to think about modern life, and it's excesses! Do we really need to consume as much as we do? Do we need so many clothes, appliances, friends, things?
'Right now life is simple. Clean, cook, eat, read, repeat.
'I am going to use my time positively, in helping other humans out and spreading joy and love at home...
'Spending time with my family as much as I can virtually and my pets. And PRAYING! I AM PRAYING FOR ALL OF YOU TOO.'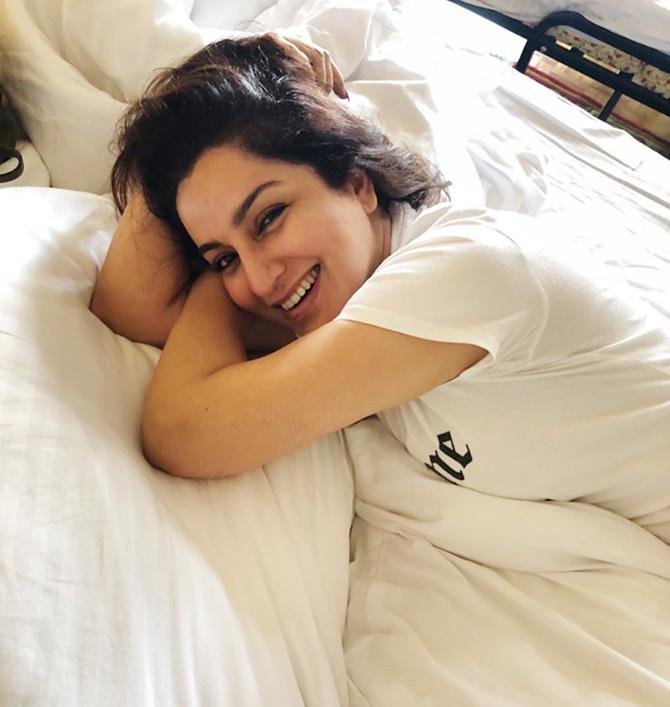 Tisca Chopra is upset by the 'news about the treatment of migrant workers'.
'Such little value for human life in our country,' she writes, adding: 'I am told that quarantine is making everyone eat more.. stress eating, I think .. I have gained two kgs in the past week.
'What can one expect, staying home and heading to the fridge for distraction?!
'So have cut down carbs for the night and have decided to intensify exercise and weigh myself everyday .. also back to intermittent fasting of 14-15 hours from tomorrow.
'I hate being overweight and sluggish. Was a plump child, so gaining weight makes me feel terrible .. I deep cleaned the house today .. my question still is, how I can see dust when everyone else can't?
'Watched the rest of the brilliant satirical Irani film 'Taxi' by Mr @jafar.panahi .. have become a huge fan of his work..
'Food was simple today, some kurkuri bhindi, methi aloo, moong daal and jowar rotis.. What did you guys do to give meaning to your day?'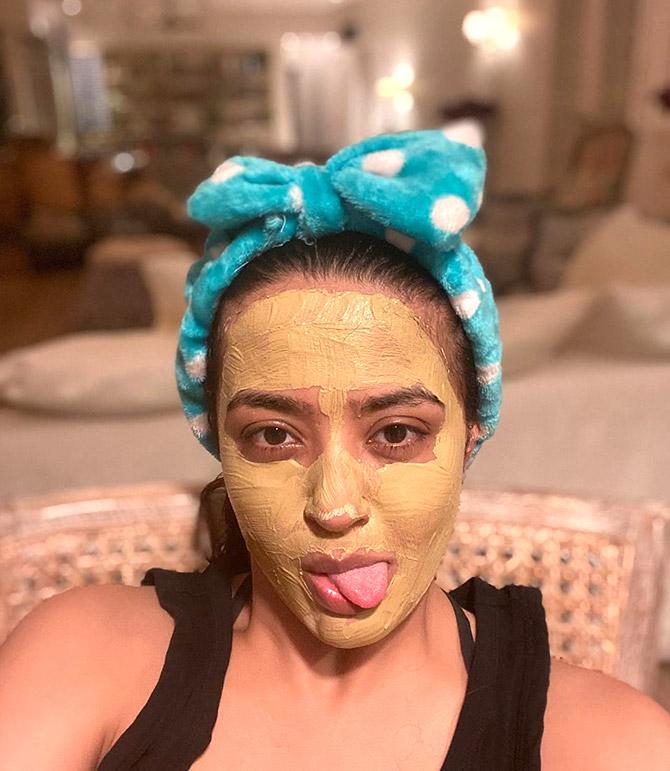 Surveen Chawla tries on some beauty treatment.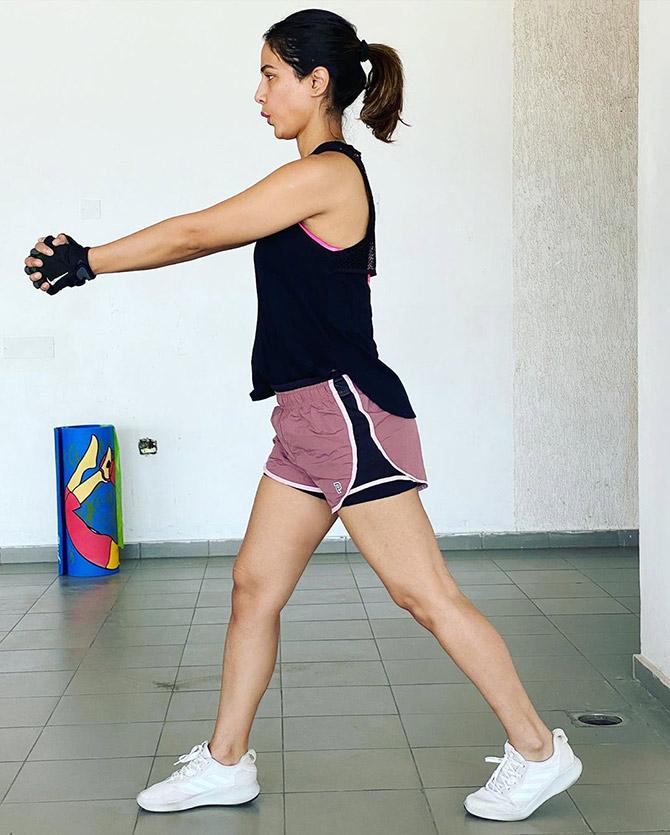 Hina Khan makes sure she works out.
Shraddha Kapoor works out on her terrace:
Shruti Haasan is getting better at the hula hoop: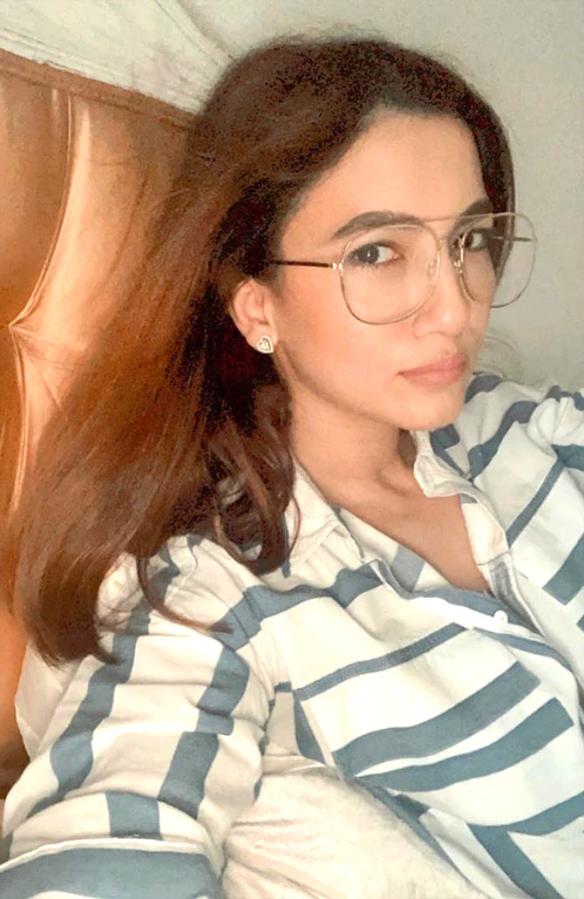 Gauahar Khan suggests, 'Dress up !!! Everyday! Don't be lethargic!! Trust me it uplifts ones spirit.. makes u feel like it's a normal day .. works for me ! Im adding the Chamma on too !!! Hahahah lots of love ! we are gonna be amazing!'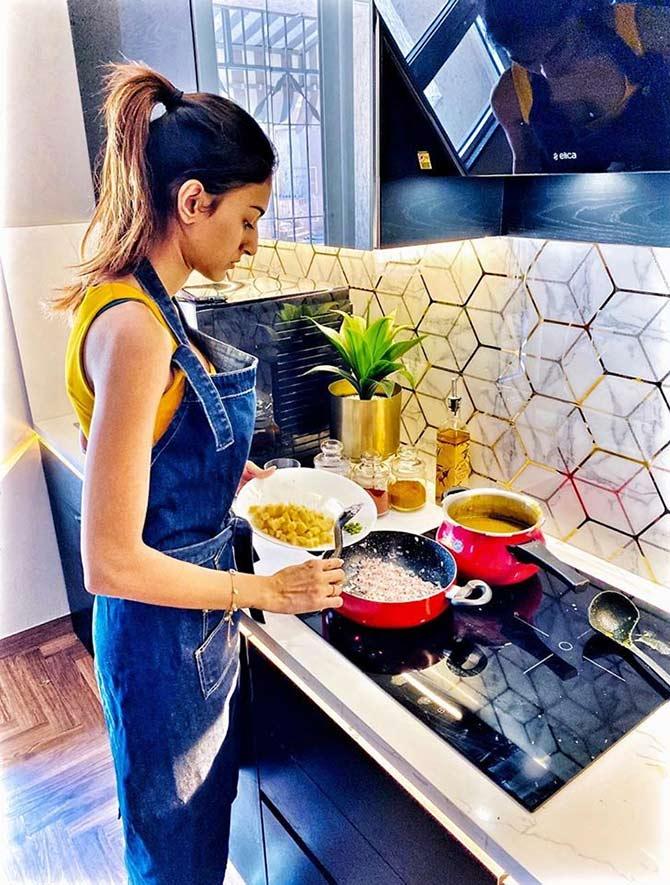 Erica Fernandes cooks with 'love'.
Ameesha Patel puts her feet up and enjoys a good read.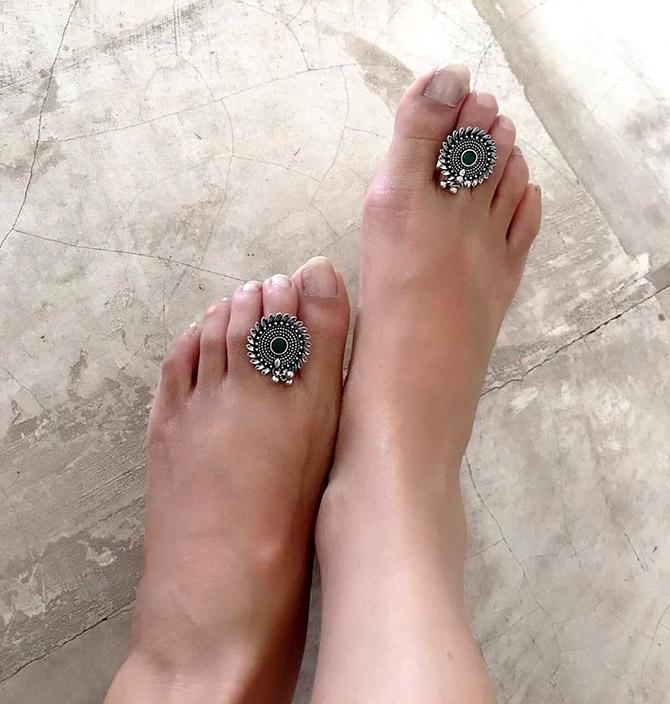 Shefali Shah is busy cleaning her house and stumbles upon something pretty: 'One good thing that comes out of cleaning and sorting your cupboards is finding small surprises you had gifted to yourself.'
Zareen Khan is cleaning her home too.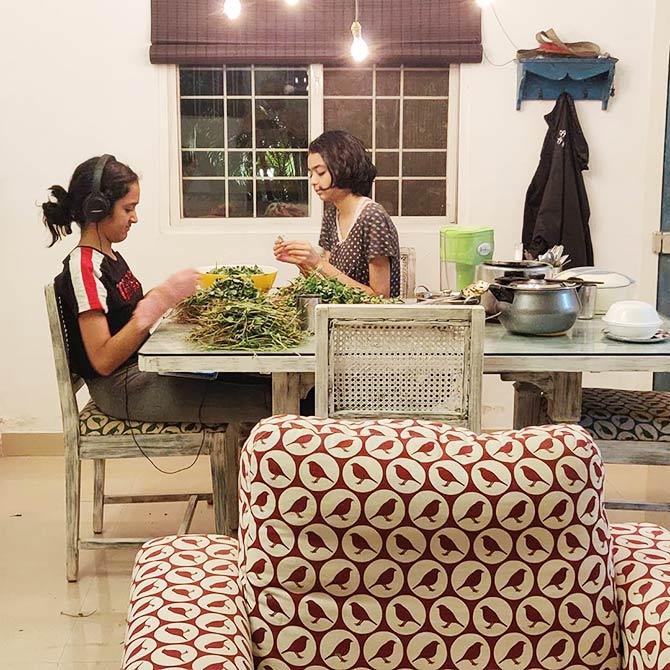 Hansal Mehta keeps his daughter Kimaya and her friend busy and writes, 'Girls picking methi which is available in abundance here. Thepla, aloo methi done. Will try new things with methi this week! Besides Thepla ofcourse...'
Sophie Choudry sings to entertain her fans!
Karanvir Bohra plays with his kids: