Akshay Kumar easily juggles genres but it's his comic chops that leave us in splits most regularly. No wonder, in the last couple of decades, he's aimed for the funny bone the most. (Does better half Twinkle Khanna agree?)
Even when the humour itself is appalling, Akshay seldom disappoints.
In the upcoming Housefull 3 -- where writer duo Sajid-Farhad takes the reins from the franchise's original director, Sajid Khan -- the 48-year-old returns to the world of slapstick alongside Abhishek Bachchan, Ritesh Deshmukh, Boman Irani, Jacqueline Fernandez, Nargis Fakhri and Lisa Haydon.
While the foolhardy promos are ample indication of what to expect this Friday, here is your chance to vote for Akshay's funniest work.
Khiladi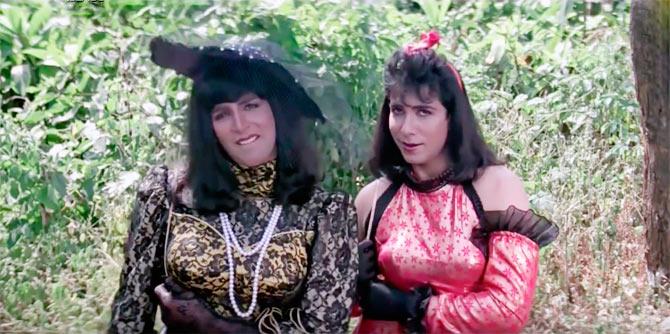 IMAGE: Akshay Kumar, Deepak Tijori in Khiladi.
The 1992 Abbas-Mustan masala alternates between campus romance and nail-biting suspense, with big chunks of comedy to keep the balance.
Regarded as his first significant success, one can catch early glimpses of Akshay's all-rounder appeal as he engages in all sorts of masti and masquerades.
Mr And Mrs Khiladi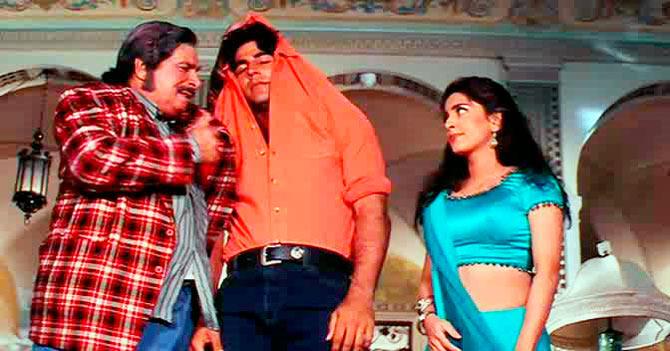 IMAGE: Kader Khan, Akshay Kumar and Juhi Chawla in Mr And Mrs Khiladi.
The Khiladi title cemented Akki's reputation as action hero.
Except in David Dhawan's Mr And Mrs Khiladi, his complete lack of inhibition and flair for lazy goofball parts around comedy specialists Juhi Chawla and Kader Khan proved there's more to him than just dishoom-dishoom.
Hera Pheri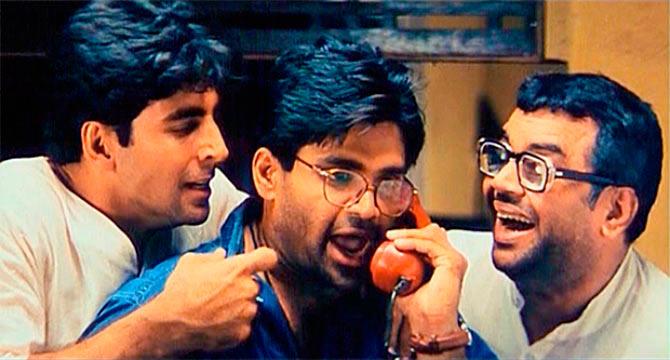 IMAGE: Akshay Kumar, Suneil Shetty and Paresh Rawal in Hera Pheri.
As the cocky and roguish Raju in Priyadarshan's Hera Pheri, Akshay sheds any leftover trace of stiffness to reveal flawless comic timing and conviction.
He's especially good when he's bickering around a superlative Paresh Rawal or getting the better of the relatively restrained Suniel Shetty over rent and ransom in this hilarious remake of the Malayalam comedy, Ramji Rao Speaking.
Garam Masala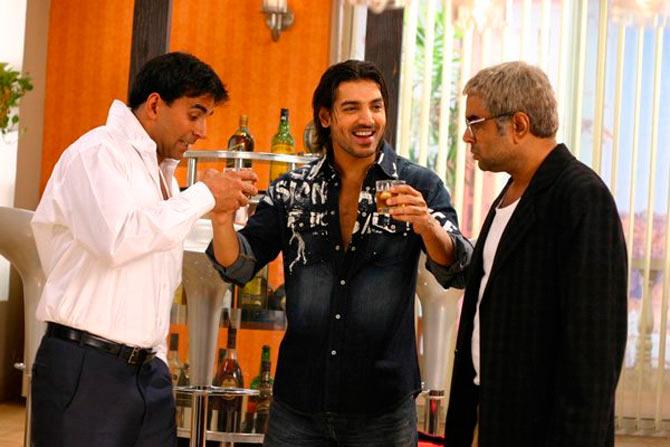 IMAGE: Akshay Kumar, John Abraham, Paresh Rawal in Garam Masala.

Not all their collaborations set the box office aflame, but working with Priyadarshan visibly honed Akshay's comic potential.
Like the breezy Garam Masala in which, as our review rightly points out, 'Akshay Kumar rocks the film. In a commandingly restrained performance, the actor shows off topnotch comic timing to hilarious effect. Balancing subtle shifts of tone with wildly over-the-top slapstick, he manages to always get a laugh even when the script falters.'
Tashan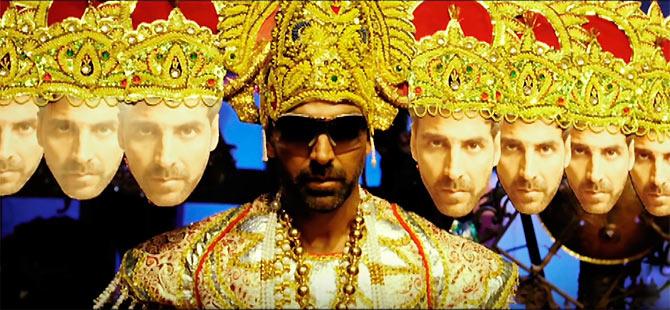 IMAGE: Akshay Kumar in Tashan.
Akshay Kumar's goofy charisma steals the show no sooner than he storms into the frame as a 10-headed Ravan riding an Enfield.
Even though he shows up close to the interval in the con caper co-starring Saif Ali Khan and Kareena Kapoor, his rambunctious Bachchan Pandey is the real sauce and spunk of Tashan.
Read the reviews here: Raja Sen /Sukanya Verma
Mujhse Shaadi Karogi
IMAGE: Priyanka Chopra, Akshay Kumar, Salman Khan in Mujhse Shaadi Karogi.
Akshay Kumar shows he knows more than a thing or two about playing the devious scoundrel making life hell for Salman Khan in David Dhawan's version of live-action Tom & Jerry.
Their combined chemistry turns this game of one-upmanship into a real riot.
Jaan-E-Mann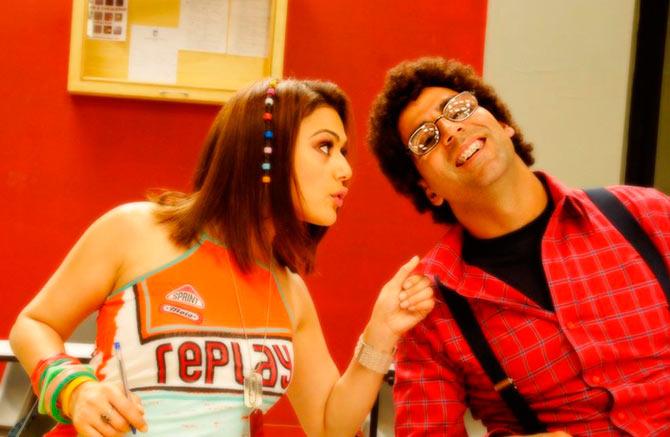 IMAGE: Preity Zinta and Akshay Kumar in Jaan-E-Mann.
Roles reverse, as Akshay looks up to Salman for support to woo the girl they both fancy in the underrated Jaan-E-Mann.
As the socially awkward scientist, Akshay portrays a fun blend of bashful and silly even if it's his curly-haired dork wearing a purple suit in the script's flashback segment that raises obvious laughs.
Welcome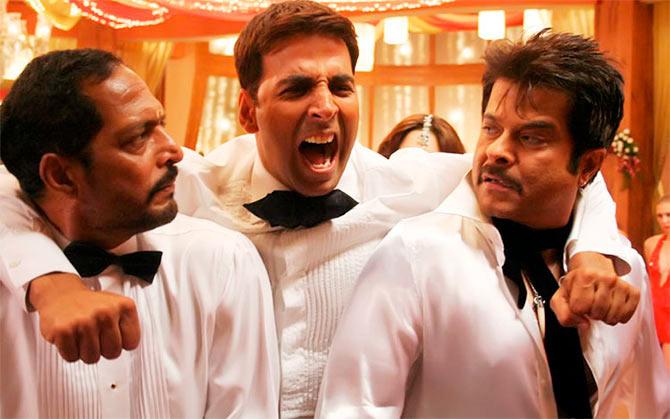 IMAGE: Nana Patekar, Akshay Kumar, Anil Kapoor in Welcome.
In Anees Bazmee's loony comedy of chaos, Anil Kapoor and Nana Patekar walk away with the best laughs at Akshay's expense. Only, instead of playing it boringly straight, the latter relishes his mousy vibe, one so delightfully at odds with his macho persona.
To truly understand his contribution to Welcome, watch the sequel.
Om Shanti Om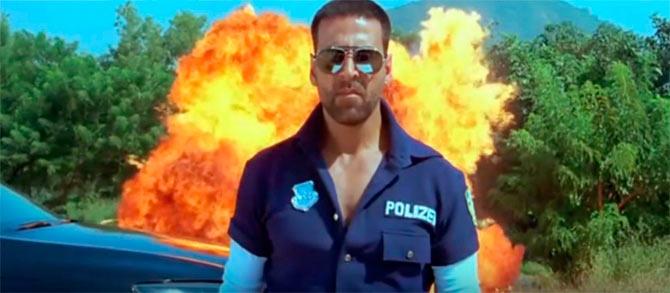 IMAGE: Akshay Kumar in Om Shanti Om
So it's only a cameo but isn't Akki a scream, pelvic-thrusting to dancing bullets in a wild movie-within-movie scenario in Om Shanti Om?
Even though we've learned the entire sequence is ripped off a Swedish flick called Kopps, the poker-faced drollery of the star helps overlook its lack of originality.
Read the reviews here: Raja Sen/ Sukanya Verma
Singh is Kingg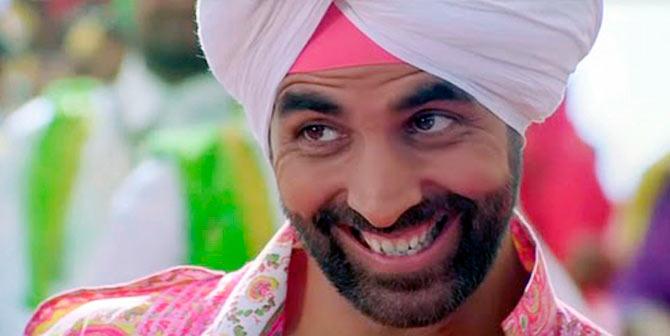 IMAGE: Akshay Kumar in Singh is Kinng.
Akshay is top-notch as the turbaned village bumpkin from Punjab engaged in bizarre adventures through Egypt and the Sardar mafia of Australia. Where most would stumble against a plot so cluttered, the actor elevates its madcap tone and transforms the movie into a rip-roaring farce.
Repeating his slow-on-the-uptake Sardar act in the unrelated Singh Is Bling, Akshay valiantly shows why Singh is, indeed, Kinng. Even when the film goes completely haywire, he does not.
Read the reviews here: Aseem Chhabra/ Raja Sen