Home > India > Movies > Reviews

Tashan is a stylish spectacle

Sukanya Verma | April 25, 2008 18:18 IST


| | |
| --- | --- |
| Akshay Kumar, Kareena Kapoor and Saif Ali Khan in Tashan | |
| | |
| | |
| | |
| | |
| | |
| | |
A blood red Mercedes convertible racily advances through Ladakh's dusty terrain, the car radio nervously shuffles between AC/DC's Highway to Hell and Mukesh's rendition of Kabhi Kabhie.

That, my readers, is a pretty solid indication of what's in store in the following 17 reels -- a crazy fusion of everything desi and phoren -- style, soul and lingo. Welcome to debutant director Vijay Krishna Acharya's land of the English-challenged fashionably quirky, where Tashan is your passport to every conceivable absurdity and You-got-to-be-kidding brand of illogical twists step on your toes at every opportunity.
Then again, both the soundtrack and its promos, never really made any bones to hide that. Like, who expects meaningful cinema from a movie which parades its leading actors in outrageous blonde wigs, flashy attires; and on top of it, makes them do a power-packed jig, in the middle of nowhere, along with hundred other colourful extras?

And so Tashan is *exactly* what it looks like -- a silly spectacle which goes all out to entertain. Right from its sleek black & white graphic novel-inspired opening credits to fire-breathing gun-pipes charged at the villain or cycle-rickshaw chases in the dingy lanes of Kanpur, everything is ostensibly over-the-top. 

Acharya's love for the implausible, previously demonstrated in scripts like Dhoom, Dhoom 2 [Images], might not appeal to the stubbornly sensible, but those looking for a harmless VFM outing, this is, what the heck, f-u-n!

Here's a sneak peek: a call-centre employee cum English-accent trainer, Jimmy Cliff (Saif Ali Khan [Images]) is a lusty loverboy with three broken relationships to his credit. Enter fourth, namely Pooja (Kareena Kapoor [Images]). One look at the vision-in-emerald, drenched from head to toe, is enough to send Jimmy's fantasy-driven hormones in a tizzy.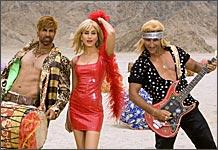 Jimmy-Pooja aside, yes, Saif and Kareena do share that extra-something in their chemistry. Frankly, it was evident in LoC-Kargil too. Only people were too busy counting the number of stars in its cast to notice. Thankfully, their off-screen togetherness doesn't overwhelm any of Tashan's proceedings.

Pooja works for Bhaiyyaji (Anil Kapoor [Images]), a wannabe yuppie gangster, flanked by two roly-poly sidekicks (Manoj Pahwa, Sanjay Mishra) who hires Jimmy or 'Gaarge Bhoos' to teach him English. What follows is a Bhaiyyaji's 'hingliarious' version of Amitabh Bachchan's [Images] iconic 'Khush toh bahut honge aaj' scene in Deewar.

The over familiarity of this gimmick begins to seep in. And the mind begins to wander -- a complete no-no for any masala potboiler. Forty minutes in the film and still no sign of Akshay Kumar [Images], I mumble, somewhat impatiently, while taking a long glance at my watch. Take the name of the daredevil, and there he arrives, as Bachchan Pandey in all his 10-headed glory, dressed as Ravana, vroooming in an Enfield, making an entry worthy of the film's title. Bottom-line, no soon has the paisa vasool factor come in, the cribbing takes a backseat.

A multi-crore betrayal throws Bachchan, Jimmy and Pooja together in a scenario involving extensive traveling throughout the country, even as Bhaiyyaji keeps track of their trail. I won't reveal anymore. The story, even though it makes little sense, is better enjoyed than told.

What I will tell you is that Tashan moodily swings from the dark alleys of Bhaiyya's savaging and often double-meaning humour to crass exchanges between Bachchan and Pooja to characteristically 'Saif' moments every time he candidly talks to the camera.

While this inconsistency could be avoided, Tashan, still, enjoys a smooth first half. Post-interval, as is the story of many so-far-so-good capers, the momentum slacks considerably. Thanks to Bachchan's unnecessary and lengthy childhood flashback episode and two elaborate Vishal-Shekhar songs -- Falak and Dance marein, which the film could easily do without.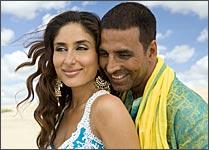 What it couldn't do without is the cast. It's bang on. Kareena looks every bit of a deceiving goddess, whether she walks out of the Greek waters in a lime green bikini (oh yes, it's not just buzz) or gazes seductively into Saif/Akshay's eyes. She plays the temptress with an elegant, subdued air, which makes everything she says (lingerie talk) or wears (strictly skimpy) appear tasteful.

Saif Ali Khan plays Jimmy with tremendous generosity allowing the more gregarious section of the cast take centrestage while he ably lends support. Apart from the double-barrel moustache and frumpy pants, there's nothing outlandish about his character, he's just a cool guy in an uncool situation. And Saif invented cool.

Any other actor in Anil Kapoor's place would have hammed like mad in a role that spells g-a-u-d-y. Kapoor, however, conveys the English-obsessed temperament of his character with such utter seriousness, you really don't want to argue. Also, the man plays evil with equal relish.

Saving best for the last, Akshay steals the show. It's not like he excels only in scenes centred around his earthy cockiness or charm. Even when he's just excitedly showing off his pearlies to acknowledge Bhaiyyaji or cuddling up to a sheep in the back of a truck or turning red in an attempt to profess love to his childhood sweetheart, Akshay shines. Now, if he only weren't made to scratch his you-know-what in every reel.

The Three Musketeers of this flamboyant enterprise are definitely its cinematography, action and background score. Ayananka Bose's imaginative combination of great lighting, perfect compositions, adventurous angles and penchant for flawless close-ups is truly commendable. Under Peter Hein's deft action, Akshay transforms into a charged gorilla, leaping from one wall to another in a matter of seconds. The fast-paced stunts involving all the stars, even when a bit ludicrous --like uniformly clad martial art fighters popping out from nowhere, are likely to excite any action buff. Ranjit Barot brings out the attitude of Tashan through zingy, high-voltage beats, even find a slot to merge a high-pitched Chandi mantra during the climax, true blue Bollywood style.

Ultimately, it's a lavishly-told fairy tale of three con-men, which emphasises on swagger not purpose and settles for style over substance. But if you aren't looking for the latter, Tashan is all-revelry.

Rediff Rating:

Want to see this movie? Check out Rediff Movie Tickets!