| | |
| --- | --- |
| Akshay Kumar and Katrina Kaif in Singh Is Kinng | |
| | |
| | |
| | |
| | |
| | |
| | |
Advertisement
August 08, 2008 13:44 IST


Find a new seat, Mr Bachchan. The throne has found a successor.

Very rarely, perhaps once in a couple of fortunate generations, comes an actor with such tremendous screen presence that it drips like sweat from his body. Others -- actors, filmmakers, financiers -- all struggle to stand closer to the star in question, to feel the charisma-drops ricochet off his megastar aura, to perhaps touch them. To bask in the reflected glory of the man of the hour. Today, this man is Akshay Kumar [Images].

Remember those inanely campy Bachchan movies we love? Think of, say, Namak Halaal, a complete mess of a movie in terms of script and plot, but a film revered indulgently today as a classic comedy. Simply because of that one man in the middle of it all: doing his own thing, adlibbing expressions and tone and lacing it with lethal, natural comic timing to ensure cinema far more enjoyable than it originally had any business being.

And that's the formula Anees Bazmee has wisely decided on in his unashamedly Akshay-showcasing film Singh Is Kinng [Images], and everything from script to sense takes a backseat as the actor makes an utter idiot out of himself and, clearly enjoying himself all the while, conquers the screen while at it.

And he does it in such mega sardarrific style.

In essence, the Sikhs are like India's answer to the Texans, a community of immensely hard-working men, who like their chicken spicy and their whiskey strong. Hailing from the country's West, they embrace the outrageous, are easily given to shows of violence -- and, indeed, great solidarity -- and, above all else, are visibly distinguished by their stellar headgear.

Bollywood, despite a clear bias toward Punjab and North India, has largely shied away from going hardcore in terms of Sikh characters. While there have definitely been some memorable ones, we really haven't had an all-out cinematic blast in celebration of our country cowboys.

Until now, that is.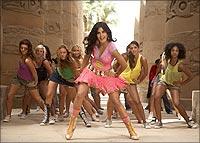 The Sikhs go wild in Singh Is Kinng, and -- just like their weddings are the most spirited, and their music the most dancefloor-worthy -- this one might not have much thought behind it, but Holy Harbhajan, the film thumps with the rhythmic, excessive energy of a loud dhol. It's a hoot.
Bazmee himself has thankfully avoided the catastrophically high-pitched attempts at slapstick he pitched in both No Entry [Images] and Welcome, and this is a film that doesn't try as hard. As a result, it's sigificantly funnier -- despite the fact that the script, in itself, isn't really laden with jokes. It doesn't have much, really.
What it does have is detail, and detail comes across so much better when a charmer is devilishly filling it in between the lines, creating inanely irresistible humour out of the wideness of a grin, the yanking of kurta-sleeves or just the essential addition of lines so natural they can't be anything but improvised. He might look like a simpleton, but this Rajeev Hari Om Bhatia is a pakka maestro.
The film itself is neat enough, a finely tuned formula script, roughly as plausible as a Dhoom 2 [Images], commercial to its very roots. The very idea of a Sikh mafia community is a fascinating one, considering they stick very closely together and would do very well adhering to most mafioso codes (except perhaps Omerta). The script takes this interesting seed and loops it around a goodguy-turns-godfather plot without much fuss about innovation and unique storytelling. Then, it stands back and gives Akshay room to play.
There isn't any real twist in the proceedings -- despite Act Three deciding to inconsequentially spin out a rapping googly -- and you can see most of the madness coming far before it actually shows up. The film deserves definite points for economy, though. Not just is Kinng timed well enough at just under two and a half hours, the emotional scenes aren't given much shrift. Stuck clumsily into the narrative like gangsters stumbling upon Hallmark cards, the scenes mercifully vanish just as they begin cloying on your nerves. Quite likely, the presence of Vipul Shah -- who did much the same in Namaste London [Images] -- as producer is what made the difference.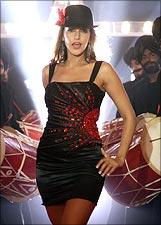 The film is also refreshingly well-cast for a comedy of this scale. Used to watching monstrosities like Heyy Babyy -- and indeed, No Entry -- palming themselves off as superhit comedies, it's good to see a nice, mostly low-key ensemble that doesn't really go overboard. Yashpal Sharma, as the perenially upset Pankaj, is the pick of the bunch among the supporting actors, while Sonu Sood gets to silently star in the film's most delightful scene. It is a scene involving alcohol, Om Puri [Images] and a character incapable of movement, and while that combination automatically invokes the greatest drunk moment in our cinematic history, this one's a pretty good scene as well.
Ranvir Shorey, that fine, fine actor, is wasted in a role that -- for the second week in a row -- requires him playing snivelling boyfriend to a believably violent and extremely ravishing woman. Surprisingly, Jaaved Jaafery, the most experienced joker of the pack, is the only one who seems to be trying too hard. Sudhanshu Pandey does well, but Kamal Chopra's Guruji really gives the film much-needed tone. The important thing about all these blokes, though: they stay completely in sardar character.
Katrina Kaif [Images] is devastatingly gorgeous -- not that you needed a review to tell you that. She is also, slowly but surely, developing a more assured screen presence, and her chemistry with Kumar is constantly crackling. There is a moment when she glugs a drink from a bottle, and Kumar breaks into glee at her manly ways. You can't help but chortle. Indeed, these two work.
The whole film does, really.
It's all very cut and paste, but the execution is top-notch, and Kinng emerges just what it wants to be: a polished summer spectacular stuffed to the gills with hardcore masala. Unlike most of this year's films, the soundtrack is an absolute winner, and completely appropriate to the tone of the film, with Akshay ensuring we look at the screen throughout the song duration anyway. Personally, I'm just totally gutted that they didn't use Daler Mehndi's [Images] mega rendition of Bhootni Ke -- the best rendered bhangra track in aeons -- and used the Mika 'tiger-style' mix instead. Damn. Yet overall, the singhing and dansingh works significantly well.
Finally when the end-credits roll, in case you'd forgotten just what a paisa-vasool time you'd had, you are treated to Snoop Dogg [Images] jiving with our man Akshay, pagris and all.
Hey, if the Doggfather calls him Kinng, you better believe it.
Rediff Rating: