| | |
| --- | --- |
| A still from Tashan | |
| | |
| | |
| | |
| | |
| | |
| | |
Advertisement
April 25, 2008 19:19 IST


Tashan, a feature-length tribute to the language stylings of Subhash Ghai [Images], has all the ingredients of hardcore masala dhamaal, and with none of them being used sparingly one would expect a helluva curry. Unfortunately, there's a bit too much self-indulgent nudging and winking going on with Vijay Krishna Acharya's directorial debut, and even as Akshay Kumar [Images] manages to salvage the film by a considerable extent, this is a pretty long film and one overcooked meal -- and hardly as stylish as it should be.

Tashan is, as Anil Kapoor [Images] would say, a bit of the alright.

The film starts off very interestingly. A red Mercedes rides along a hilly highway, the UGR numberplate placing it anywhere from Uttaranchal to Uganda, with the music switching from classic rock to classic Yash Raj, the car swaying violently with the radio-station debate before plunging into the sea and one of the four protagonists -- Anil Kapoor, Akshay Kumar, Saif Ali Khan [Images] and Kareena Kapoor [Images] -- wetly launching into an underwater flashback.

Since then, as we come to grips with the threadbare plot involving Saif's Jimmy Cliff (Jeetendar Kumar Makhwana to the world outside his callcentre) giving English lessons to Anil's sartorially spectacular Bhaiyyaji, while falling for his Oh-so-Omkara'd secretary Pooja (Kareena, who else) and eventually necessitating the entry of ambitious thug Bachchan Pandey (Akshay), we rock comfortably in the knowledge that this is sheer, stylised nonsense, a film not taking itself seriously and one that luxuriates in its utter, ridiculous campiness.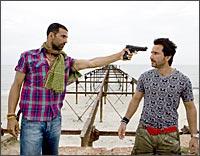 Yet while one can imagine wolf-whistles for a punchline or a meticulously conceived entry shot, there is little beyond that. This is definitely a fun film on paper, and one can imagine the makers and the actors cracking up reading the script and picturising it in their heads, but despite bonafide 1980s roots and campy ingenuity, there really isn't any spark to keep this Tashan crackling. You could slice off 40 minutes without affecting the plot -- never a good sign -- and in its obvious urge to please each of the actors with a bigger piece of pie, the film loses the charm it may well have revelled in.
Of the actors, Saif Ali Khan is woefully miscast. Bollywood needs to wake up to the fact that this man is a naturalistic actor who can't quite do over-the-top, and while he tries manfully here and is even given the bratty English speaker role in an all-Kanpuri film, something just seems wrong with Saif standing 10 feet away from the woman he loves, looking halfway at the sea while half profiling himself to camera, before jumping down and proclaiming indignation. There's nothing wrong, per se, with either the role -- in keeping with the film's spirit -- or Khan himself, but the man embarrasses himself because he just isn't made for masala.
His girlfriend, on the other hand, is. Kareena's always been a creature of immense glamour and here that is turned up more than a few notches as she shaves down several dress sizes to emerge as a leggy stunner who walks onto frame knowing that the screen is hers. She looks hot -- though the blonde wig and tarty red dress unmistakably smacks of Paris Hilton [Images] -- and, as mentioned, decidedly leggy but as she scissors her jeans into teensy denim hotpants, she seems a bit too starved, too lacking in curves. Still, confidence radiates from her, and this is definitely an extremely self-aware actress.
Anil Kapoor, dipped into the most outrageous wardrobe conceivable, topped off with red-dyed hair and a thick UP accent struggling with English, just shows the actor is game for anything - and still cool enough to carry it off. In one of the film's best mounted scenes (cinematographer Ayananka Bose does a spiffy job right through) showing a good ol' dusty gunfight in a sand-torn castle, Kapoor looks like he's right out of a Robert Rodriguez film. Moments earlier, he's bastardising Deewar lines with broken English and weeping till his audience applauds. Talk about versatility.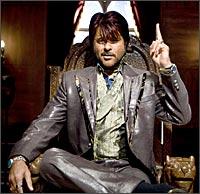 And then there's Akshay Kumar. Dirty, stubbly and, somewhat like Sachin Tendulkar [Images], given to adjusting his toolbox very persistently, Bachchan Pandey is as outlandish a stock-character as the rest of them, but thanks to Akshay's overpowering, nearly-irresistible screen presence -- not to mention that gummy grin -- we can't help but dig this wannabe shooter. Besides scene-stealing lines and that utterly believable Akki naivete, he also gets to do a flurry of fight scenes and beat up dozens of men solo -- though it must be said that watching Akshay stunts now feel incomplete without him reaching out to climactically grab a cola drink.
As said, Tashan works in fits and starts. There are some genuinely creative moments, a few fantastic lines of dialogue, and some shots that make you go wow. And while the film starts off blissfully cheeky, it gets more and more serious as it goes along, suddenly mistaking itself for a ridiculous action film. This isn't the 1980s, fight scenes shouldn't be 20 minutes long, and there's really no point to the third act, one that goes on and on and on as all the actors fight limitlessly, each getting specific showcase moments complete with their own theme tunes.
Ten headed heroes and 10 seconds of bikini-time get style points, for sure. But doesn't Tashan really mean attitude?
Rediff Rating: