'We don't make films which have scope for great music anymore.'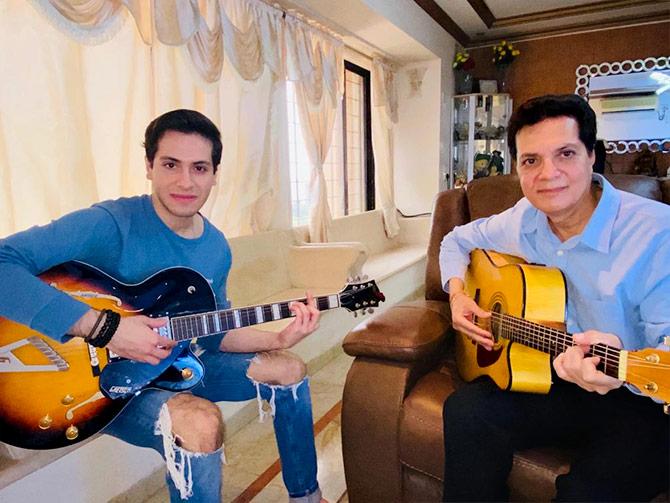 Making the most of the lockdown, Jatin Pandit dropped a song on the coronavirus pandemic.
His son Raahul Jatin joined in as well.
Though the composer has worked with leading singers in his heyday, he remembers working with legendary Lata Mangeshkar with the most fondness.
"We (Jatin-Lalit) had a great rapport with her. We would eat a variety of things and have a cup of tea before recording a song. She would crack the best jokes and knew how to lighten a room," he tells Mohnish Singh.
How did you come up with the song Prabhu Humko Kshama Kar?
Jatin Pandit: The situation was getting worse due to the pandemic, especially in Mumbai. I was unable to fathom what was going on and when the lockdown would be over.
In such challenging times, I thought of praying to the Almighty, and what a better way to pray than a beautiful song!
This is how Prabhu Humko Kshama Kar came about.
Believe it or not, in some way of the other, human beings are to be blamed for the ongoing pandemic.
I wanted to make a song which infuses positivity in such testing times.
My son Raahul liked the idea and we created the song together.
How did you help your father create the song?
Raahul Jatin: I did the programming and then sang the song with Papa.
This pandemic is the worst thing I have seen. Hopefully, things get back to normal soon.
I request everyone to please stay inside their homes and take the pandemic seriously.
If we fail to act now, things will be out of our hands in no time.
That's what our song also talks about.
How has the lockdown impacted you?
Jatin Pandit: There were so many things I was working on. But due to the lockdown, everything has taken a backseat.
Now, I am upgrading myself. I am learning how to use technology better.
I have also been taking care of my health.
I have been following all rules and regulations that the government has issued in an attempt to prevent the spread of the virus.
But truth be told, it has become very boring.
There is a difference between a caged bird who gets food on time and the bird who is free to fly all over the sky and eat whatever it wants to.
Our situation is similar to that of the caged bird.
How, according to you, Bollywood is going to change post COVID-19?
Jatin Pandit: The film industry has already started some changes which may become the norm.
Several big-ticket films have taken the digital route for their release. (Amitabh) Bachchansaab's next (Gulabo Sitabo) is getting a direct-to-digital release.
It is not going to be possible for theatres to bring in audiences for at least six-seven months.
This pandemic is going to change a lot, and in all walks of life.
There is going to be a huge change in the way we think, travel and work. We will focus more on hygiene.
We have to prepare ourselves for this change, to live with this change. We have to learn how to live with this pandemic.
When did you decide to pursue a career in music?
Raahul Jatin: In college, everyone goes through the phase where they have to decide what they want to do in life.
When I went through that phase, I thought of making a career in music because I love it.
I believe that one should always go for things, which they can do effortlessly.
Moreover, Papa comes from the same line, which ensured that I get more exposure to music than anything else.
I have learnt music from different teachers as well.
What are your views on the recreation of old songs?
Jatin Pandit: I feel remix is also a kind of creativity.
The only difference is that while some people have the knack for doing it right, others just ruin it.
For example, if someone remixed Bin Tere Sanam and gave it a new look and feel, then it sounds good.
Adding new beats and tweaking lyrics here and there is not the kind of recreation I like. It is just plain cacophony.
Honestly, I do not like remixes personally.
I am neither in favour of it nor I do it myself.
But if somebody is making a living out of it, then it's good for them.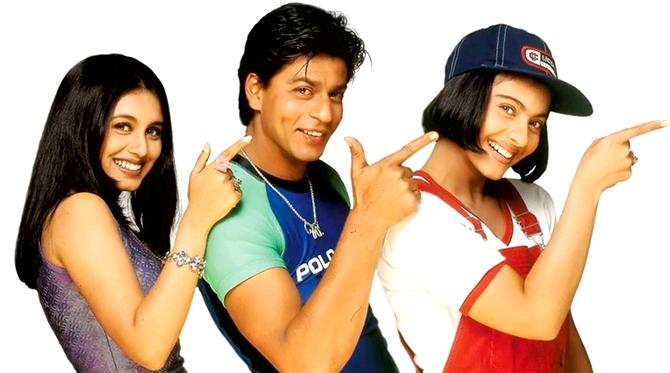 Do you think it somewhere shows the lack of creativity in today's composers?
I would not like to believe that.
There are several music directors who do good work.
The problem lies with our films. Bollywood films were known all over the world for their music and songs.
That identity has somewhat eroded over the years.
We do not make films which have scope for great music anymore.
You see, there is a dearth of lip-synched songs in films now; all songs are played in the background.
Film-makers are putting songs in films just for the sake of it, not for the pure love of music and songs.
Nowadays, you hardly hear a song which stays with you for some time.
In my heyday, film-makers would urge to create music which works and leaves a lasting impression. That was the approach back then.
Several films worked because their music worked.
Do you agree?
Raahul Jatin: I feel that the owners of music companies are not artists; they are businessmen. And a businessman means business.
Remixing a hit song minimises the risk to some extent.
Creating a new song comes with its own challenges and risks.
Having said that, there are so many talented people, who are creating good, original music.
Today's composers are not any less talented. The main issue is that popular music labels don't want to take risks anymore.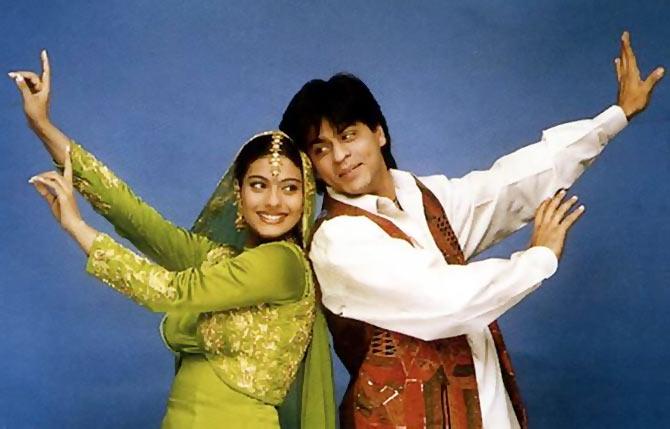 Would you like to touch any of your father's song and remix it?
Raahul Jatin: I would like to remix Mehndi Laga Ke Rakhna from Dilwale Dulhania Le Jayenge.
I want to change its original composition and musical arrangements.
I want to remix it because I seriously want to feature in the song and dance, wearing colourful clothes (laughs). There is no other reason.
But it's just a thought in my head.
I don't think I would ever want to change anything about Papa's songs.
Who is your favourite singer from the current lot?
Raahul Jatin": Everyone is good, be it Arijit Singh or Mika Singh.
Udit Narayanji is my all-time favourite.
Apart from being a legendary singer, he is also a great human being. He is a great friend of Papa, so I know him personally.
Did you go to recording sessions with your father?
Raahul Jatin: Not really. I used to be at school.
But I did go to some.
What I remember is that there would be an elaborate set-up to record a song, unlike today.
Back then, there used to be so many people who would come together to make a song. They would all gather together in one room and discuss.
I remember going to Papa's old studio. It would be teeming with people all the time.
Nowadays, there are only three or five people, who do everything, sitting on computers.
That is also one of the reasons we don't get those soulful melodies anymore.
You have scored thousands of songs in your storied career. What are those five songs which are very close to your heart?
Jatin Pandit: This is an interesting question. But instead of picking five songs, I would like to pick the entire album of those five films whose songs I really like.
Jo Jeeta Wohi Sikander is my all-time favourite.
I absolutely love the music of Kabhi Haan Kabhi Naa.
Khamoshi: The Musical is another film whose entire album I like.
DDLJ and Kuch Kuch Hota Hai are the films whose music is popular all over the world.
The music of Shah Rukh Khansaab's Raju Ban Gaya Gentleman was a superhit. There are so many films of ours whose entire album became blockbusters.
If I am not wrong, the original lyrics of your timeless song Pehla Nasha were totally different when you composed it for the first time.
Jatin Pandit: You are hundred percent right!
The original lyrics were as follows: Ae Dilruba Mujhe Yeh Bata, Tera Naam Hai Kya Tera Kya Pata.
Later, we had to change the lyrics keeping in mind the situation in the film.
The best part was that Majrooh Sultanpurisaab wrote lyrics that fitted so well with the tune that we never remembered the old lyrics.
He has written thousands of film songs in his long career, but Pehla Nasha is one of his best songs. It is also one of my most favourite songs.
Some of your most popular songs have been sung by legendary Lata Mangeshkarji. How was it to work with her?
Jatin Pandit: A person who has worked with Lataji even once in his lifetime, he becomes immortal.
Working with her is like working with Goddess Saraswati.
She has had a storied career.
Her wealth of knowledge is immense.
She has sung the most difficult songs, which is impossible for other singers to even attempt.
God has gifted her with the most beautiful voice, and her riaz is unparalleled.
I wonder how can someone sing so well and be so melodious.
We (Jatin-Lalit) had a great rapport with her. We would eat a variety of things and have a cup of tea before recording a song.
She would crack the best jokes and knew how to lighten a room.
If you could curate a list of your most favourite songs for your fans to enjoy in these testing times, which ones would you recommend?
Jatin Pandit: I would recommend songs which probably are not heard often.
Madhosh Dil Ki Dhadkan, sung by Lataji and Kumar Sanu, is a beautiful track.
Then there is O Jaana Na Jaana, again by Lataji and Kumar Sanu.
The music of Jab Pyaar Kisise Hota Hai was very melodious.
There is one song in the film Albela, Dil Harama Hua Hai Kisi Ka. Alka Yagnik and Hariharan have sung it. It is a beautiful composition.
Then there is a song called Sapne Sajaye Maine Jo Tere. I don't remember the name of the film.
The music of Jab Pyaar Kisise Hota Hai was Lataji's favourite.
She used to bring her grandchildren (her sisters's grandchildren) to the recording studio. There used to be five-six of them when we would record the songs for Jab Pyaar Kisise Hota Hai.
We got along with the kids really well. We would sit together, eat snacks and drink tea.
One day, Lata didi came to us and said, 'Do you know why I bring these kids along with me? They are from the new generation. They will tell me whether or not they are liking our songs. If they don't like the songs, how will they work once they are out in the market.'
Despite being so great at what she does, she would always seek opinion of other people.
What are your father's songs that you like?
Raahul Jatin: There are so many of them.
I will name the song I listen to often, Mehndi Laga Ke Rakhna.
The entire album of DDLJ is outstanding.
Jo Jeeta Wohi Sikander's album is absolutely delightful.
Kuch Kuch Hota Hai and Yes Boss have terrific songs.
I cannot pick songs. There are so many.
You acted really well in your music video, Aankhon Ke Ishaare. Are you open to acting as well?
Raahul Jatin: If somebody offers me any part, why not?
Why would I decline any opportunity, be it in singing or acting?