This lockdown has been difficult for everyone.
To cheer everyone, Subhash K Jha requested everyone's favourite singer Lata Mangeshkar to pick five of her happy songs.
Lataji, interestingly, does not listen to to her songs because she always finds faults in them.
"If I listen to my songs I will find a hundred things wrong with my singing. So I never return to them. Once I have recorded them, I am finished with them. If I hear my voice on television, I quickly drown it in noise from the outside," she says.
Bahon Mein Chale Aao, Anamika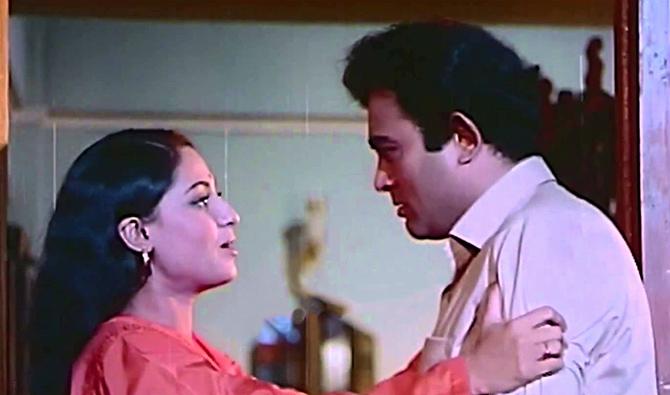 Among all the songs I sang for Pancham (R D Burman) this is my favourite.
I would give the credit for the song's perfect romantic mood to Pancham and then to Jayaji (Bhaduri) for her expressions on screen.
I was told it was a song between the hero and heroine when the whole world had gone to sleep.
So it had to be sung in a soft voice, so that no one awakens.
Jayaji did so much justice to Majroohsaab (Sultanpuri)'s words.
Time stops still in this song.
Mujhe is gaane ki khamoshi bahot pasand hai (I like very much the silence in the song).
Man Mohana Bade Jhoothe, Seema
I always enjoyed songs with a classical base.
This tune composed by Shankar-Jaikishan gave me the opportunity to sing in the classical style. I loved it.
What transported the song to an outstanding level was the way Nutanji lip-synced the tune on screen.
You can see that she was actually singing the words, not just miming them.
She was a singer herself, so that helped.
Sharaabi Mera Naam, Chandan Ka Palna
Almost all the songs that I sang for Meena Kumariji were sad, pensive and dark.
I like this song composed by Pancham for its playful mood.
The heroine is supposed to be drunk in the song, so I had to slur my words in tune.
People think sad songs are a bigger challenge, but that's not true.
Aa Jaane Jaan, Intaqam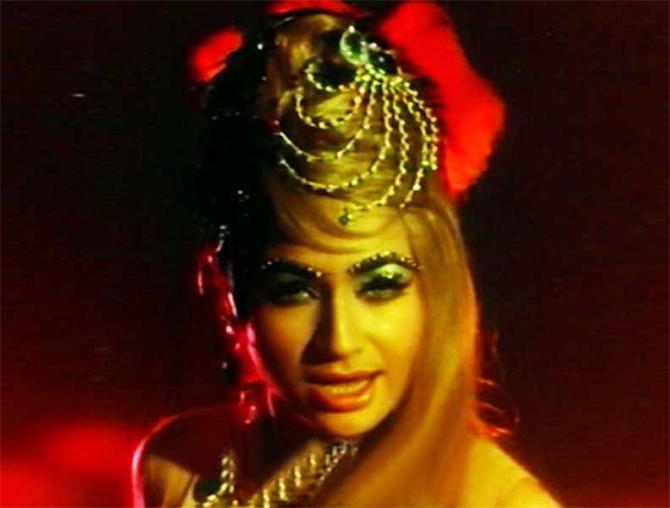 I was very apprehensive about singing a cabaret song, and that too for Helenji.
As you know, most of Helenji's songs were sung by my sister, Asha (Bhosle.
They share a great personal rapport.
Not many people know that Helenji is also very fond of me, and I of her.
So when Laxmikant-Pyarelal composed this cabaret number for me, I took it up as a challenge.
Luckily, the song was a big hit. I think among my biggest hits.
O Sajna Barkha Bahaar Ayee, Parakh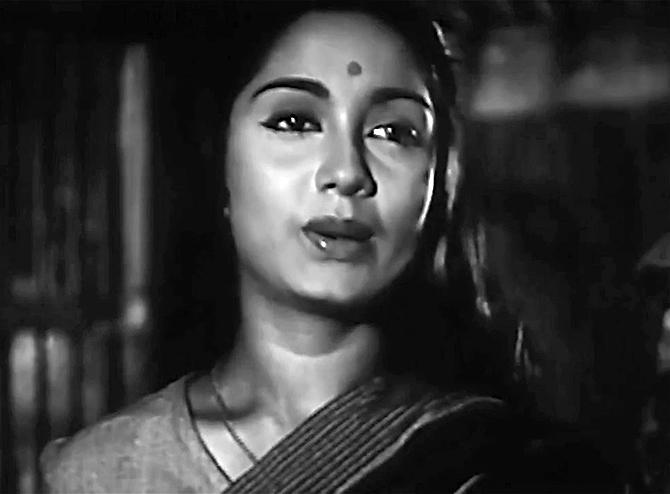 Though this is a song about missing one's beloved, it is a happy one. It combines the joy of rain with the excitement of waiting for love.
It was always a challenge to sing for Salilda (Chaudhary).
This was a very delicate composition, filled with tenderness, hope and happiness.
How beautifully Sadhanaji put the song across on screen!