When Indiana Jones And The Kingdom of The Crystal Skull became a mammoth hit worldwide, many commentators pointed out how Harrison Ford, who is in his mid 60s, could open a film very big. This week, some commentators could be thinking in a similar vein while marveling at the big opening for the Sandra Bullock film, the green-card comedy The Proposal.
Sure, her film that opened at the top with an estimated $34 million three-day gross in North America is not in the league of the latest Indiana Jones. And Bullock is 44 years old.
Nevertheless, the romantic comedy, which cost about $40 million, could earn over $200 million worldwide.
Besides, how many actresses in their 40s can open a film as big as Bullock? A few years ago, Julia Roberts, now 41,  was a guarantor of a big box office opener. But her last release, Duplicity, was a big disappointment early this year. It is ending its worldwide run with less than $80 million.
"Sandra has consistently given us hit films," says Ashok Amritraj, who co-produced her Premonition two years ago which did very good business and earned nearly $100 million worldwide. "Her films do not cost a fortune, and she has many endearing traits that appeal to people across the globe. She is particularly winsome in comedies."
The tagline for The Proposal: Here comes the bride, and the stories reporting the film's box office played up the film's theme. Audience Say Yes to Bullock's Proposal, declared one.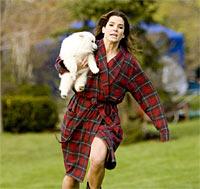 Bullock plays an intimidating New York book executive who orders an engagement to her long-suffering and humiliated assistant (Ryan Reynolds, 33) to stop her deportation to her native Canada. Before she conjures the plan, she fights the immigration -- 'It's not like I'm even an immigrant, I'm from Canada!' -- but to no avail.
Complications and hilarity follow when she meets his parents in Alaska, as part of her plan to convince the immigration authorities that her impending marriage is not an act, and she is serious about not only knowing her future husband better but also his family.
Anne Fletcher, who directed last year's hit 27 Dresses, helms the latest Bullock laugh-riot.
Critics had mixed reaction to The Proposal but many acknowledged that the lead players make the film work.
'Sandra Bullock and Ryan Reynolds are Margaret and Andrew, the love match at the center of this story, which unfolds through a prism of corporate ambition, fractious families and immigration regulations,' wrote Los Angeles Times. 'All of which might sound rather dreary if not for the caustic yet comfy chemistry created by its two sparring stars, who somehow
make the incompatible compatible in some very amusing ways.'
Roger Ebert who gave the film three stars (out of four) in Chicago Sun-Times* confessed his feelings about it right at the beginning of his review.
'The Proposal is a movie about a couple who start out hating each other and end up liking each other,' he wrote. 'It's a funny thing about that. I started out hating the movie and ended up liking it.'
Some critics confessed they found it hard to believe that Bullock is 44. 'What we do get, in a snippet of nearly nude physical comedy, is confirmation that Bullock is still in possession of both irresistible comic timing and a slammin' body,' declared one.
Time Out New York wrote the film comes nowhere near the comedies made famous by Katherine Hepburn. 'Bullock hasn't yet assimilated the lessons of Katharine Hepburn,' it wrote 'while Reynolds, actually a Canadian, essentially spends 104 minutes biting his lip. He won't be alone '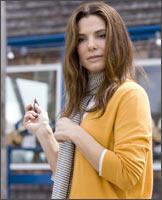 Surely, Time Out wasn't expecting a warm welcome to the film. The movie is clearly an audience pleaser and it has opened stronger than what the box office pundits expected. It has dethroned another durable summer surprise hit The Hangover which nevertheless grossed $28 million in its third weekend and is on its way to reach $225 million in North America.
Some box office experts say it could fly to $250 million in North America and will have a solid run abroad, though many American comedies stumble in foreign territories. Very few comedies reach the level of popularity The Hangover is having in America. While many summer films including  Up, an enjoyable animated summer hit which also received strong reviews, cost over $150 million, The Hangover was made was less than $50 million.
The success of The Proposal is even more noteworthy considering the number of comedies around. It opened the same day as the Jack Black's Year One, which took a decent $20 million over the three-day period. There are seven comedies among the top 10  films this weekend in North America. They include Up (headed for $275 million in North America), about a grumpy old man and a kid who travel to South America in a flying house, and the Eddie Murphy flop, Imagine That.
Though Bullock has acted in films of different genres, she is best in comedies. Her new success joins her other romantic comedies particularly Miss Congeniality and Two Weeks Notice.
The film also has quite a few colorful minor characters. Watch out for Aasif Mandiv as Bob Spaulding, an arrogant editor in chief and Oscar Nuñez from The Office. But none is more endearing than the 87-year-old Betty White as the saucy and wise head of the family.