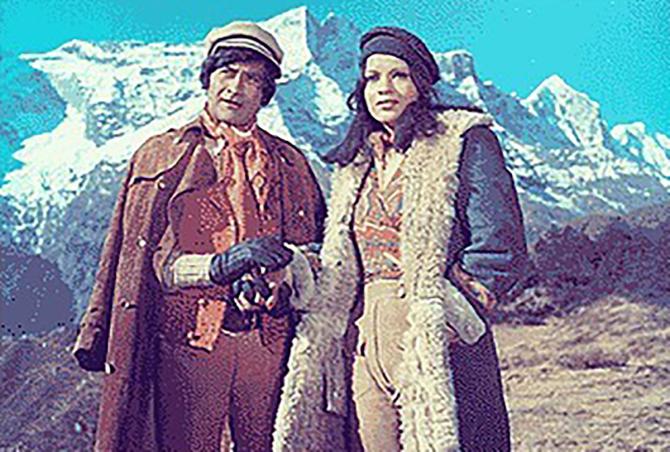 Zeenat Aman has been sharing her snippets about her journey into the film industry and her star-maker, Dev Anand, on Instagram in a three-part series.
In the first part, she spoke about how she became a star.
In the second part, she discloses what her relationship with Devsaab was like:
'The age gap between Dev saab and myself was nearly 30 years. I had played his sister in HRHK, and he did not yet see me as a romantic lead.
'Instead, he cast me in the titular role of (Raakhee's sister) Panna in Heera Panna, which released in 1973. I had a blast shooting that film, and its sound track remains a favourite to this day.
'Dev saab was a dynamic mentor. Our association continued, and next on the cards was Ishk Ishk Ishk. I once again found myself in Nepal, but this time we were shooting in the picturesque lake town of Pokhara!'
'Those of you who have seen the film know that it features a bevy of lovely women as my sisters and friends. They were literally so, because prior to the shoot Dev saab asked if I had any "model friends" who could join the project.'
'I put the word out, several friends answered my call, and so it was quite the party in Pokhara. With a good-looking and young cast and crew, it should be no surprise that there were plenty of dalliances and heartbreaks unfolding behind the scenes.
'But please don't expect the gossipy details from me! Would you like the world to know about your every crush, humiliation or affair?
'Anyway, Dev saab was on a roll. Working with him was seamless and joyful. He was a fount of creative energy, and I was delighted to have his guidance. It would have been easy for him to tie me down to a contract, but he had the grace to never even suggest it. Thus allowing me a chance to spread my wings.
'We also starred together in several films made by other directors such as Darling, Darling and Kalabaaz.
'My career was booming, fresh offers were pouring in, but alas, one of these, led to the first and only misunderstanding between Dev saab and myself...
'(I will try to complete this story tomorrow or day after. Meanwhile, this picture is from the set of Ishk Ishk Ishk, and if I may say so myself, it is incredibly stylish!)'