'See, nobody asked Michael Jackson "arrey, aap aaj kal toh filmon mein nahi gaate ho".'
'The problem is in India, a lot of undue importance is given to film singing.'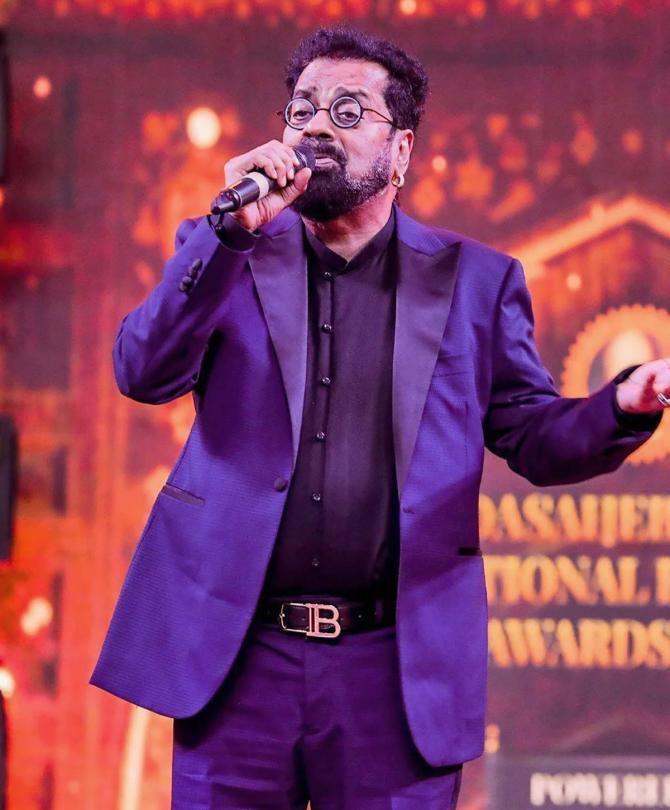 Any '90s person would instantly recognise Hariharan's melodious voice.
Songs like Tu Hi Re (Bombay), Chanda Re Chanda Re (Sapnay), Bahon Ke Darmiyan (Khamoshi: The Musical), Roja Janeman (Roja), Chod Aaye Hum Woh Galiyaan (Maachis) and many, many more have remained etched in our memories.
More than four decades into his career, Hariharan still keeps music lovers enraptured with his voice, as he takes on songs in different genres and languages like Hindi, Tamil, Telugu, Marathi, Malayalam, Bhojpuri, Kannada and Sinhala.
He has sung 15,000 songs to date, and is still going strong.
Hariharan recently joined forces with tabla maestro Pandit Bickram Ghosh for a music album, Manmarzee. Composed by Ghosh, the album features five songs in Hariharan's voice.
In an interview with Mayur Sanap/Rediff.com, the two titans sur discuss the changing landscape of the music industry.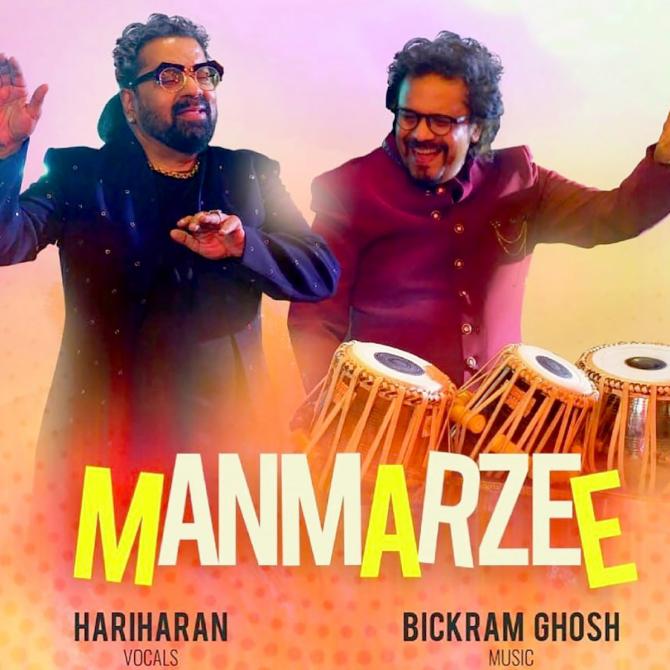 Is making music easier than marketing and promoting it in today's times?
Hariharan (Laughs): When we make music, we don't think about marketing. There are so many platforms today. You don't have to depend on a music company or a film to get a chance to sing or make music. You can make music and put it on the Internet. That's a very welcoming sign.
Bickram: It's easy to release the songs today because you have your own platform, your own social media. You can release it by registering your company with music aggregators.
Releasing is easy, but as you correctly said, marketing is not as simple as it was.
There was a time when if the radio played your song, the entire country would listen to it. Then TV took its place.
The power of radio and TV at that time was very, very strong. Back then, if your song was live on Binaca Geetmala, you know everyone would will listen to it. Today, you have to choose a platform that receives the most traffic. It's a challenge.
Hariharan" When you have too many platforms, there is clutter. You might get lost in it. You should place yourself somewhere where you can be noticed.
We live in a digital age where short-format content is popular. Do you think people have forgotten how to absorb music?
Hariharan (Laughs): You listen to just a minute of a song and go 'wow' but later, you don't get anything out of that song. It's just a gimmick. That one minute is like a slap on your face. It just excites you.
Bickram: Yeah, it's all about creating an initial excitement. But it's not just in music. Take sports, for example. We used to have Test matches before. Now, there is T20. One Day match has become smaller too, so everything is getting encapsulated into smaller segments.
I am not saying it did not exist before. We had EP (Extended Play) records, which were three-and-a-half minutes.
Today, patience is flagging in people.
Does the commercialisation of art hamper the creativity of an artist? Hariharan tells about his balancing act here:
Bickramji, what is the USP of Hariharanji's voice? And how did you utilise that in your album?
Bickram: There are two things: Firstly, he is one of the few superbly trained and practiced singers, who has covered so much range. He is equally at ease in singing a South Indian pallavi, a North Indian khayal or a ghazal, a geet or a fusion song. It is important to bring out your versatility in a project.
As a composer, you must have that much bandwidth in your project that he is utilised.
Also, there is an intimacy in his voice, like he is directly singing into your ear. At the same time, he has a fantastic timbre (quality of a musical note), which is very masculine and has a very strong presence.
In Manmarzee, we have a qawwali like Husn, a geet like Ajnabee, a Sufi-style song like Daryaa. So all the grounds are covered.
Hariharan: This is my second collaboration with Bickram. When we started doing rehearsals, it was really comfortable. He is a musician who has studied my voice and has come up with compositions that exploit my voice. It's rare to get such compositions.
Hariharan sings Husn from Manmarzee here:
Hariharanji, why don't we get to hear you enough in films these days?
Hariharan: I am not doing less (work), the market has changed. When a voice is around for say 10-20 years, the creators start looking for different frequencies. This happens in films.
Film music has always been like the flavour of time. That is the reason all the kids are coming in.
Bickram: I have something to say here.
See, nobody asked Michael Jackson 'arrey, aap aaj kal toh filmon mein nahi gaate ho.'
Nobody asks this question to Barbra Streisand or Celine Dion.
The problem is in India, a lot of undue importance is given to film singing. Why?
It is great that Indian music is now independent music to a large extent. Now, films are actually outsourcing music from independent music. This is the correct way to do it.
Hariharan: It was never just playback singing for me. I got an equal amount of popularity for Colonial Cousins (his music band with Lesle Lewis), ghazal and bhajans.
Even my Hanuman Chalisa (T-Series Bhakti Sagar video) has incredible views. So just because I am not singing in films doesn't make me feel left out. Film music is not the base of my success.
Bickram: True. I knew you first through your ghazals.
Hariharan: I have composed and recorded about 30-35 albums myself, which is a huge volume of work.
Has the younger generation of singers alienated themselves from Hindustani classical music? Hariharan weighs in:
What do you feel about the global recognition of Naatu Naatu?
Hariharan: We have funky things happening here. Yeah, it's great.
Bickram: Absolutely. Let's not forget our friend Ricky Kej, who won his third Grammy.
That's also a win for India.