'I went to Nagpur for my engineering.'
'I used to model there, those amateur fashion shows.'
'Then you know, I thought why not try my luck in films and all?'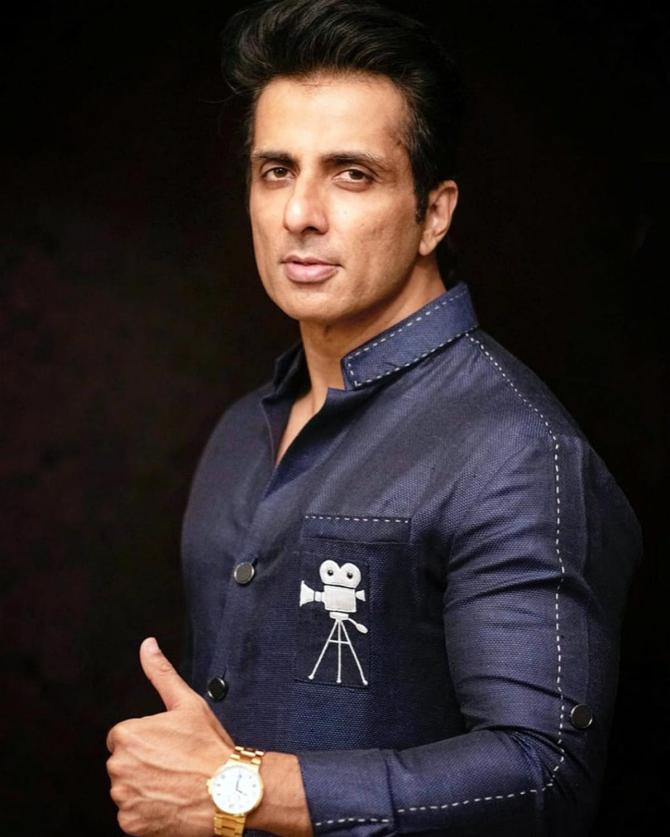 India's Superman Sonu Sood, who helped migrant workers go home, looks back at how he started his career in Bollywood, in the fifth season of Neha Dhupia's chat show, No Filter With Neha.
On his journey from Moga to the Movies
When I went to Nagpur for the first time, Punjab was severely hit by terrorism and everyone felt that Punjab is not a safe place to stay, better to go to some other city.
So I went to Nagpur for my engineering.
I did BE in Electronics.
I used to model there, those amateur fashion shows.
Then you know, I thought why not try my luck in films and all? From there, the whole journey started and I went to Film City and I thought I got my big break.
When I reached Film City, there were 30 of another models, same built, with full bodies, solo ad nahi tha.
Mujhe laga ki solo ad hai, star ban gaya hoon main.
Mere jaise 25-30 log aur body-fit T-shirts pehen ke khade the aur mujhe bhi kahin kisi kone mein khada karke peeche main drum baja raha hoon, tribal bana kar aur main ad mein kahin dikhayi bhi nahi diya aaj tak.
Maine bola boss zindagi ki jo struggle hai bahut mushkil hone wali hai yeh kuch life itni aasan nahi hai.
Par main ek baat batana chahunga ki jo 3-3.5 saal maine lagatar auditions diye, ek bhi aaj tak mujhe ad nahi mili aur aaj take k bhi nahi mili toh mujhe laga ki yaar yeh zindagi mein kuch aur karna padega.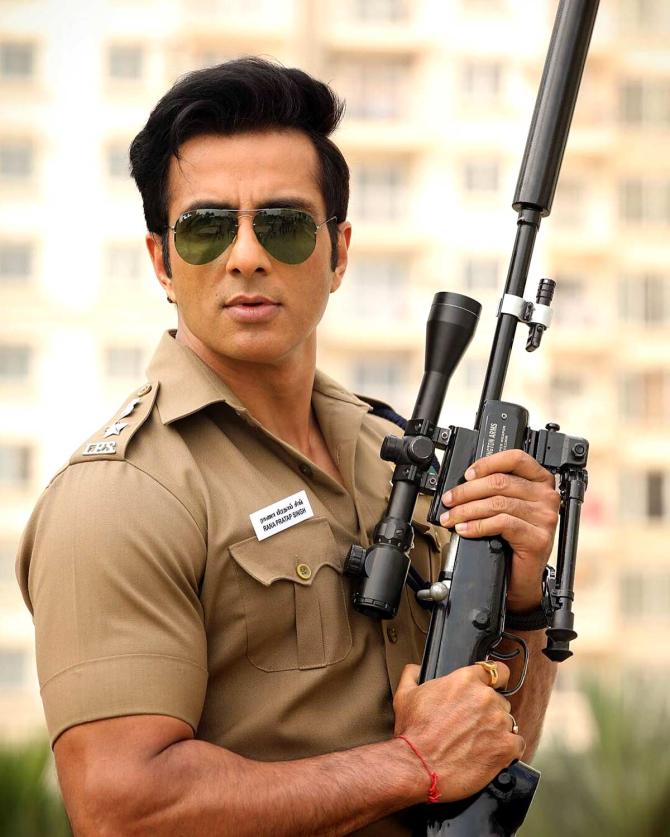 On his first film offer
Mujhe yaad hai, audition toh pata nahi mujhe lagta tha achi auditons hi dekar aa raha hoon but jab kaam hi nahi milta toh lagta tha ki yeh shayad worst hi hai logon ke liye.
Toh main toh badi achi acting karke aata tha mujhe lagta tha ki dekh main kya kaam karke aaya par kabhi kuch hua nahi.
But I'll tell you mujhe jab first film mila tha South ka, mere mother ne mujhe ek book diya tha, How to learn Tamil.
Main raaste bhar padhta gaya.
Paani ko tanni bolte hai, idhar aane ko yeh bolte hai, sab notes leke gaye. Toh Vijay Vauhini Studio tha wahan pe Chennai mein.
Toh AD ne bola aap jake baithiye hum aate hai wahan pe. Toh main baithke akela thoda feel sa liya actor ka ki main kya acha lag raha hai yahan pe chair pe baithke yahan pe Zindagi shuru hone wali hai.
The director and the producer comes in and they say, 'Acha Sonuji bahut acha, welcome to Chennai. Aapki body-vody achi hai aap T-shirt utaar ke dekh sakte hai kya? Maine bola accha Sir utar sakte hai. Maine fatafat T-shirt utari, ha sir, acha hai, you are doing our movie, please.
Toh maine bola ki picture mil gaya? Yes, Sir, mil gaya Sir. And I realised zindagi badalne wali hai aur uss samay pager hota tha mere paas.
Miane fatafat jitne mere pager the logo ne, mere mother ne bola tha ki you know congratulations tera ho jaega everything and all. So I just went to the STD-PCO and maine sabko phone karke bataya ki maine film sign ki and I still remember, uss din baarish ho rahi thi Chennai mein. That was one day I can never forget.
Maine unn sab logo ko phone kiya jinko maine shayad kabhi baat bhi nahi kiya hoga par unko batane ke liye ki main films kar raha hoon, abhi main filmo mein aa gaya hoon.
But I think from there the journey as an actor started and there's still miles to go.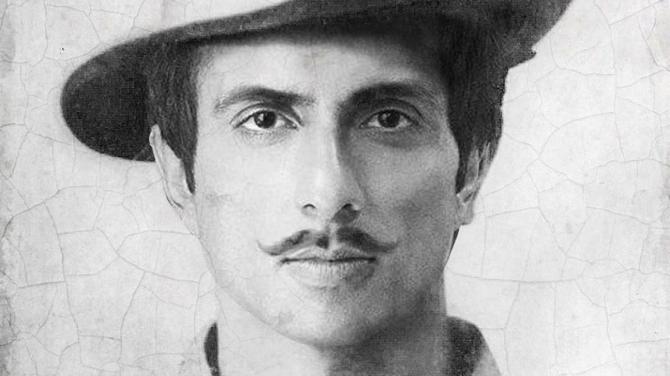 On his initial days in Bollywood
Bhagat Singh was my first film and Iqbal Singh Dhillon uske producer the. Jab maine woh film sign ki, I remember, my grandfather used to study with Bhagat Singh in National College, Lahore.
Maine bachpan mein kisse sune the aur History meri achi thi, bahut padha tha maine Bhagat Singh ke baare mein.
I remember jab hum dialogues bolte the aur baat karte the ki Bhagat Singh is assembly mein iss taareek ko unhone bombs feke the, aur yeh kiya yha woh kiya tha, mujhe waise hi yaad tha.
Main jab dialogues bolta tha, mere director bolta tha aree nahi nahi sir ek minute, aapne kuch galat bola.
Yeh aisa nahi hua tha, aisa hua tha and main kya sir nahi nahi aisa hua tha, aap padhke dekhiye. Aur jab woh dekhta tha, woh bolta tha nahi nahi sir bilkul aise hi hua tha, very good, very good, Sir, very good.
I think that was a special experience.
Uss samay teen Bhagat Singh aayi aur teeno ne Bhagat Singh jab aapas mein clash hue box office mein, ek hi din, ek hi saath teeno posters lage hue the, maine bola Boss, panga bada le liya life ke andar but I think from there actually, the whole journey started.
Mani Ratnam had seen Bhagat Singh and he cast me for Yuva. Then Jodha Akbar happened, Aashiq Banaya Apne happened, and then my big break -- we did Sheesha together.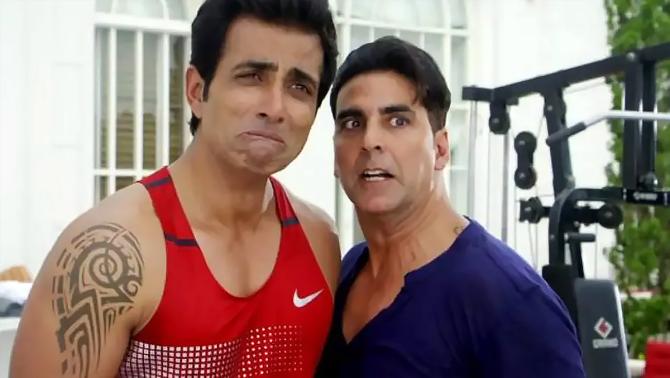 Sonu Sood on the super-powers of celebrities:
Farah Khan's superpower:
She doesn't need a mic to scold you.
Aur usko bolne ke liye uski aawaz jo agar Mumbai se aawaz degi toh Punjab tak gaali sunayi degi.
Akshay Kumar's superpower:
Note badi teezi se ginta hai, yaar.
Jitne paise kamata hai woh dhad dhad dhad dhad... aur usne mujhe lagta hai counting machine bhi li hogi.
Badi slow ginta hai, isse hatao piche, aane de isse.
Punjab wala desi style lagaya aur tad tad tad tad
Anurag Kashyap's superpower:
Woh film ke liye promise karta hai, uske baad gayab ho jata hai.
Main usko bada chedta hoon.
Bahut saal pehle ek film ban rahi thi Gulaal uske andar bada kamaal ka role diya, 'Sonu, yeh tu hi kar sakta hai, koi nahi kar sakta'.
Script aaya mere paas maine bola badi tayari ki, uske baad Anurag gayab ho gaya.
Pata laga Gulaal ban bhi gayi kisi aur ke sath. Script yaar usko bolta hoon, aaj bhi mere paas pada hua hai.
Salman Khan's superpower:
Tractor bada kamaal chalate hai.
Mujhe itna pata nahi tha ki woh tractor chalate hai and lately I saw all those visuals of him riding a tractor, mujhe lagta hai ki Salman Bhai ke baju mein baithke thodi kheti-badi karni chahiye mujhe.