'I did not find anything atrociously out of place about the depiction of the IAF's image,' says Group Captain Murli Menon (retd).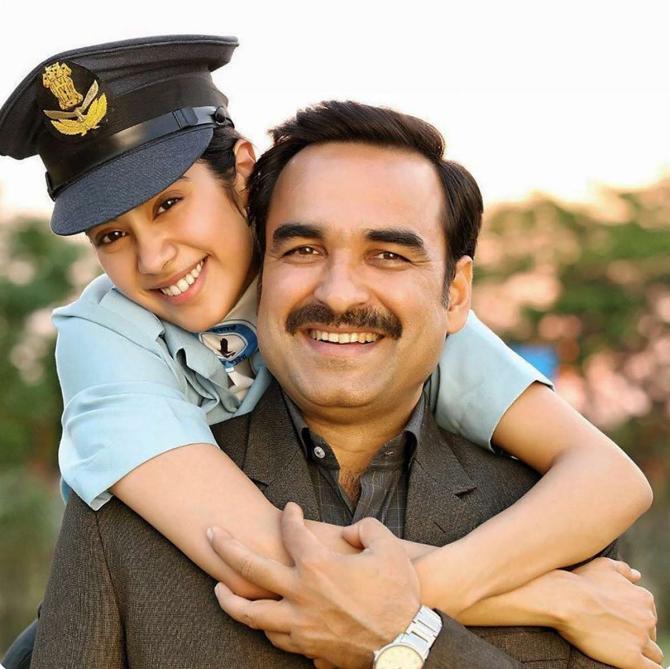 The media frenzy over Gunjan Saxena, the Hindi movie starring Janhvi Kapoor, made Indian Air Force stalwarts like me wonder how the IAF allowed itself to be denigrated in terms of encouraging irreverent treatment of women, as alleged in wide sections of the media.
I happened to see the movie on Netflix (a regular launch having been ruled out thanks to the pandemic) and was pleasantly surprised to find that it is in fact a PR booster for the IAF and not the other way around.
About the quality of the picture cinematically, suffice to say that it is a pretty ordinary film, with reasonably good portrayals of the father-daughter and brother-sister relationships.
As for histrionic and other attributes of the actors themselves, less said the better. Being only her third film after Dhadak and Ghost Stories, Janhvi has not done too badly as an IAF pilot.
But the controversies about the IAF being portrayed in a bad light is, I think, overstated.
The depiction of Cheetah helicopters being employed in an airborne Forward Air Controller role during the Kargil conflict is factually incorrect and also that is not how an airborne FAC operates!
So is the shown Stinger missile downing of a Cheetah. As known, it was an MI-17 helicopter that got downed in the early stages of the war by a Stinger.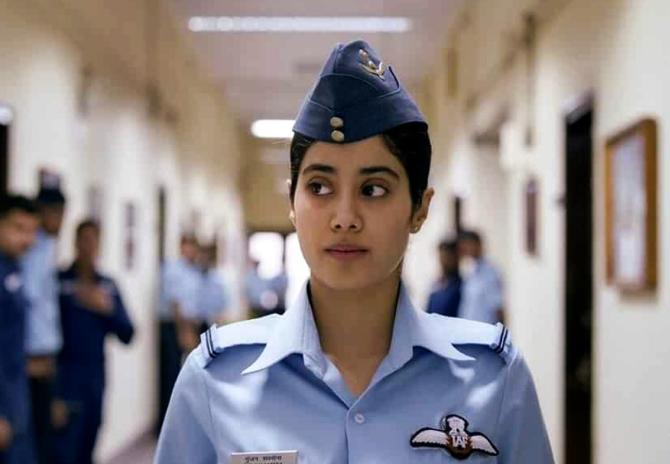 Yes, there are depictions in the movie of Gunjan being treated unfairly at work, like being denied her fair share of flying and not given appropriate changing room facilities.
These are nothing to write home about and it is inconceivable that the movie script was not cleared with the IAF.
To be frank, I did not find anything atrociously out of place about the depiction of the IAF's image. I commanded a fighter squadron at Adampur when the IAF started inducting women.
It is fair to say that, despite the sensitivities on the matter, the initial batches of women would have had a rough time settling in.
Billeting was bound to be an issue as the IAF had only dealt with the peculiar requirements of living-in lady doctors earlier.
These challenges are, of course, even more accentuated in the Indian Navy thanks to cramped work space on board ships.
So what is depicted in the movie about minor heckling by male peers in the chopper unit and professional oversight by some IAF functionaries like the flight commander, are more than offset by the depiction of a considerate Services Selection Board head and the group captain squadron commander in the movie who over-rides the sexist decisions of his flight commander, to give Gunjan her due in flying.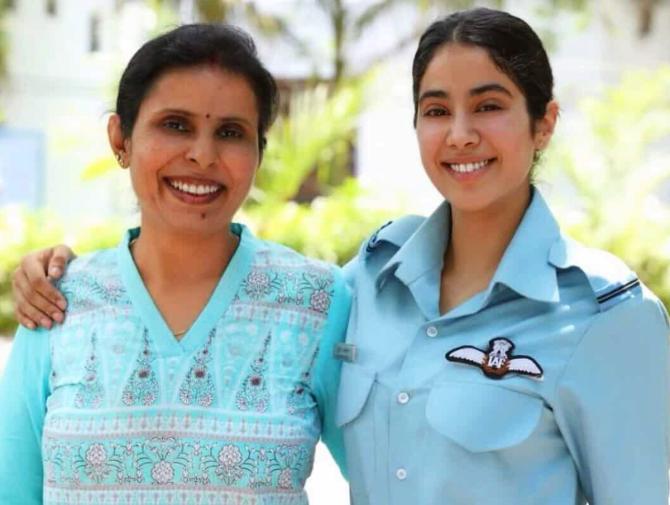 And let me tell you that even as a young fighter pilot one has had experiences of an 'unfriendly' flight commander giving you short shrift on the flying programme.
But then you learn either to live with it or, like Gunjan did in the film, prove that you are made of sterner stuff.
Mostly, if a pilot is professionally sound no one can hold him or her back. I still recall an inspection team intervening on my behalf after my flying had been stopped peremptorily by an unprofessional, vengeful, squadron commander.
My service record down the road justifies the point about the system itself being careful not to lose good professionals owing to partial or unfair treatment by some senior functionaries in the hierarchy.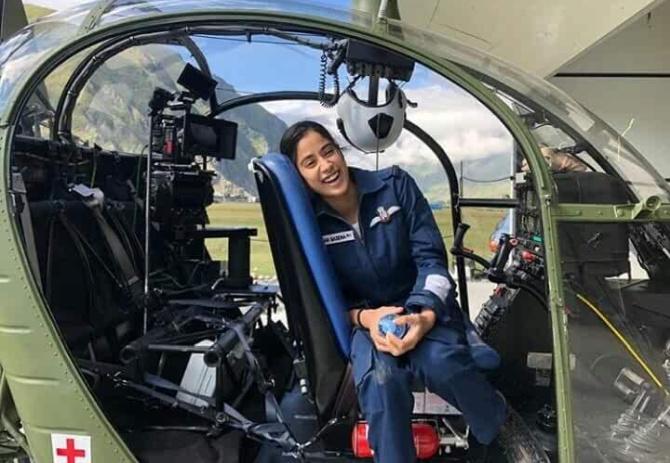 The real life Gunjan Saxena says as much in the aftermath of the controversy. She has been quoted as follows .. 'the gender bias in the IAF is not at an organisational level and to deny it altogether would be hypocritical'.
The fact remains that we in our traditional patriarchal social make up have a lot of ground to cover to ensure gender parity in the defence services or elsewhere for that matter.
Even nations such as the US, which have had women in officer and enlisted ranks for eons now, have not been able to be free from sexist behaviour in air force and other establishments.
The infamous Tail Hook episode in the US navy was an eyeopener in this context.
In September 1991, US navy officers, marine officers and defence contractors committed sexual affronts on serving service women at a Tail Hook (so called because of the US navy's aircraft arresting aid) symposium, Then again there was a reported sex scandal at an US air force academy recently.
This is not to condone such errant behaviour in any way and I have no doubt that the IAF, which has been the pioneer in inducting women in India, would have checks and balances in place to preclude gender bias and discrimination.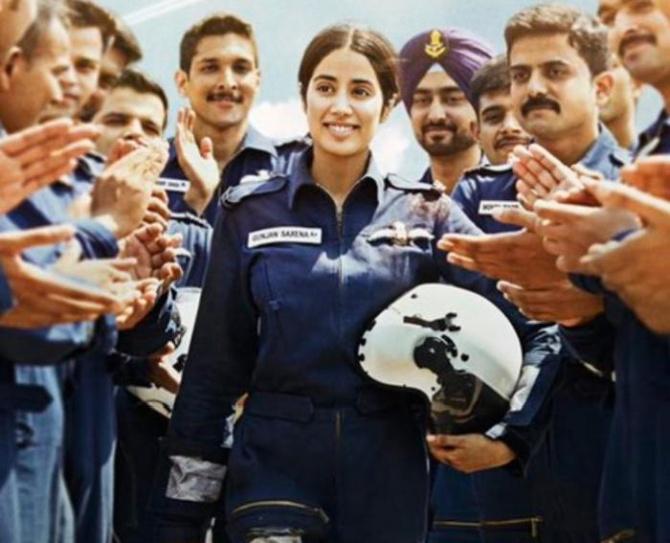 We are currently inducting women into the ranks of the military police and judicial strictures exist for giving women equal opportunities in combat arms and permanency in commission.
Women in significant numbers are already serving in the nation's police and intelligence services and they are as vulnerable to the inherent dangers and occupational hazards as any of their male counterparts.
Women are as good as their male counterparts professionally. Many an IAF commander has vouched to me that the quality of women entrants and their commitment are of a high order ascompared to their male colleagues in branches other than fighter flying, where they still have to prove their mettle.
There is also a case for more numbers of quality military-themed Hindi and regional language movies to show the services in their true light and motivate young people to enlist in numbers for national service.
We have started late in this field unlike Hollywood which has been churning out military classics ever since World War II.
Perhaps it will take a while for Bollywood to start producing quality war movies based on Indian themes.
Feature Production: Rajesh Alva/Rediff.com