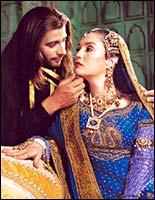 A
fter what seems like an eternity, Akbar Khan's
Taj Mahal – An Eternal Love Story
is slated to finally hit theatres. That was reason enough to celebrate at the prelude, the music launch, on Wednesday at the terrace gardens of the ITC Grand Central Sheraton and Towers in Mumbai.
An elaborately decorated set -- complete with a mini-replica of the Taj Mahal and a beautiful mid-summer night -- served as the backdrop as writer-director-producer Akbar Khan took centrestage to launch the music of his period film.
"Taj Mahal, conceived nine years ago, comes to life today and I have to thank my cast and crew for all their efforts to see this through," said a visibly emotional Khan.
He called on the lead actors and crew -- including Manisha Koirala, Arbaaz Khan, Zulfi Syed, Akbar Khan's new find Sonya Jehan, Arbaaz Ali, designer Anna Singh, cinematographer R M Rao, lyricist Syed Gulrez and co-producer Irshad Alam -- to share the stage with him.
Khan expressed regret that Kabir Bedi, who plays the older Emperor Shah Jahan could not be present as he was shooting for his musical,
The Far Pavilion,
in London. Kim Sharma, who plays Laadli Begum, the daughter of Noor Jehan from a former marriage, joined the entourage later on stage.
The Khan family was there in full strength. Brothers Feroz Khan, spiffy in a black suit and the trademark shades, and Sanjay Khan congratulated Akbar Khan. Nephews Fardeen and Zayed also joined the party.
"The music does not touch the eardrum and bounce back but penetrates and lives in the soul of people," said Khan as he invited singers Hariharan, Preeti Uttam and legendary music director Naushad on stage. A standing ovation greeted the man who gave music to classics such as Pakeezah, Mughal-e-Azam and Baiju Bawra, as he came onstage on a wheel chair.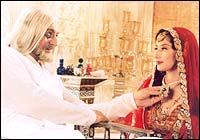 The album was launched by P S Shenoy, the former chairman of the Bank Of Baroda, the financiers of the film.
"I've always wanted to do a period film and jumped at this opportunity that Akbarji presented me," said Manisha Koirala, looking far from jaundiced in a peach ensemble. "What appealed to me about the character [she plays Jehan Ara, Shah Jahan's daughter] was that despite her putting up a brave front she really has a very soft, caring heart."
Arbaaz Khan, who plays Aurangzeb, adds, "It was very challenging role. We had to work on everything from the gait, the attitude, the speech and the clothes to bring these characters immortalised by history back to life. Fortunately, Akbar Khan had done a lot of research and it made my job a lot easier."
The guest list also included models Shawar Ali and Aditi Gowitrikar, singer Talat Aziz, actor Rahul Dev, director Govind Nihalani and producer Vivek Vaswani.