'I didn't want the sequence to look like an orgy.'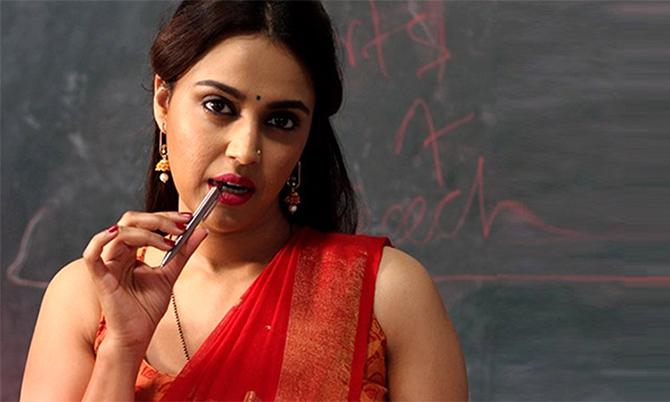 Swara Bhaskar knew she was taking a risk with Rasbhari, her new Web series, where she plays an English teacher in a school in a small town full of lusting boys and their drooling fathers.
"This could have easily become sleazy and cheesy," Swara tells Subhash K Jha.
"In fact, my team said no to the offer without asking me. Then I happened to meet the producer at a very boring get-together where he narrated the subject to me. I was immediately interested."
Trolling her for her unconventional teacher's role in Rasbhari has already begun.
"I know the criticism has started," she says. "That the Guru is like God, and how can she behave this way? I knew I was going into dangerous territory. But I trusted the director and the writer. I had seen director Nikhil Bhat's earlier film Brij Mohan Amar Rahe. I knew I was in safe hands, and I was right."
"On watching the series with trepidation, I was reassured," she adds. Rasbhari pushes the borders without getting obscene. I am very proud of what we have achieved."
"It is not easy to avoid sleaze in a film about sexual awakening, the first kiss, the first sexual experience."
In a bold sequence, Swara kisses a female and male co-actor, and Swara admits it was not easy.
"I had four kisses in the film and two of them in the same frame. I must say my co-stars were far more nervous than I was. I didn't want the sequence to look like an orgy. I wanted my character to introduce the young couple to the pleasures of sex," Swara says.
"Then I requested the director to show my character slowly move out of the frame to reiterate the fact that she was only the catalyst of sexual awakening between the two youngsters."
Swara is glad for the OTT platform.
"My last appearance on the OTT platform was in 2018 in It's Not That Simple. Now there is Rasbhari, which I am very curious about. How will audiences react to its bold intent?" she asks.
"Let's face it. We all have had a major crush on some teacher in our growing up years. Rasbhari is a tribute to that feeling of idolising/lusting after a teacher."