'Where are the funny writers on Indian television and OTT platforms?'
'Where are the sitcoms?' asks Vanita Kohli Khandekar.
It has been a lackadaisical summer for entertainment. Look at some of the most heavily advertised films and shows.
Shoojit Sircar's Gulabo Sitabo, released on Amazon Prime Video, is disappointing. The story seems secondary to the setting.
It is as if somebody loved the crumbling Fatima Manzil in Lucknow and wanted to set a story there; the rest didn't matter.
Anurag Kashyap's Choked, on the other hand, has a superb idea -- a lower middle class family's emotional upheaval against the background of demonetisation with a bank teller as the protagonist. But it moved too slowly and lost me somewhere.
Paatal Lok is a gripping watch, though parts of it were a bit too gory for me.
Jaideep Ahlawat, first noticed in Raazi, is superb as Inspector Hathi Ram Chowdhury.
There are dozens of other shows and films -- Jamtara, Out of Love, Panchayat, The Family Man, Selection Day -- the list is long.
What kept me going through the human tragedy unfolding on Indian roads, through the horror of a shrinking economy and people losing their livelihoods was The Big Bang Theory.
In the last three months, I have binged on its superbly witty and well-written 279 episodes across 12 seasons, twice.
The show began life on the American CBS (part of Viacom) in 2007 and aired its last episode in May 2019.
It has, over 12 years, become a global phenomenon that has been licensed across many other platforms. I watched it on Netflix.
As four scientists at Caltech or the California Institute of Technology bumble through life, women, relationships and work conundrums, their characters grow and change but never without reason and context.
The 'character arcs' in writing parlance are almost perfect. You marvel at the writers, of which Chuck Lorre and Bill Prady are the main. The show is funny yet intelligent.
It makes you laugh but also offers deep insights into life and relationships. Even the quartet's love of comic books, super heroes, technology and all things science is built in beautifully.
There are characters from Star Wars (Mark Hamill, James Earl Jones, Carrie Fisher), Star Trek (William Shatner, Leonard Nimoy), the world of technology (Elon Musk, Bill Gates) among others making an entrance in some episode or the other.
Stephen Hawking, a rockstar for physicists, keeps making an appearance in person, as a voice or on a Skype call at crucial moments, till his death in 2018.
In an era of uncertainty and gloom, The Big Bang Theory brought a whiff of all things normal, albeit in far way America.
More importantly, every one of its 20-minute episodes made me laugh.
And that raises the question this column asks at the beginning: Where are the funny writers on Indian television and OTT platforms? Where are the sitcoms? Especially at a time like this.
The economy, our society, diversity, different cultures, so much about India is a mine of sitcom material.
The West has How I Met your Mother, Brooklyn Nine-Nine among others. India has little in this genre.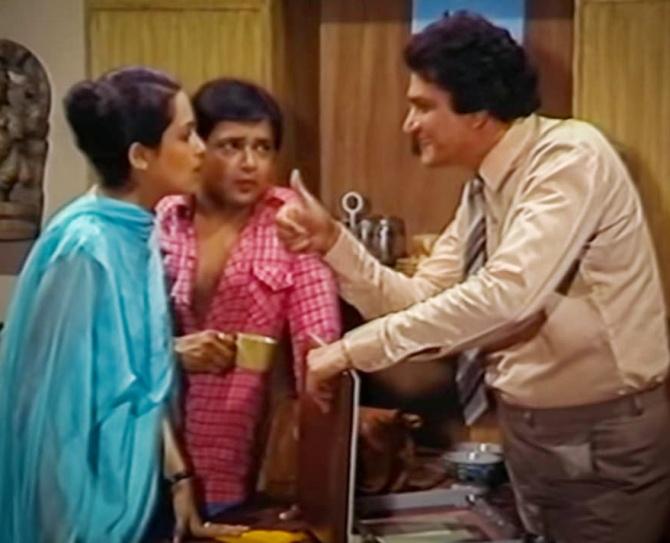 In the eighties and nineties, there was the odd Yeh Jo Hai Zindagi, Wagle Ki Duniya and Dekh Bhai Dekh. That is when the weekly dramas took over.
In the millennium, came the dailies. The last really witty sitcom I saw in Hindi was Sarabhai V/S Sarabhai (2004).
The show, streaming on Amazon Prime Video currently, has aged well but really nothing of the same calibre has been written in a long time.
You could point to Tarak Mehta Ka Ooltah Chashmah or stand-up or the shows like The Office or Mind the Malhotras. But think of it.
While the 'edgy', 'layered' thrillers and dramas, a la Sacred Games, Mirzapur or Inside Edge have arrived on the small screen, thanks to streaming video, the edgy, witty, episodic sitcom is missing.
The reasons are not hard to fathom.
Television, the most popular medium, survives on advertising, which chases appointment viewing, which in turn is best bagged by dailies.
Sitcoms are lower down the food chain.
Also, TV is largely a family-viewing device, which limits the creative a fair bit.
That is where streaming video, watched alone on a phone/tablet or TV screen comes in.
Currently at least half a dozen subscription-driven OTTs in their market grab phase are throwing money at content.
Maybe something truly funny will come out of it.