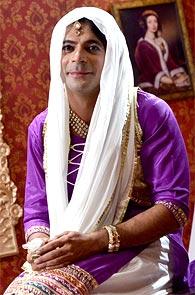 The show is finally over.
Stand-up comedian Sunil Grover's breakaway show Mad In India will be yanked off the air on May 11.
According to channel sources at Star Plus, the decision to end the ill-fated laughathon was taken earlier this week.
It was arrived at after much deliberation.
"The show just wasn't working. The comparisons with Comedy Nights With Kapil killed the show," explains a source. "The show's creative team first tried to move away from Kapil Sharma's format. When that didn't work, they tried to give more of the same thing as Kapil's show on Mad In India. Finally, the show was neither here nor there. The channel has taken a decision to take it off."
The inglorious end to plans to break off as an independent stand-up comedian comes as a big blow to Sunil Grover, who left Kapil's show to create his own identity.
While Grover's plans after the sudden termination of his current show are unknown, rumours about his return to Kapil Sharma's show seem unfounded.