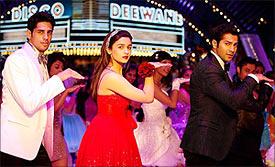 Karan Johar's latest film Student Of The Year shows the life of students. So what do the country's students think about it? Yash Joshi, 16, from Pune, gives us his verdict:
The first thought that comes to the mind when you read the title of Karan Johar's new film
Student Of The Year
is that the film is about a competition. The film is constructed on a single idea: Competition of Life. But within this competition, there is a touch of friendship, which makes for happy endings.
The three debutants of the film -- Siddharth Malhotra, Varun Dhawan and Alia Bhatt -- are the USP of the film. But I think Siddharth scrapes past Varun by a small margin. All three of them are exceptionally good.
Alia Bhatt is super cute and plays her role effortlessly. Her character Shanaya is a high class-confused Indian girl. She touched my heart with her simple yet powerful performance.
The film undoubtedly follows the Karan Johar's tradition of showing lavishness in every aspect of life -- be it the college campus, the stylish uniforms, the stunning Ferraris and Lamborghanis.
Varun
Dhawan plays a spoilt brat of a very rich and successfull industrialist, who has no interest in joining his father's business. Instead, he wants to be a pop star.
In contrast to that, Siddharth Malhotra is a middle class boy, with no parents. He really impresses, and we can connect with him instantly.
The songs are very catchy. Not only do they enhance the quality of the film but also help in the construction of the story. The song Ratta Maar clicks instantly with the younger audiences, just like Give Me Some Sunshine did from 3 Idiots.
The beautiful Kajol makes a special appearance and one cannot help but remember her earlier days as an actress, especially in the film Kuch Kuch Hota Hai.
Rediff Rating:

Yash Joshi, 16, attends Sardar Dastur Hormazdiar Junior College in Pune.