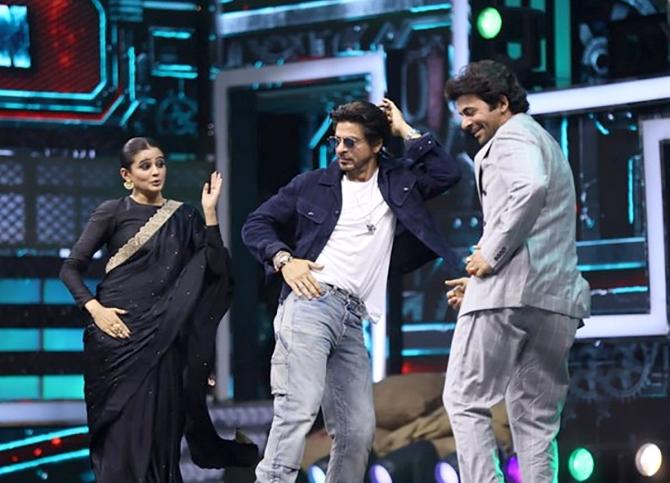 "I'm humbled. Thank you so much for inviting me. I enjoy Tamil films. I realised early on that the best films are made in Tamil," Shah Rukh Khan told Chennai at a grand pre-release event hosted by the Jawan team at the city's Sri Sairam Engineering College.
"Eating in Tamil Nadu was fantastic. I lost my six packs and gained them back. I found a wonderful variety of dishes in Tamil Nadu," Khan added.
Director Atlee added, "I was in Mumbai working with filmmaker Shankar on Enthiran. My pal informed me that we were shooting outside SRK's residence. He requested me to take a picture in front of the gate. After 13 years, the same gate opened, and King Khan himself said, 'Welcome, Atlee sir.' So it is true. Good things will happen in your life if you appreciate ladies. "
Jawan's leading lady Nayanthara was unable to attend due to Onam celebrations.
Khan enjoyed a fun banter with his Jawan co-star Vijay Sethupati on stage.
The Tamil actor recalled an incident from his school days when he was unable to approach a girl he had a crush on because she was infatuated with Shah Rukh Khan.
"When I was in school, I had a crush on a girl. But she didn't know. Every Jaanu has a Ram after all," Vijay said, referring to his 2018 film, '96.
"But that girl was in love with SRK. It has taken these many years to have my revenge.
Shah Rukh replied with his signature wit: "I think everyone praised me except Vijay Sethupathi sir. He was talking about some girls... Vijay sir let me tell you, you can take revenge but you can't take my girls. They belong to me only."
Shah Rukh performed several songs from Jawan, making fans go crazy.
A fan named Preetish told ANI, "We've travelled all the way from Bangalore to attend the event, and we're quite excited. We are looking forward to Jawan and are confident that it will do very well at the box office. We're curious to see what Atlee will do with Shah Rukh Khan. Atlee often offers the style that fans expect, and it will be interesting to watch his collaboration with Shah Rukh. Even Nayanthara and SRK's pair looks refreshing, and it will be fun to see both of them, along with Vijay Sethupathi."
Another fan Paayal said, "I am here for Shah Rukh Khan. He creates magic whenever he is there in any film. I just want to witness the magic."
Ahead film's release on September 7, Shah Rukh Khan also visited Vaishno Devi Temple in Jammu to seek blessings.
The trailer will release tonight at the Burj Khalifa in Dubai.