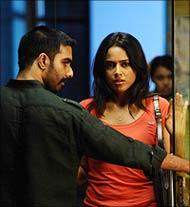 Pavithra Srinivasan reviews the Tamil film, Nadunisi Naigal. Post YOUR reviews here!

After a romantic movie that set the cash registers ringing at the box office, Gautam Vasudev Menon returns with an experimental film under his own banner, Photon Kathaas, along with R S Infotainment: Nadunisi Naigal (Midnight Dogs).

Said to be a psychological thriller with a strong dose of hard-hitting reality, this one had audiences eagerly awaiting a master story-teller's next intriguing tale. It didn't hurt that the movie was being touted as the next big thing, after Bharathiraja's classic thriller, Sigappu Rojakkal.

There are, to justify the title, plenty of dogs in the story -- of both the canine and human kind. Whether they drag you into their sordid tale is something else, altogether.

In a scene that blends artistry with the cruelties of real life, the tale kicks off, with a couple of brutal murders, while a policeman talks agitatedly into his phone at a hospital. A young girl has been kidnapped from right under the noses of the hospital authorities and the police, by someone masquerading as a policeman. Switch to what looks like yet another hospital room, and you're introduced to the protagonist of the tale: Veera (Veera) as he looks at a camera, face covered with stubble, and tells his tale with a manic look in his eyes.

Cue to a flashback: Veera was actually christened Samar, the only son of the proverbial rich man in Mumbai, living a life of decadence, filled with wine and women. The young Samar is pretty much exposed wholesale to this debauchery, and you feel the sorrow and anger that goes with the deep-seated trauma of an incident like this.

Someone else in the film feels it too: his next door neighbour, Meenakshi (Swapna Abraham), a woman who lives alone and is suitably horrified by the happenings. With her intervention, the police march in, and in one swift stroke, the sex maniacs are disbanded, and Meenakshi decides that she'll be Samar's legal guardian. Her background, motivations and character are never explained; she's a Good Samaritan who conveniently happens to be on hand. She also ignores, somehow, to get the abused child counseling -- whatever her reasons, we're led to assume that Samar escapes without any psychological trauma.

Life goes on placidly for Samar, who's re-christened Veera by his kind guardian -- but as it's unfolded pretty soon, what he suffered as a child has far-reaching, horrifying effects. Women become his playthings in every way, until he stumbles upon an old classmate, Sukanya (Sameera Reddy.) And the mayhem starts in earnest.

In this dark, brooding tale, filled with macabre dashes of humour and bloodshed, Sameera Reddy certainly comes out on top. As the enthusiastic lover, and later, the terrified victim, she's had plenty of opportunity to display acting talent (even if she does spend most of the film crying).
Veera on whom almost the entire film hinges, is an interesting find. Yes, he's certainly worked very hard at portraying a demented killer with years of childhood abuse behind him -- but this is the kind of story that needs an actor with an extremely strong presence. Veera presents a textbook case of acting; he delivers the lines and tries hard with the expressions, but you're just not pulled into the story. Swapna Abraham is convincing as the kind guardian. She even delivers in her later avatar, but only after you're forced to connect it with the obvious parallels. Devoid of that cliche, it would make no sense. Deva, as the serious ACP, does a neat job.
In a movie like this, the production crew needs to be in smashing shape; needless to say, GVM's creew delivers on that score. Manoj Paramahamsa's camera-work is brilliant, showing every mood and expression clearly; the scenes within Veera's car are particularly effective. Editor Anthony, with his swift pacing, delivers as well.
Yet another advantage is the complete absence of songs or unnecessary romantic/comic/action interludes. The movie itself is little more than two hours long. Commercial movie fans, though, might find that disappointing. And this movie richly deserves its A Certificate.
There's no doubt that Gautam Menon needs to be applauded for taking up not only a sensitive issue and explaining its effects, but also picking up the thriller genre -- but the first fifteen minutes of the film pretty much remove any vestiges of thrills, anywhere. It's almost as though Gautam Menon decided to take up every psychological thriller out there and simply turn it around, showing it from the killer's point of view.
There are plenty of explicit scenes (though care has been taken to avoid outright vulgarity), plenty of swearing and too much exposition right at the end. Every twist and turn is predictable; you know what's going to come next, so there's just a question of waiting for the end. And even that is drawn out far too long.
Nadunisi Naigal has a serious premise and is pretty realistic. But if you've watched any kind of Hollywood thriller at all, then the appeal is lost.
Rediff Rating: