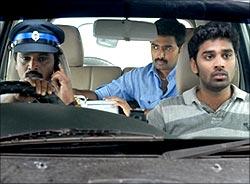 The Malayalam film
Traffic,
directed by Rajesh Pillai and written by Bobby and Sanjay, was one of the most commercially successful and critically acclaimed films of 2011.
The way the film narrated and interlinked the stories of the various characters was a perfect work of art.
In a way,
Traffic
is a road film as it describes the journey of the police constable (Srinivasan) who carries
the heart of a brain dead young man (Vineeth Srinivasan) to Palakkad where a super star (Rahman) and his wife Lena await it, since it will save the life of their young daughter.
The policeman is accompanied by a doctor (Kunchako Boban) who was heartbroken after finding his wife cheating on him, and the friend of the dead young man (Asif Ali).
The journey along the National Highway is monitored and planned by a young IPS officer (Anoop Menon)
in Kochi. The film ends when the police jeep finally reaches Palakkad with the heart, after going through many tense moments.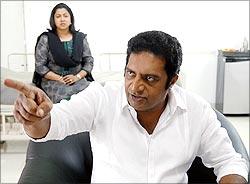 The Tamil version is produced by Raadhika Sarath Kumar, the story is set in the city of Chennai. Hence the title
Chennaiyil Oru Naal (A day in Chennai)
. Anyone who is familiar with Chennai traffic knows how ambulances inch their way through crowded roads with no vehicle making way for them.
Chennaiyil Oru Naal
is directed by Shahid Khader. Sarath Kumar plays the IPS officer, Cheran, the police constable, Prasanna, the doctor, Prakash Raj, the super star, and Raadhika Sarath Kumar the super star's wife.
This film is expected to reach the theatres soon.