'I always gave my best, even to what people considered to be trashy content.'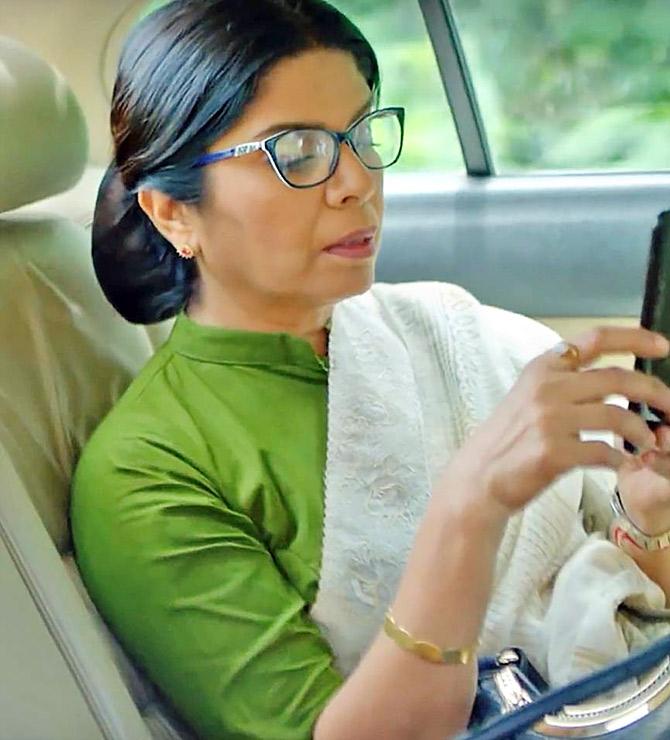 "When I was 33, I remember going to Govind Nihalani's house in the night to have a meltdown," Mita Vashisht tells Subhash K Jha in the concluding segment of a two-part interview.
So do you look back without rancour?
My greatest pride and satisfaction when I look back is that I stayed on the straight and narrow, that nothing and no one could tempt me to go against my grain.
That pride always came to my rescue and that even as a young actress, I had a deep and healthy disrespect for authority.
I could admire enormously what you do as a director or a creative person, but inside me, sits another person who watches and observes constantly, what kind of a person you are -- it watches even me for that matter.
So the subtext of my inner voice always was, 'You meet me at soul level, that is the only equation we can have. There can't be another.'
This allowed me to be really independent in relationship to my work.
In life, it allowed me some deep friendships with some amazing people in the film industry on an equal footing and for no 'work reason'.
In later years, it allowed me to continue being an actress and to not be scared of the lines appearing on my face.
I had a hilarious encounter with a lady doctor who got very nasty when I refused to allow her to sell me botox for my face. I told her, 'God has given me these lines you know. You cannot do better than him.'
She said she would make me look 27 again, but I said no -- been there, done that, life is meant to move on.
She said something nasty about me not getting roles, and I laughed and felt really sorry for her -- and she's a big name by the way.
The OTT platform seems to have opened up for brilliant actors like you. Do you feel rejuvenated and reinvigorated on this platform?
Thank you for the 'brilliant actors like you.'
Yes, with OTT I feel blessed!
Blessed and grateful for being given this space to expand, to be able to flow, to become the river again.
I am an actress, it's a path!
It's meant to flow like a river, not be a pond.
As an actress, I am meant to be the river, always new, flowing, moving over, into unknown terrains...
I hope OTT fulfills its raison'd etre and doesn't go the way TV went.
Have you been a victim of gender discrimination?
Gender discrimination is a part and parcel of every industry but yes, more pronounced in the film industry.
Even if the male actor is younger and accomplished than you, he gets more prominence.
In a film called Agnipankh, I was the main lead, but the male actors got the better facilities.
It's the way things are in the industry and you have to accept it.
A lot of the discrimination in the film industry is hierarchical.
If you are a newcomer, you get neglected. But if you are a star kid, it's another matter.
I remember I was talking to a senior journalist at an awards function. He was raving about my performances in Siddeshwari and Kasba.
When he saw Kajol enter the room, he simply abandoned our conversation.
In those days, journalists were far more important to cinema than they are today.
For someone of his seniority to ignore a reputed actress and kowtow to a star kid who didn't even have have a release back then was strange.
But then I never took the film industry that seriously to let these things affect me.
And yet, you did outstanding work?
I think I've been really lucky with my roles.
I got to give my best to Mani Kaul, Kumar Shahani, Govind Nihalani, Shyam Benegal...
Sometimes I would feel so special because a director would tell me, 'You talk more about other directors than me'.
I'd say, 'I've done only two films with you and five with him. Do three more with me then you will be on par.'
It was all in good humour.
I think I've loved all my roles. They've allowed me to live so many lives.
Some of my best television work is being revived during the lockdown and audiences are going pretty crazy over them.
I remember how busy I used to be in the 1990s.
One day Shyam Benegal was dropping me from Film City to the nearest autorickshaw stand to reach my PG digs. I grumbled that I don't even get a Sunday off.
He looked at me for a long time and said, 'You don't know how lucky you are to be working all the time.'
I realised what he meant some years later.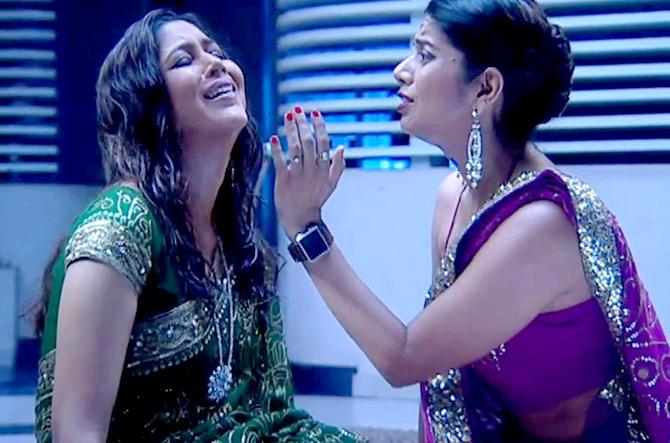 But the job opportunities dried up after you worked with all the best?
I worked with the most powerful directors, including Mahesh Bhatt who directed some of my most powerful scenes in Ghulam before Vikram Bhatt took over.
Subhash Ghaiji is also a good director, but he has this ego which I'd keep puncturing.
Then there was the iconic Mani Ratnam with whom I did Dil Se.. It was like an avatar of God had descended to earth in Bollywood.
I also did my only music video Mann Ke Manjeere; it was Shoojit Sircar's first venture.
I have loved all my characters, including the one in Kahani Ghar Ghar Ki.
A lot of inputs came from Producer Ekta Kapoor.
I always gave my best, even to what people considered to be trashy content. If I had to be trashy, I'd be the best trash.
How did you prepare for your role in Your Honor?
I don't over-think my characters.
Of course, I did my research.
When I saw the original, I decided my cop character could not be like her counterpart in the Israeli original series.
My Punjabi cop Kiran couldn't be a poster girl for the police force. She has a regular job, is deeply committed to her work, she's a single mother, no time to meet her son, let alone go to the gym.
I had spent years in Chandigarh that really helped me with the language of my character.
After internalising my character, I just played it by ear.
After a point, it was not clear whether I was playing my cop's character or the character was playing me.
Any bitter experiences in commercial cinema?
Yes, there have been roles that were chopped, but I never let these things get to me.
Things were not exactly hunky-dory for me.
At one point, I lost three big films in a row.
When I was 33, I remember going to Govind Nihalani's house in the night to have a meltdown.
I had nowhere else to go, but I never gave up.
Future plans?
Lots of good work, I hope, in Web series.
I think this is a wonderful platform.
I can feel a few thousand characters waiting to come out. I didn't chase my best roles, including Your Honor.
When do you turn director?
I did a lot of research for a film on traffic minors.
I spent a lot of time in a remand home.
Every delinquent had a story to tell.
I got 14 hours of taped footage with the kids.
The editor suggested I make a film.
I never released this film as I didn't want these children's lives to be affected.
For 10 years, I was married to a film director. I am familiar with the process of direction.
I have scripts ready.
I almost directed a film for Adlabs.
But my main vocation is acting.
I am proud to be an actress.
I don't like calling myself an actor. I am proud to be a woman and an actress.
Feature Production: Aslam Hunani/Rediff.com