Every six months or so, someone claims Shekhar Kapur will direct his next movie. The director, however, is committed only to two theatrical films – Solace, a psychological thriller about a psychic mercy killer (Bruce Willis) and Golden Age, the just announced sequel to the hugely successful Elizabeth.
Elizabeth was nominated for seven Oscars, including Best Picture and Best Actress.
A spokesperson for Working Title -- which produced the historical drama in 1988 -- confirmed that shooting for the sequel will begin in six months.
Trade publication Variety first reported the plan for a sequel that, like Solace, could cost upto $ 60 million.
Golden Age will be Kapur's third British period drama, following the Paramount-Miramax film, The Four Feathers, which turned out to be an artistic and box office flop. 
There were more than a few eyebrows raised when it was announced that
Elizabeth
-- which would be filmed at a cost of $25 million -- would be helmed by an Indian director. But the reviews were generally positive and the movie grossed about $10 million in the United Kingdom. In the United States, it made about $30 million. It was a
hit in Japan
as well.
Michael Hirst, who wrote the Elizabeth script, will work with Kapur on Golden Age as well.

Working Title, once an independent British company, is now owned by Universal Pictures. Its hits include Notting Hill and the Bridget Jones movies.
Solace is being produced by New Line, the maker of Rush Hour and The Lord Of The Rings trilogy.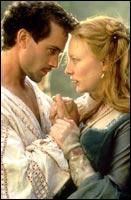 Cate Blanchett, who will also star in Golden Age, could not repeat (left) Elizabeth's success for a long time. Her luck recently turned following a convincing performance as Katharine Hepburn in Martin Scorsese's recent hit, The Aviator. Her performance earned her an Oscar nomination for Best Supporting Actress.
The Rediff Interview: Cate Blanchett
Golden Age will unfold, like its predecessor, against the increasing and bloody schism between Protestants and Catholics in England. Tim Bevan who, along with partner Eric Fellner, signed Kapur to direct Elizabeth after seeing his impressive Bandit Queen, describes the new film as a drama about religious tolerance.

In a chat with rediff.com a couple of years ago, Kapur had clearly hoped to make a sequel to Elizabeth. "I am drawn to contemporary films, too," he had said. "But historical films are always more challenging."
DON'T MISS
The Rediff Interview: Shekhar Kapur
Special: The Elizabeth controversy