'He loved me so much...I will miss him so much.'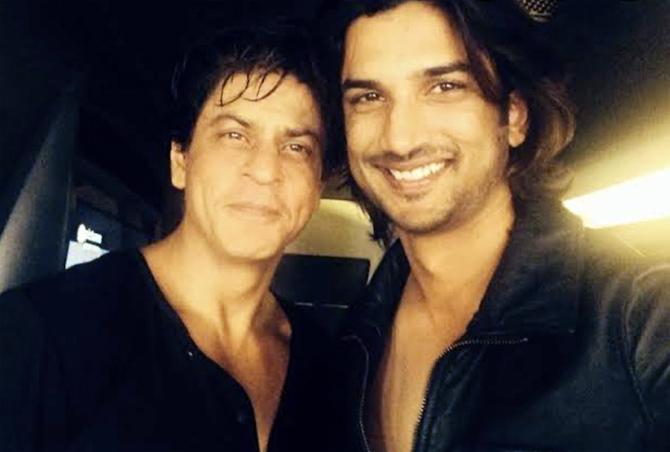 Sushant Singh passed away too early, Bollywood shocked.
Shah Rukh Khan: He loved me so much...I will miss him so much. His energy, enthusiasm and his full happy smile.
May Allah bless his soul and my condolences to his near and dear ones. This is extremely sad....and so shocking!!
Anushka Sharma: Sushant, you were too young and brilliant to have gone so soon.
I'm so sad and upset knowing that we lived in an environment that could not help you through any troubles you may have had.
May your soul rest in peace.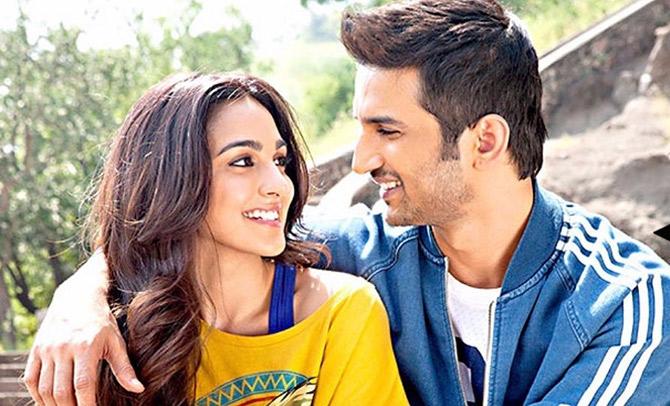 Kiara Advani: Deeply saddened. My heart goes out to Sushant's family at this time.
Reminiscing and cherishing every moment of our Dhoni shoot. Can't believe this.. gone too too soon.
Varun Dhawan: RIP Sushant.
Sushant was a true artist. Supremely passionate and hardworking.
I have lovely memories of the time we spent.
I'm very shocked at this moment. Sending my deepest condolences to his fans and family.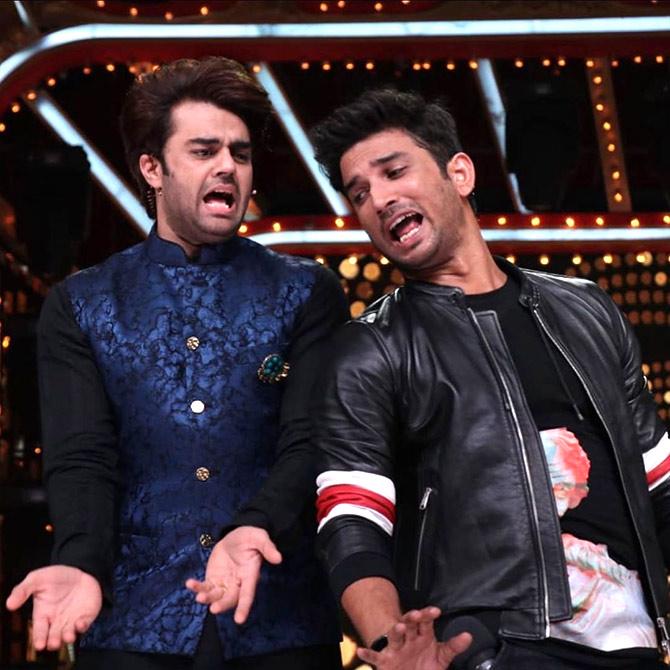 Maniesh Paul: Didnt know this was our last!!! Im in shock!! No words...went too soon...
So many unanswered questions!! shall miss u brother...still cant believe it...may god gives strength to the family.
Namrata Shirodkar: Shocked and sad!! Why is always the question!! To young to die... RIP. #SushanthSinghRajput
Kubbra Sait: What is going on? #SushantSinghRajput No Man No!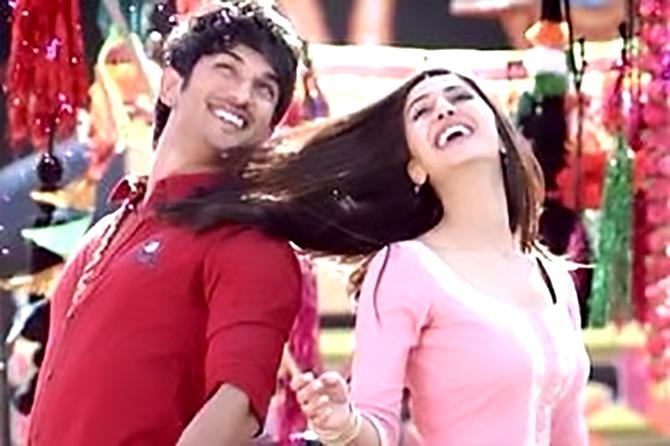 Vaani Kapoor: My first ever Co actor! It's heartbreaking. Lots of love ..RIP.
I remember my first meeting with you and there you were, the first person to smile at me and help me!
My first co-actor!
Still in disbelief and shock.
I have known you as a happy & funny person.
I wish I could do something to change this. I am going to miss you.
Miss the chance to work with you again. I pray for your soul to find its calm.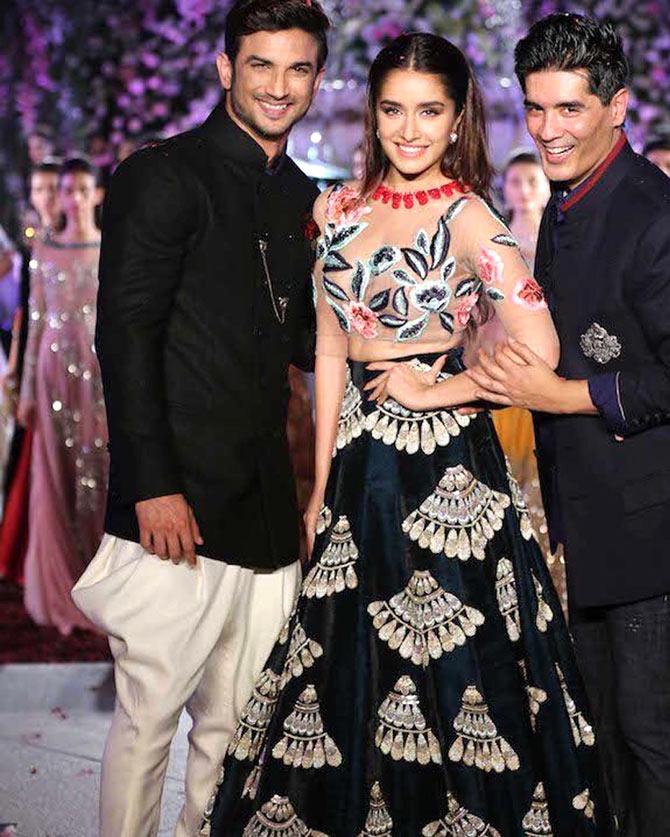 Manish Malhotra: This news has been shocking and very sad and heartbreaking #Rip dear #sushantsinghrajput charming, friendly, warm, smiling always, talented. You will truly be missed.
Rohit Roy: Who would have thought that behind that cherubic smile that could warm the coldest hearts lay a troubled soul.. RIP my friend
Don't have words to express my grief.. sad, shocking, unbelievable. #gonetoosoon #numb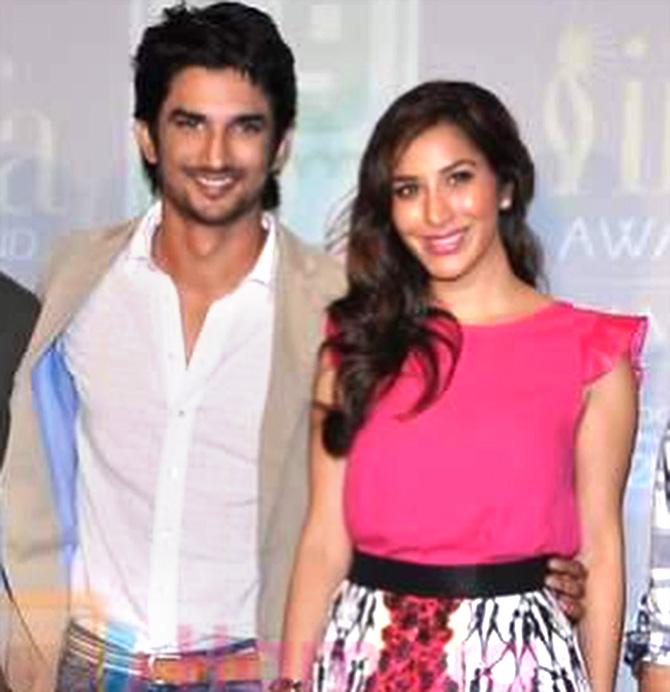 Sophie Choudry: Someone who would light up a room with his energy, his masti, his madness, the heartiest laugh, more profound than most people would expect, always sensitive to what's happening in the world.
A bright spark, an incredible talent, had achieved so much and still so much to do....wish this was not true...
wish you had reached out to someone..this news is just too much. RIP #sushantsinghrajput.
To all those reading this, you never know what someone is going through. Be kind.
And if you are suffering please don't suffer in silence.
Talk to someone, anyone.
Neha Dhupia: Have a pain in my gutt as I write this ... I was somewhere between a fan and a friend ... such a lovely talented young man you were #sushantsinghrajput and you decided to go away too soon.
My condolences to the family... can't imagine what they must be going thru... and can't even begin to imagine what you must have gone thru... we are all so sorry.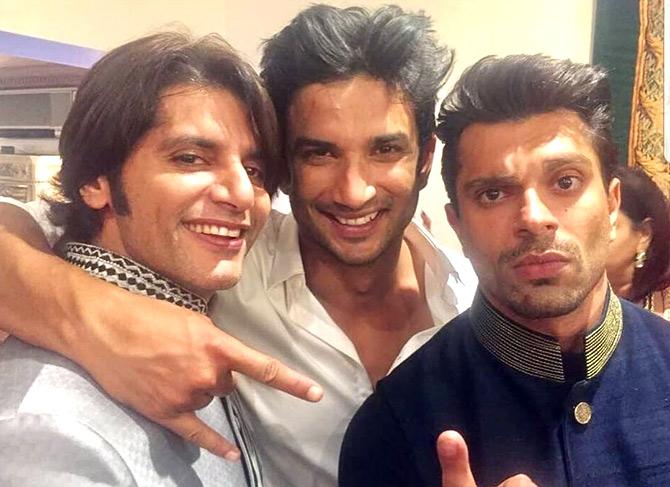 Karanvir Bohra: Why? Why? Why? 'm in dismay.... How could you do this brotha? Rest in peace my friend
Ravi Dubey: The nightmare is not ending ....yakeen nahin hota #RIP #sushantsinghrajput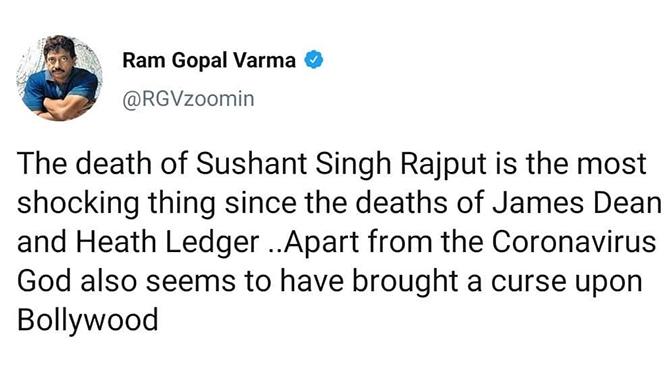 Neeraj Madhav: Shocked ! Finding hard to process this. Gone too soon. RIP Sushanth Singh Rajput.
Vishal Dadlani: #SushantSinghRajput too? What is going on? F***!!!
Strength and condolences to the bereaved.
This is horrible, horrible news.
Please take care of yourselves and your families, and talk to your friends.
Shankar Mahadevan: This is so so shocking and sad!
Such an outstanding actor and a beautiful human being just goes away like this!
Am devastated hearing sushant singh Rajputs news!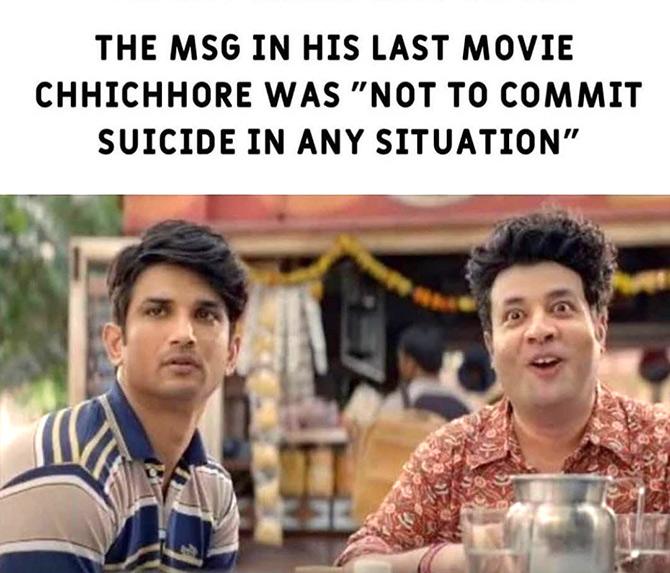 Gauahar Khan: Gone too soon! Sooooo much talent! Full of energy! Warm person!
Hope u find peace wherever u be @sushantsinghrajput! #shocked
Zareen Khan: You always wore a smile on your face. Can't get myself to believe this. Shocked & Devastated.
R.I.P. @sushantsinghrajput ... you will be missed.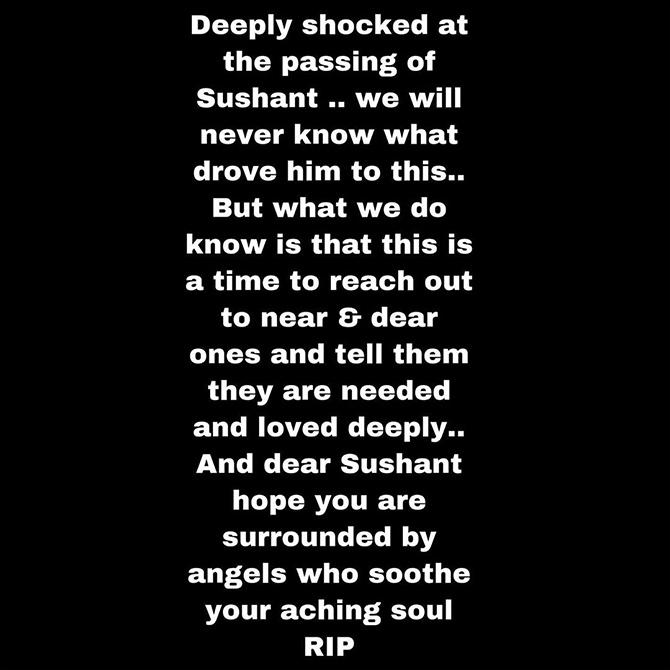 Chahatt Khanna: Wish someone could do something for you ..
Your first memory will always be with me at pvr set, such a humble soul, have always seen you smiling, wish people were less superficial and more real around us ..
I wish you get that peace and happiness which you have gone looking for ..
May you meet your God Om namah Shivay.
Nora Fatehi: Shocked.. disturbed... i cant believe this.
Rest in peace Sushant singh Rajput.. my condolences to his entire family and friends.
May god ease the pain and suffering of anyone going through mental health issues..
May god instill strength & faith in anyone losing hope during this difficult year..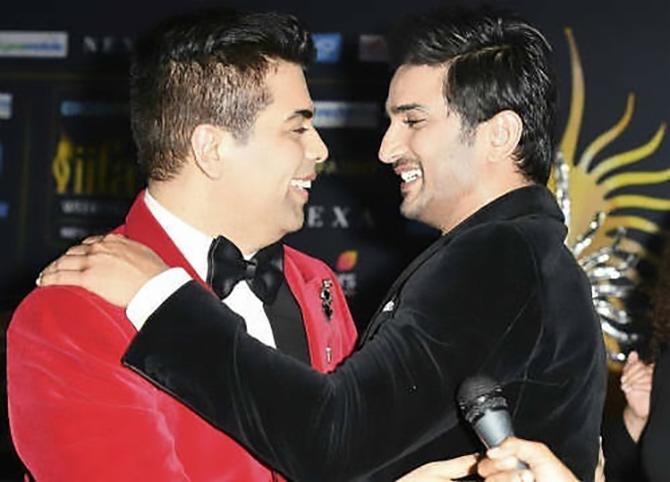 Karan Johar: I blame myself for not being in touch with you for the past year.....
I have felt at times like you may have needed people to share your life with...but somehow I never followed up on that feeling...will never make that mistake again...
We live in very energetic and noisy but still very isolated times ...
Some of us succumb to these silences and go within...
We need to not just make relationships but also constantly nurture them....
Sushants unfortunate demise has been a huge wake up call to me ...to my level of compassion and to my ability to foster and protect my equations.....
I hope this resonates with all of you as well....will miss your infectious smile and your bear hug.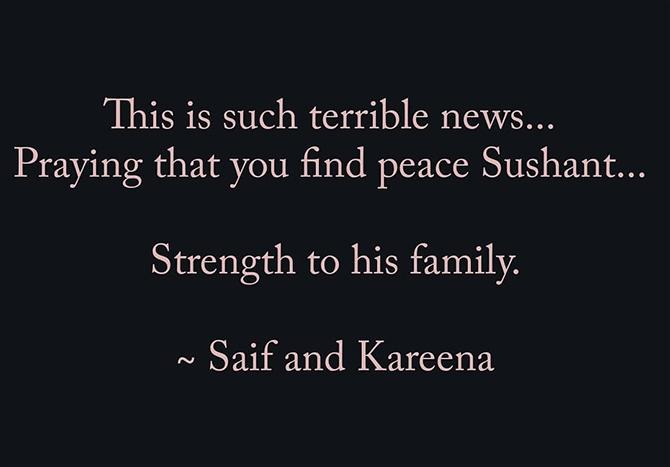 Dia Mirza: Such a bright mind, such a talented artist...
So so saddened by this news.
Heart goes out to his family... Deepest Condolences May the cosmos he so loved embrace him. #RIPSushantSinghRajput.
Shabana Azmi: What? Why? Psychiatrists say suicide can be prevented if those around can read the signals and seek medical help and counselling.
What a loss for the film industry #Sushant Singh Rajput. Deeply tragic.
Sonal Chauhan: Just speechless!l! Gutted!! Out of words!!!
This is BEYOND SHOCKING!!! Such a happy and positive guy!!! Gone too soon!!!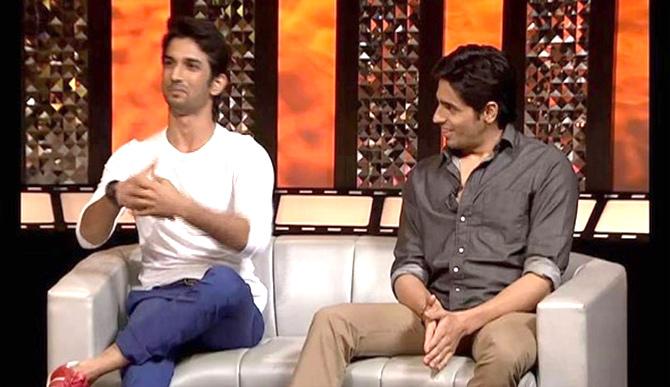 Sidharth Malhotra: Shocked and extremely sad, a fellow colleague with such good work backing him. Gone to soon, rest in peace bro. My prayer with his family and loved ones.
Sanjay Dutt: At a loss for words.. So shocked to hear about #SushantSinghRajput's demise. My condolences with his family.
Chhichhore director Nitesh Tiwari said he had spoken to Rajput last week.
'I had to call people to confirm. It's so shocking and unfortunately true. I am at a loss for words. I spoke to him last week over messages. We would text each other on and off. Now this is what I get to hear. He was like a younger brother to me,' Tiwari told PTI>.