'This was probably a first for Shah Rukh when he had met an 18-month-old ardent fan!'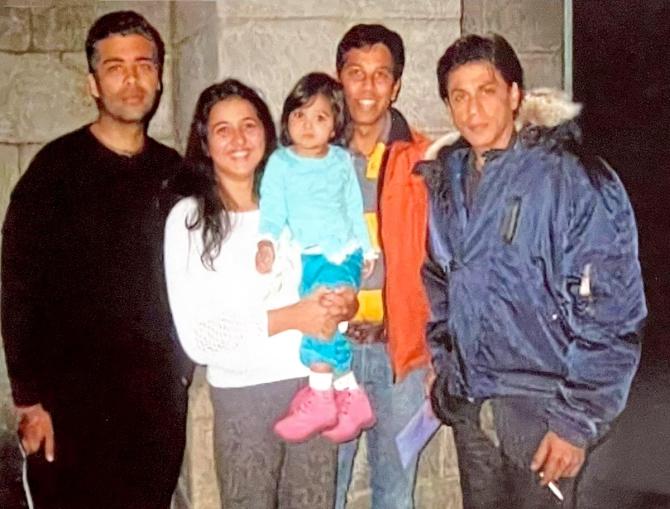 Rediff.com Reader Ranjan K Mishra, 50, from New Jersey, sent us pictures of his wife Swarupa Guru and daughter Rhea meeting Shah Rukh Khan and Karan Johar in a church on Broadway Street, New York City, in 2005.
I grew up watching a lot of movie stars but never liked Shah Rukh's acting until I watched Swades, Chak De, Kabhi Haan Kabhi Naa.
On the other hand, my wife and two daughters are big time Shah Rukh fans.
When I married, my wife said the most outrageously complimenting thing: "A girl marries twice in her life, once to her husband and once to Shah Rukh."
Such is her admiration for Shah rukh.
Anytime they fly to India, a visit to Mannat is a must.
It was November 2005 and Shah Rukh, Rani (Mukerji), Farah (Khan) and Karan were shooting for Kabhi Alvida Na Kehna in a church on Broadway Street, NYC. One of my friends is Rani's cousin and he gave us assurance to help us meet them.
So on that cold, wintry night, I, my wife and 18 month-old-daughter went to the church to meet Shah Rukh. We were allowed to enter the back of the church where the actors were resting after a shot.
At that time, Shah Rukh was nursing a severe back injury and he was in a therapy session between the shots.
After waiting for almost two hours for him, he appeared in a complete black attire.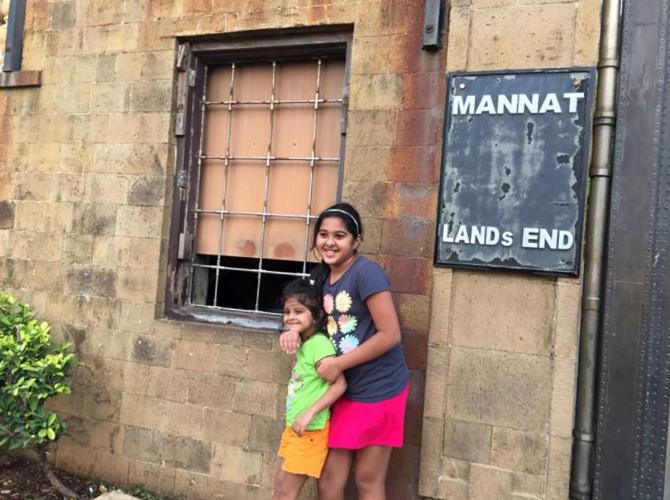 Looking at him, my daughter started screaming hysterically in her infant tone "sha-luk, sha-luk, sha-luk".
This was probably a first for Shah Rukh when he had met an 18-month-old ardent fan!
He couldn't resist his curiosity, came to us and picked my daughter up.
He responded with affection: "Nahin, pahele aap apna naam bolo, phir me baat karunga (First, you say your name, then I will talk to you)."
My daughter shyly put her head on his chest and responded Rhea.
He spoke to her for a good 2 minutes.
I asked him if we could take a picture with him and he responded "After the shot".
Then he handed over my daughter to me and went for the shot.
After the shot, we met Shah Rukh, Rani, Karan and Farah and they happily obliged our request.
That day, I definitely learned one thing, no matter what you have achieved in your life, be humble.
These guys are so popular yet loaded with humility.
I became a fan that day.
Have you met Shah Rukh Khan?
Do share your experience of meeting Shah Rukh Khan. A photograph with him would be even better.
Please mail it to moviesdesk@rediff.co.in (subject: When I met Shah Rukh Khan) along with your NAME, AGE, LOCATION.
We will publish it on Rediff.com.