At Rs 21 crore, the film recorded the lowest Eid release opening figures for the star since 2012.
Urvi Malvania reports.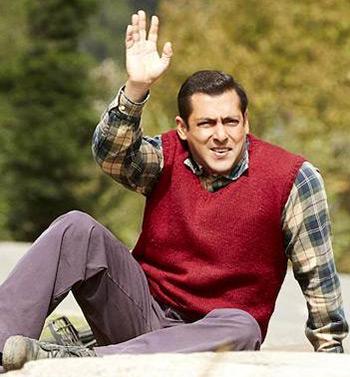 Despite all the hype and expectations from his latest Eid release, Salman Khan's Tubelight, released on June 23, has met with a lukewarm response at the box office.
The film's first day collection is in the range of Rs 20 to Rs 21 crore, among the lowest for a festival release by the actor.
In the past, films like Kick, Ek Tha Tiger, Bajrangi Bhaijaan and Sultan have released on or around Eid, and turned out to be blockbusters.
This time around however, Tubelight may not succeed in joining these films in the blockbuster category.
The film, starring Khan, the late Om Puri, Zeeshan Ayub, Zhu Zhu, and child artist Matin Rey Tangu, cost the producers close to Rs 100 crore, including the cost of prints and advertising.
This does not include Khan's fees since he takes part of the profits and a share in the sale of satellite rights of the film the world over.
"The film has performed below expectations. We were expecting it to touch Rs 25 crore, even after considering the fact that it released on the last Friday of Ramazan. The film should pick up on Saturday and Sunday, and, of course, can expect a huge collection on Monday and Tuesday, but the start has been less than optimistic," says a trade pundit.
The only film with Salman Khan in the lead in recent years to open at less than Rs 20 crore was the January 2014 release Jai Ho, which opened at Rs 17.5 crore, and went on to make Rs 111 crore, clocking a loss at the box office in India. However, it was not an Eid release.
Tubelight released in 4,400 screens across the country -- among the highest for a film.
Despite the below expectations first day haul, the film is still the second highest opener of the year.
The Hindi dub version of Baahubali 2: The Conclusion raked in Rs 41 crore on the first day, the highest this year so far.
The film has opened better than Shah Rukh Khan's Raees, which made Rs 20.42 crore on its first day, January 25.
Khan's 2016 Eid release Sultan raked in Rs 36.5 crore on the first day (July 6, a Wednesday) and went on to collect Rs 300 crore in its lifetime at the domestic box office.
The year before that, Eros released Bajrangi Bhaijaan around Eid, which made Rs 27.25 crore on the first day, which went on to make Rs 320 crore.