Between phony philosophical musings and Abbas-Mustan level of believe-it-or-not twists, Sadak 2 dodders towards its dead end destination, notes Sukanya Verma.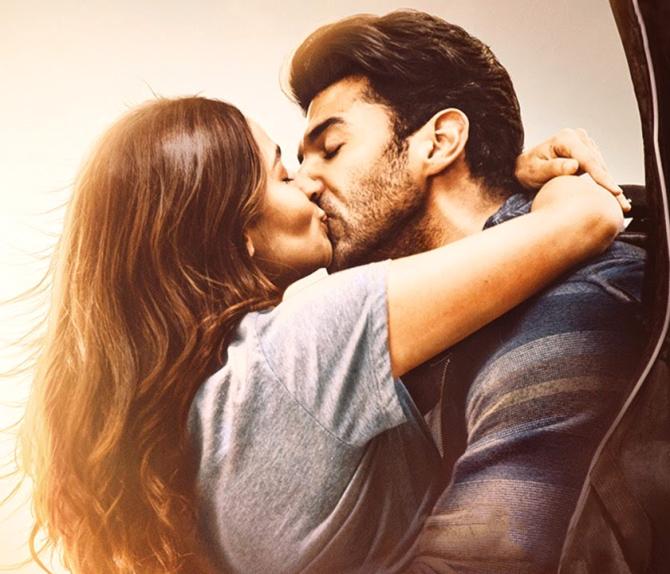 Sadak is a rare film to use its cast's frailties to make a stronger movie.
It used Sanjay Dutt's awkward emotionality to assert the demons an insomniac cabbie is fighting in the garb of normalcy.
It used a somewhat miscast Pooja Bhatt's cluelessness to bring out the discomfort of a girl caught inside the dark world of the flesh trade.
It used Sadashiv Amrapurkar's propensity for exaggeration in a creepy, complicated antagonist whose fetish for drama colours his ire and malice.
When Mahesh Bhatt's Sadak came out in 1991, the disturbing intensity of its tortured souls and gory depiction of their conflict unlocked new levels of murky in Bollywood.
Many years have passed since an emotionally fragile Ravi (Dutt) rescued innocent Pooja (Pooja Bhatt) from the clutches of vicious Maharani (Amrapurkar) and her prostitution mafia. But even with passé sensibilities and production values, Sadak still packs a punch on revisit.
I cannot say the same about its shoddy sequel streaming on Disney Hotstar.
Sadak belonged to another decade.
But Sadak 2, which marks Mahesh Bhatt's return in the director's chair, belongs to another era.
Its pitiable attempts to cash in on the nostalgia of the original only highlight its numerous inadequacies and Mahesh Bhatt's exhausted mojo.
Once you get past Pooja Bhatt's no show -- the epitome of '90s adorability is reduced to a photo frame and voice in this version -- you'll quickly realise it's a blessing in disguise.
The new one focuses on Mahesh Bhatt's other child and Pooja's half sister, Alia.
The bright actress is her usual solid self in a script that was probably texted across a Whatsapp chat.
When we first see her Aarya, she is disrupting a cult ritual and announcing badla on its perverse chief, Gyanprakash (Makarand Deshpande).
The God-man, addressed as Bhagwan by his followers, enjoys an inexplicable hold on her industrialist father (Jisshu Sengupta's overacting is a revelation) and stepmother (Priyanka Bose, reinforcing the stereotype of heavily kohl-ed eyes equals to vamp behaviour).
Deshpande's idiosyncrasies cannot elevate his caricature in costume.
It isn't too much to expect nuance from a director known to bring realism to his scenes or candidly share his Osho experiences and disillusionment to the world, but Bhatt keeps the tone absurdly hammy.
Between phony philosophical musings and Abbas-Mustan level of believe-it-or-not twists, Sadak 2 dodders towards its dead end destination.
If Sadak was loosely inspired by Martin Scorsese's Taxi Driver, Sadak 2 -- written by Bhatt and Sumitra Sengupta -- appears to have sketched one-note fairy tale characters where an evil sorcerer has taken control of a wealthy king's mind to further his agenda, an ill-natured stepmother poisons her husband's mind against his daughter and a hired huntsman cannot find the heart to kill the princess as per his orders.
Tossing in social media relevancy on such medieval mind set hardly makes it contemporary.
Throughout the drivel, Sadak 2 contrives scenes and props to somehow evoke the first one's imagery.
Ravi's history of suicidal behaviour repeats itself triggered by his wife's demise in a road accident. As much as one wants to feel sympathy for his loss, it's strange how all his recollections are romantic moments from the 1991 movie.
Here's a woman you've grown old with, but not one recent memory except that quintessential oversized portrait on the wall to share?
I am old-fashioned, he argues. Holds true for everything about this baloney.
Equally unnatural is Ravi's sudden connection and protective paternal instincts for Aarya, who guilt trips him into giving her a ride to Mount Kailash.
Giving them company are Aditya Roy Kapoor (looks ready to catch up on his sleep on the way) and his pet owl, purely as some caged link between Pooja and her lovebirds. Quite like Gyanprakash showing up in a sari for no rhyme or reason in a senseless tribute to Maharani's sexuality.
There's also Gulshan Grover flashing a severed arm like a pale shadow of his 1990s villain in a role that does nothing to honour his famed menace.
Sadak 2 is desperate in its provocation, slyly mulling on the politics of swindlers and beliefs of bhakts and sceptics. Yet, it refuses to give it the slightest bit of context.
Instead, what ensues are ridiculous moments like a hysterically panting woman smearing sindoor on her forehead before confronting her husband with a confession that turns into a kahani-mein-twist as old as Pooja Bhatt's daddy issues in Angrakshak.
Or Aditya Roy Kapoor doing his addict gig for the umpteenth time and still not getting better at it.
Or a Ram Naam Satya Hai-chanting Dutt storming inside Gyanprakash's abode while his devoted army has conveniently reduced into a handful in anticipation of the angry old man.
For a road movie, Sadak 2's geography is astonishingly bungled.
God alone knows where exactly these people live and how on earth they are transported in and out of states as per Mahesh Bhatt's whim.
Then again, Ravi relies on his inbuilt GPS and to stay off track is Sadak 2's single-minded goal.
It doesn't help to hear characters spout lines like 'Suna tha pyar kachre ko bhi sona bana deta hai' and 'Jhooth ko saari duniya ke samne sach ki chamdi pehnake dikhana' in utter seriousness.
Dutt deserved a better homecoming -- Sadak was a turning point in his career. He has grown heft over time and steadily pulls off his fondness for Aarya.
Alia is equally receptive, but Sadak 2 is too busy making a mess of things to use their strengths.
On display is a comical contest between the rest of the cast trying to outdo each other at looking foolish, a soundtrack that confuses stale for soul and an out-of-touch film-maker trying to be an indulgent daddy.
Rediff Rating: