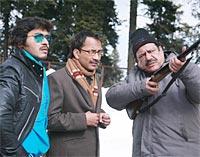 Raja Sen reviews 3 Thay Bhai. Post YOUR reviews here!

One might justifiably wonder, watching the flat and unfunny Teen Thay Bhai, exactly how three highly skilled performers can be coerced into a film this bad.

Om Puri, Deepak Dobriyal and Shreyas Talpade are all well-heralded actors of demonstrable talent, their pedigree here nullified by weak lines, farts and a flimsy script. Did they not, you gasp, see just how bad it was?

The tragic answer was that they probably did smell the stink. But so starved are our great actors for leading roles that they went ahead and signed this thing anyway. The legendary Puri, for example, might presumably have thought that at least he wasn't playing Akshay Kumar's sidekick this time. So, clipping noses into submission, they went ahead and stunk it up, hoping that it might just work.

It doesn't.

Teen Thay Bhai proves that actors with comic timing aren't everything, because while each of the actors -- particularly the awesome Dobriyal -- conjures up a couple of genuinely strong laughs apiece, the director doesn't really know the art of telling a joke.
Debutant Mrigdeep Singh Lamba sets up several gags but never quite sees them through, leaving us bored and waiting for the pay-off. In a rather reckless attempt at reaching all audiences, he tries hard to pack his film with something for everybody: scatological humour; overdone bursts of melodrama; marijuana-laced parathas; ThreeStooges-giri. As a result, nobody quite goes back happy.

Three brothers who loathe each other have to, in accordance with their late grandfather's will, spend a couple of nights together each year in a snowed out ramshackle old cottage. If they manage to spend six days there, spread over three years, then they get the cottage and the hill on it, a property valued very highly indeed.
It's an immensely standard setup, but there is so much that can be done with it. The filmmakers, perplexingly and exasperatingly, however, seem to believe that merely getting three fine actors is enough.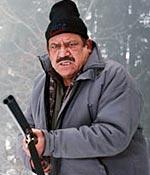 Had they locked these three men away in a house with just this setup as an acting exercise brief, I can wager they would have improvised something significantly stronger than this. Chameleonic artists all, they'd have dug their teeth into the challenge and provided definite fireworks. Teen Thay Bhai cruelly handcuffs them with a peculiar script and never really gives them any elbow room.

Dobriyal, the pick of the bunch here, brings his unique brand of hilarious earnestness to the part, while Talpade, trying hard to fly free, has his wings clipped by very poorly written dialogue.
Om Puri, who occasionally gets the chance to be shockingly cruel in this film, revels in his ruthlessness. Each, as said earlier, shines every now and then, but on the whole, they seem as bored with the film as the people watching it.

There is some fun texture, it must be said. The actor playing the young Om has quite a resemblance with the Puri of Benegal/Nihalani vintage; the use of those mosquito-killer tennis rackets as instruments of torture; and, okay, well, that's pretty much it, really. And producer Rakeysh Omprakash Mehra's obsession with the Ramayana -- the Ram/Ravan dichotomy prominent in both Aks and Delhi 6 before this -- continues here, to unnecessary effect.

Loud and inert at the same time, Teen Thay Bhai is a film to be shunned simply because of how cruelly it treats three actors we should treasure.

Rediff Rating: