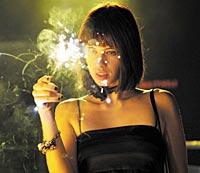 Raja Sen says Shaitan showcases some great performances but still feels longer than it's actual running time. Post YOUR reviews here!
Welcome to the Anurag Kashyap universe. Populated exclusively by the very coolest of character actors, backgrounded by a blaring retro-loving soundtrack, and shot dizzyingly in hypertechnicolor. It is a world where even chaiwallahs wear smartarsed FCUK tee shirts and brutal cops have a thing for Van Gogh. Hipness is the language of choice. Debutant director Bejoy Nambiar shows his own twisted side with
Shaitan
, but the film has producer Kashyap's pawprints all over its treatment -- which is, eventually, what makes it watchable.
The humor is dark, the men are darker, the women even more frightening. Do we actually care about any of them? Not an ounce. But hey, look how cool they look, especially in ultra-slow-motion with a
phooljhadi
stuck in their mouth! Whoa.
Amy, she of the tragic backstory and Cinderella sobs, has just moved to Bombay, or, as she'd correct it, Mumbai. She's an initially charming child-woman, and unsurprisingly played by Kalki Koechlin. She makes a few similarly tormented friends -- a bulimic, a repressed geek, a masochist, a reckless nutjob -- and they begin to play, um, spin the bottle. Like the Breakfast Club only if breakfast was served at the side of the road at three in the morning.
It's like many, many movies, really. Kalki and Gulshan Devaiya meet at a formal party with impossible to swallow conversation -- "Want to start a joint account?", he asks, handing her one — quite like
The Bong Connection
, only scripted in
Radicalese
. There is a
Dilwale Drugs Le Jaayenge
raid on a drugstore, and an overboiled
Jaane Bhi Do Yaaron
scramble with men in burkhas. They get into trouble with a moment disturbingly reminiscent of
I Know What You Did Last Summer
, and the film, overall, echoes a lot of Peter Berg's disappointing 1998 feature,
Very Bad Things
.
I personally do not have an issue with amorality in cinema. I'm all for men in cars accidentally blowing a kid's head off. But it needs to work. The characters need to be worth a damn, because they're genuinely engaging, because they fascinate morbidly, because they amuse or if only because they're too staggeringly cool to look away from.
This film features Rajeev Khandelwal as a truly bad-ass cop -- and my favourite moment is one where he kicks an uncompliant auto-rickshaw into action -- but the kids who mess up are just either bad or asses. The cast is stronger than the characters they play, flip-flopping inconsistently based on moment, not motivation. Kirti Kulhari's Tanya lounges back, cool as a frozen daiquiri, and asks Amy "Hollywood, how many men have you slept with?" That distanced iciness is never seen again, and even if this were intentional -- considering that her character isn't as rich than the others and aspires to be something she isn't, so it could be part of an act --
we see too little of this internal struggle for it to count.
What we do get to see, over and over again, is a horrible flashback for Kalki's character, some filicidal malarkey involving mothers and mascara and bathtubs, but all this psychobabble serves to do is slow down the narrative and offer a half-hearted apology for its anti-heroine being a monster. And why the apologies and explanations at all? Why must a film calling itself
Shaitan
wear bunny ears instead of horns?
That said, the film punctuates its increasingly noisy but wonderfully well-lit predictability with significant quirk. There's a deliciously snide government official raking couples over the coals with her painstaking, sadistic dissection of divorce forms. There's a Parsi guy speaking convincingly faltering -- but not obviously bad -- Hindi. And there's that tough as coffin-wood cop scared to bits as he touches Koechlin, more than aware he's hugging a piranha.
And then there's quirk that just falls flat, like an actress hiding on the stairs flicking a lighter and flashing cleavage while a burkha rests slinkily around her, as if she's in a b-movie. Oh, and the hero of another Kashyap production showing up in an inspired and wonderfully energetic cameo, which would have worked entirely if the fun sequence -- despite a flashback within a flashback gag the writers succumbed to and had fun with, but which doesn't make sense -- wasn't completely out of place. At a point when a cop has slapped a kid and naivete spills out of every crevice, it isn't the time for a gag. This film never seems to get that balance.
What helps the film a great deal are the performances. Khandelwal and Raj Kumar Yadav are reliably terrific. Koechlin is an increasingly striking actress we desperately need to see unburdened by a nightmare character. Shiv Pandit shows an interesting, seething screen presence, Neil Bhoopalam fumbles adequately, but it is Devaiya's Karan Choudhary who lives out on a limb and leads this bunch by the scruffs of their necks.
KC And The Moonshine Band
.
And yet, because of the imbalance, the film feels longer than its two-hour running time. When
Shaitan
sets up a call to action, it chooses instead to do nothing, save a line of blow in scarlet light (despite cocaine being anything but a slow-motion substance). There are some crackling chases, but they each feel stretched beyond their limits. Just like the film's anti-heroine, the kind of girl for whom Mother Superior *should* jump the gun.
In the end, it's all flash. This
Shaitan
is more SprayTan than Satan, staring us down and daring us to look away. Who blinks first? We do. Several times over.
Rediff Rating: