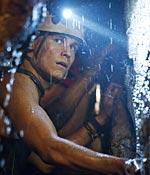 Shaikh Ayaz reviews Sanctum. Post YOUR reviews here!

James Cameron and 3D have become inviolably inseparable, especially after Avatar. So, when the maker of some of the greatest money-churners of our times lends his name to a 3D enterprise, even if that's just a turn-in as a producer, you expect the Cameron touch, if not magic.

In Sanctum, there are only fleeting moments of visual brilliance which you can count on your fingers. At your politest best, that's what you can say about the film whose cast are reduced to mouthing terribly trite lines.

Sure, you can't come up with inventive exchange under trying circumstances but how can you possibly take a story forward with annoyingly repeated use of the F word? Honestly, the bunch of divers, the protagonists of Sanctum, look just that -- divers, not actors.  

However, that's not the prime concern. The power of a 3D film rests not so much on remarkable dramatics as on its special effects. Having uttered that, in any genre, storytelling cannot be discounted at any cost. Great films, be it comic, drama or adventure as in the case of Sanctum, always have great stories, told effectively.    

Directed by Alister Grierson, Sanctum never clarifies its intention. If it's about survival, it doesn't come across as one. To put it in perspective, the film starts off in the Esa-ala Caves in Papua New Guinea, in what one of the characters describes as the "mother of all caves."

Underway is a caving expedition led by Frank McGuire (Richard Roxburgh) who knows the tactics of the trade.  However, during a flash flood which eventually turns into deluge, he's offered help by his son Josh (Rhys Wakefield), Carl (Ioan Gruffudd) and his awestruck girlfriend Victoria (Alice Parkinson). With dwindling resources, their lives fall at the mercy of nature whose fury tests their skills, patience and guts.   

Exciting in parts, especially in the underwater and deluge sequences (Cameron is an expert in them. Think The Abyss), Sanctum's characters appear to have no connection with one another and that fails to take the narrative ahead. There's no back story whatsoever. That way, one never gets a sense of familiarity with them.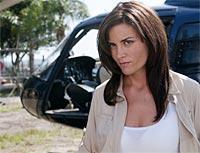 Also, it lacks a time-line (they show one at the start only to disappear later), which could have helped in creating and maintaining intrigue.
Like Danny Boyle's 127 Hours -- I'm citing the example because it's recent and of a film that's being still talked-about for its Oscar nods -- Sanctum has no story, just a task that the cast is focussed on, without knowing what it entails on the whole.
The idea is certainly not bravery here but surviving the catastrophe, the heartbreaks of the closed ones who suffered tragic deaths like in Roman Polanski's The Pianist. Sanctum's Josh and The Pianist's Wladyslaw Szpilman are in a way joined at the hip in their trauma. They don't wish to exhibit valour but some would say are courageous enough to have escaped death and therein lay their courage. In standing up for life and beating it at its own game. 
In the best scenario, that's the maximum tribute one can pay to Sanctum and the non-actors who inhabit its world. If it's based on a real story, it finds itself in desperate need of real moments.  
Rediff Rating: