Savera R Someshwar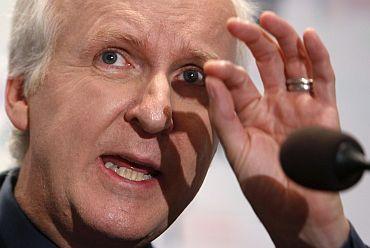 If there is anything that would convince world famous Hollywood director James Cameron to make a film in India, it would be its popular ancient epics, the Ramayana and the Mahabharata.
"Maybe right after the third Avatar," joked the self-confessed 'science groupie,' social activist and one of Hollywood's most successful film-makers who finds India "fascinating, now that I've been here a couple of times."
"But if there is an Indian director who'd like to make a film -- it could be about the Ramayana or the Mahabharata -- we can offer the technology we've already developed -- the 3D system and the virtual camera," he added.
For now though, as far as film-making is concerned, Cameron is not looking beyond the next two films in the Avatar series; he is in the midst of scripting Avatar 2 and 3.
Talking about Avatar, which grossed more than $ 2.7 billion worldwide in ticket sales only, he says, "The films made money in a way that gave me hope.  Non-profit organisations and NGOs approached me to use Avatar to further their message."
Earlier in the year, Cameron was in the Amazon, protesting against the massive Belo Monte dam that the Brazilian government plans to build.
According to the New York Times, 'it would be the third largest in the world, and environmentalists say it would flood hundreds of square miles of the Amazon and dry up a 60-mile stretch of the Xingu River, devastating the indigenous communities that live along it.'
Cameron became an active social activist post-Avatar, particularly after he saw the response the film generated among NGOs. "However," he says, "I pick my causes carefully." His strategy, he says, is "to go there, talk to all sides and once I am concerned, then I can do something about it."
The  "hydro-electric projects that are displacing people in the Amazon" is one such issue that has grabbed his attention. Earlier in the year, he was in the Amazon to lead the protest against the dam. At INK, he said, he may make documenatary on the plight of the displaced indegenous tribe.
"We can do well," he said, " and do good as we do well. Do good for the planet and the future generation. Most people, unfortunately, don't do both at the same time."
Primarily, though, he says, his films are a way to fuel his passion for undersea exploration and an excuse to undertake scientific experiments. Cameron, whose films reflect his twin passions, says, "Hollywood has not served science well."
The unexpected response to Avatar from environmental groups has got Cameron "very interested in renewable energy. I am going to focus my extra-curricular energy outside Avatar to that cause. But we are not going to solve the environmental crisis if we don't first solve the energy crisis."
Asked to define success, he says, "Success is when people are listening. If the seeds are landing on fertile soil, that's it."
Cameron was in Lavasa, a hill township near Pune, as one of the featured speakers at INK, the innovation and knowledge conference inspired by the TED series. It has been organised by Lakshmi Pratury, who also organised the TEDIndia series last year.
Speaking at INK was fulfilling a promise Cameron made to Lakshmi Pratury, the curator of the conference and the organiser of TEDIndia, when he was in India last year. That was a personal visit, and Pratury suggested a visit to the Kumbh Mela at Haridwar.
"We could not even get close to Haridwar," laughed Cameron. "We had to stop and we walked onwards for seven hours and we only saw pilgrims. This was when the frenzy around Avatar was still happening, so it was nice to be anonymous. No one was concerned with who we were and what we were doing."
Both Pratury and Cameron took a dip in the Ganga. "I definitely needed that after the seven hour walk," said Cameron, even as he ribs Pratury at being hesitant about going under water.
"It was nice to feed in the spirituality, nice to share in the belief system. You do feel something," he says.
Before coming to India -- his first visit was in March this year -- says Cameron, he had a love affair with the imagery of India that he had in his head. But, once he came here, "I realised they were real people." Now, he's fascinated with what he describes is the "energy of the nation and the rapid changing modern India."
Cameron may just be getting to know India, but India clearly has a love affair with Cameron if the reception he got at INK was anything to go by.
Image: James Cameron   Photograph: Reuters