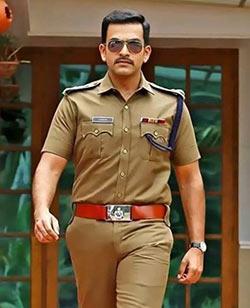 Tamaar Padaar is a below average, barely watchable film.
Director Dileesh Nair's first directorial venture Tamaar Padaar is too experimental and runs the risk of alienating the audience.
The story of two street performers played by Baburaj and Chemban Vinod Jose looks charming initially as it makes two non-lead actors the centre of the story.
Vinod even gets a typical romantic song while wooing his girl, Valsamma (Srinda Ashab). Their tale is narrated by a voice-over that stays till the end.
The director employs a narrator to move the story forward instead of the characters themselves doing that.
Jumper Thambi (Baburaj) exists in this world without proof of identity. He has a small family tucked away across the border in Tamil Nadu. He earns his food and drink by performing circus act on the roads in Kerala.
Tubelight Mani (Chemban Vinod) is a simpleton who falls for a streetwalker Valsamma. He is so simple that he does not understand the colloquial term for her profession.
The narrative then tells the story of a police officer Pouran (Prithviraj) who arrests the two street performers mistaking them for terrorists. They get the death sentence, but when he realises his mistake, like the good-hearted policemen in films, Pouran fights the system to get them freed.
This film has the feel of a notebook containing the thoughts of the director read aloud by the narrator.
So, we hear the Home Minister of the state explaining to Pouran that America will be pleased if the death sentences of the terrorists were carried out. In another scene the two performers perform an act about the empowerment of women.
Chemban Vinod is quite restrained and does not go over the top as may be expected of him.
The ultimate winner in this film is Srinda Ashab, as her character treads on a thin line between looking vulgar and innocent.
Prithviraj has been burdened with being a comic cop with a peculiar Thiruvananthapuram accent.
Tamaar Padaar is a below average, barely watchable film.

Rediff Rating: