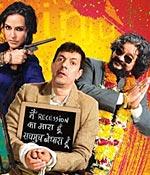 Sukanya Verma reviews Phas Gaye Re Obama. Post YOUR reviews here!

The world's a small place and India's shining but a desi's superficial fascination with America is far from over. Even today, 'I am off to New York' carries more show-off brownies than say, 'I am off to Wellington.' 

Also, the local belief among the blissfully ignorant or those who derive their intelligence quotient from escapist Bollywood fare is that most Non Resident Indians are akin to Scrooge McDuck flapping inside dollar-filled vaults unaffected by inflation or recession.

Playing on this psyche, Subhash Kapoor paves a hilarious plot around the impact of the recent slump in American economy, which drags a bankrupt New Jersey entrepreneur Om Shastri (Rajat Kapoor) to small town India with the hopes of selling-off his ancestral property to ward off some loans.

Unaware of his penniless situation, Om's NRI status makes him prime bait for the recession-ridden crooks and criminals. Writer-Director Kapoor builds this amusing misunderstanding into a series of comical episodes of hoodwinking one thief with the help of another for Om, we soon learn, is not a run-of-the-mill hostage but a shrewd fox with a strong presence of mind and nifty outwitting skills. Although the key trick is replicated four times in the story, it's presented with enough innovation to whine about the lack of the same.

But it's not just Om's quick ideas that keep Phas Gaye Re Obama on a roll. Kapoor pitches this caper around a motley crew of maverick, extremely engaging characters ranging from the good-hearted rascal and US-obsessed Ani (Manu Rishi), his tribe leader Bhaisaab (Sanjay Mishra) -- a rather career-conscious thug, girl-Gabbar Munni (Neha Dhupia) -- a dreaded dacoit and self-confessed man-hater along with Dhananjay Singh (Amole Gupte) as the piles-afflicted Animal Welfare minister.

Border-lining on blatant caricature and quirky individualism, this oddball set provides a frisky contrast to Om's regular guy appeal and instincts resulting in a pleasant balance between farce and fact.  

What really lends the implausibility in the circumstances its charm and connect is Kapoor's linear albeit crafty, song-less narrative style, which bears the simplicity of Grimm Brothers' Town Musicians of Bremen and witty slyness of Khosla Ka Ghosla. Barring the first few minutes which are relatively slack and unexciting, Phas Gaye Re Obama maintains an absorbing momentum from start to finish.

Plus, there's absolutely no dearth of LOL inducing moments. Right from a blundering classroom session of a English-speaking course, Ani's droll 'Yes we can' speech inspired by the US president (giving the title its context), Bhaisaab's outburst over his failure to make it as a ruckus-creating politician to one of the most casually-depicted yet uproarious sequence involving a son's reclaiming of his abducted old man from Dhananjay Singh's bureaucracy-inspired kidnap farm with receipts, one-year warrantees, et al.  

The mix 'n' match setting isn't relegated to the characters alone. Even the hilarity varies from astute to absurd. And so while the cunning lines and satirical wit is a constant, the presence of potty-themed humour is impossible to overlook, be it a sidekicks' fart influx or Amole Gupte's slapstick-y tryst with nagging bout of constipation.

After Kaminey, Gupte impresses yet again, nailing the grouchy, greedy politician fighting tummy troubles and nose-diving profits with his naturally crabby gaze, sinister smile and grumpy tone without hamming it up. Considering the far-fetched temperament of Phas Gaye Re Obama's content, it's to the actors' credit that they steadily refuse to go overboard.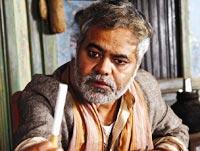 Even though Neha Dhupia strikes as too willowy to play a convincing bully, she exudes adequate fire in her expressions to fail the purpose. She's also one of the few contemporary actresses who can actually deliver a dialogue without destroying its dialect or punch. Rajat Kapoor employs his outward sophistication and nice guy vibe in precise portions to communicate the desperate/earnest/gritty graph of a man trapped in a bizarre state of affairs.
But the most powerful display of acting comes from Manu Rishi Chadha and Sanjay Mishra. Although Manu's Ani is a lot similar to Daya Shankar Pandey's Mela Ram in Swades; in the sense that they both latch on the big NRI type in a bid to fulfil their American Dream, Manu, however, brings tremendous vulnerability to his wilful, sympathetic rogue without being overtly emotional or corny.

He doesn't have as many scenes as Rajat or Manu but that doesn't stop Sanjay Mishra from owning the ones he features in. His big, batty eyes swing from bewildered to bewitched as he shifts as of a misfortune-struck boss of a floundering gang to a Kulu Manali-holiday aspiring Shekhchilli. And he achieves this visually entertaining feat without a moment of exaggeration, which makes it all the more laudable.  

Comedy, black, white or blue, is its effective best when spontaneous and born out of erratic, whimsical reactions against a perfectly genuine backdrop. Precisely why Phas Gaye Re Obama scores. It takes a real-life upheaval and mixes it up with the metaphor of survival is every man's need, morality no bar, to concoct a sharply-penned, rib-tickling adventure. It's insane. And it's awesome.
Rediff Rating: