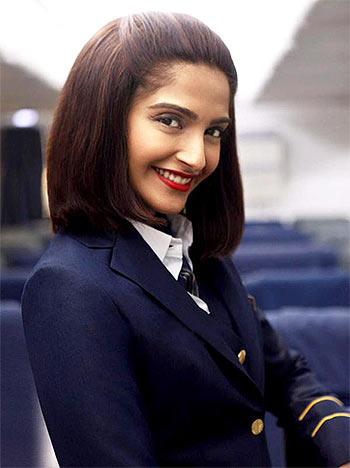 Sonam Kapoor is exceptional as Neerja Bhanot, says Raja Sen.
One minute into Neerja, and Sonam Kapoor disappears.
We meet, instead, Neerja Bhanot: a poised and cool Rajesh Khanna fangirl, a doted-on daughter, a neighbourhood favourite, a young girl who enjoyed smiling for the cameras.
She loved her job, making it up the Pan Am ranks to become a Head Purser before she turned 23.
Before she could even turn 23.
Ram Madhvani's film captures Neerja's effervescence and her professionalism, getting us invested in the character long before we see her take wing and be astonishing, inspirational and incredible in the face of fear.
Movies about hijacks are usually resolved by force -- either mental, by a gifted negotiator, or, as is most often the case, physical, by a superhuman leading man yippee-ki-yaying his way through all odds -- but Neerja's story, one worth celebrating, is a triumph of conviction and of spirit.
The situation -- that of being aboard a 1986 flight hijacked in Karachi by a rabid group of violent terrorists -- is an impossible, helpless, doomed one, and there is no right answer as to how one ought behave in a situation like that.
And yet here we have the strikingly inspirational account of a smart young woman who, when she finds herself flung into a nightmare, chooses to protect rather than cower.
Madhvani approaches the tale with a cold, even chilling, efficiency, but he takes a while to settle in.
The film opens with shots of Neerja merrymaking with her family, interspersed with shots of Palestinian terrorists preparing for their task, and there is a touch of heaviness at the outset.
The dialogue is a tad clunky, each Rajesh Khanna reference underscored by the word 'babumoshai', as if the man made no other films, Neerja's mom is a touch too overt in her sentimentality, and the background score for the terrorists is thickly ominous and hinting at muezzins -- alternated with Neerja reading the Hanuman Chalisa before setting off.
There is also excessive foreshadowing for the tragedy we already know will follow, even though it is handled cleanly enough.
These minor rough edges smoothen out well in time for take-off.
Most of the film takes place on board Flight 73, and Madhvani grounds the proceedings in detail, making sure everything is right, from period plane to passengers to Palestinians. The plane goes from Bombay to Karachi without a hitch, with a Captain Snipes trying out his newly-learnt Hindi on the indulgent passengers. Then, of course, all hell breaks loose.
In an emotive blend of Dog Day Afternoon and Captain Phillips, Madhvani throws together a savage quartet of terrorists and lets them loose upon an unsuspecting planeful of passengers, most of whom would have been waiting for the drink service to begin.
One of these, Khalil, is particularly feral and, played by Jim Sarbh, looks like a bloodthirsty version of Sacha Baron Cohen. He makes for a remarkably effective villain, all growls and snarls, one so consumed with his motives that his fellow terrorists begin to fear him -- but he meets his match in one Indian girl.
Sonam Kapoor is exceptional as Neerja Bhanot, a girl who knows her place and won't back down. Her life isn't picture-perfect, even if she does look perfect in pictures.
This is a girl who has already been through an abusive marriage and is now on track for bigger and better things.
Flight 73 is her first as Head Purser, she is three days away from her birthday, and back home in Bombay there is a boy who adores her and sneaks her cookies.
All would be well with her world if not for the dramatic attack on her plane and the gun barrel shoved roughly into her face.
The actress strikes the right balance between incredulity, disgust and fear as the terrorists jostle and frisk her, and does even better when she meets their gaze and stands her ground. She might be operating on impulse, but she knows what she's doing.
This is the kind of performance that defines an actor, and Kapoor is so coolly evocative in the part -- and her vulnerability so well captured by Madhvani -- that I found myself rooting for her to escape, wishing that I knew the facts wrong and that Neerja made it out alive. If anyone, that sensational young woman deserved to live.
The frequently claustrophobic, frequently handheld cinematography adds to the feeling of narrative turbulence even though the plane is stationary.
Cinematographer Mitesh Mirchandani captures the rising anxiety with a perpetually moving camera and his frames are made special by abrupt pans: The view swings down suddenly, rapidly, to briefly peek at a nervous child peeing, or at a dog scratching himself restlessly next to his sleeping mistress.
Madhvani paces the film masterfully, making for a highstrung but justifiably emotional narrative.
The breakneck speed comes to a standstill every now and then, but and flashback device is deployed to stunning effect and the times the tension escalates are genuinely startling -- a moment with an air-hostess dangling helplessly on the outside of a hastily opened emergency exit door isn't lingered on, but it makes its mark.
Back in Bombay, Neerja's mother Rama, played by Shabana Azmi, piles on the premonitions and waterworks with what might seem like obvious excess, but the legendary actress is not just in top form here -- her speech about Neerja is an absolutely vital one -- but she pitches her performance in order to complement that of Kapoor.
When she realises the plane has been hijacked, she hangs up the phone and first continues to ready up dogfood before the horror of it all sinks in.
Meanwhile, on board, Neerja tries to marshall her stewardesses and take charge -- in order to not feel like she's lost all control.
That universal need to run on autopilot is expressed very deftly indeed, and both actresses work in wonderful unison.
This movie is many things, certainly, but is also a mother-daughter film for the ages.
Madhvani's biggest strength in Neerja may be the way he alternates between letting us relate to the character and making us feel awed by her.
She's just like you or me or someone we know, the film seems to assure us, before showing us just how special she is -- and how special we must all hope to be.
Many salutations, Neerja Bhanot, and may your story live on.
Rediff Rating: