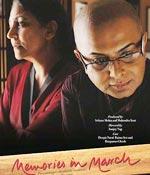 Shaikh Ayaz reviews Memories in March.
Post YOUR reviews here!
In one of film history's most poignant scenes, Anupam Kher refuses to grease the palms of an agent at the customs clearance in the 1984 film
Saaransh
and instead queues up to recover the ashes of his deceased son. Kher's emotional outburst, absolutely free of any direct abuses yet displaying an almost unidentified rage within him, remains a cinematic high-point.
Without drawing any immediate parallels, one does flashback to that moment while looking at a particular sequence in Sanjoy Nag's Hinglish-Bengali film,
Memories in March
. Deepti Naval (Arati), grieving and in a state of shock over her only son's death, expresses her desire to visit his office which he so often mentioned in great visual detail in his emails. She wishes to take back some of her son's beloved possessions as keepsakes. But when his creative director dubs her 'melodramatic' refusing to understand that she's just a mother-for-god's-sake pining for her only son, she walks out.
Memories in March
deals with human loss and a way-ahead for those bearing that loss. It's mostly treated with the trappings of that, of death and how it plays painful tricks on the mourners, the survivors so to speak who carry on with life but a key part of the film also explores the relationships that can be formed in the aftermath of a tragic event of such finality.
The 104-minute film, also starring filmmaker Rituparno Ghosh (inwardly restrained; the fact that he's open about his sexuality and began his career in advertising could have helped in a near-realistic portrayal)
as the deceased boy's lover, propagates a rather positive life narrative in which two hitherto unknown people forge a lasting bond and so what if it is death, tender anguish and the wildly different nature of pain that helps establish that bond in the first place?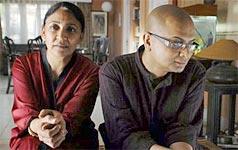 Director Nag mentions in the press kit that the film has a 'life after life' treatment but it never does 'take off into paranormal realms.' Cleverly, he chooses to underline the psychological tensions between Arati and her son's same-sex partner who she first meets with acute resentment and as they take turns to remember bewitching memories, she drops her guard.
Throughout their bittersweet relationship, there's no suggestion of credulity in the way they deal with one another; they've accepted what they're confronted with like two mature adults and eventually fall in love with the idea that first brought them together -- that the lives that her son and his lover touched in his lifetime can be reflected upon with smile rather than frown.
If not for some ludicrously infantile moments in between (why the Picasso sketch? To intellectualise?) and a sorry lack of ability to engage us more closely into the lives of those shattered by death and look hopefully at strangers as a relief balm,
Memories in March
could have been a nice li'l gem. It's a tragedy that it limits itself to mediocrity. And that, in times when we as a nation are suffering from cinematic crunch, should mean a lot.
Rediff Rating: