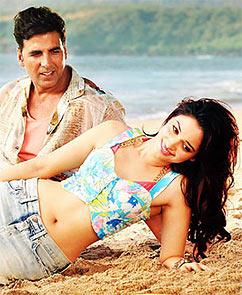 The soundtrack of It's Entertainment is one of the youngest sounding scores of an Akshay Kumar film, writes Joginder Tuteja.
Sachin-Jigar and their young team of lyricists -- Mayur Puri, Priya Panchal and Ashish Pandit -- make the music of It's Entertainment. And the soundtrack is one of the youngest sounding scores of an Akshay Kumar film.
There is an R D Burman influence (Mehbooba Mehbooba from Sholay) in the way the beats are set for Veerey Di Wedding (and its remix).
Though the song is about celebrating the wedding of a dog, it will be played all through the wedding season, especially up North.
With some catchy lyrics doing the trick (my personal favourite is Twitter pe hai trending, sadde veerey di wedding hai), this is an infectious number, especially because of Mika Singh's rendition. This is the kind of song that Akshay and Govinda excelled in, in the 1990s. This one is fun.
Tera Naam Doon is the kind of composition that Ranbir Kapoor and Shahid Kapoor would have grabbed with both hands.
A quintessential love song from the house of Tauranis, with Atif Aslam taking charge (he also does a shorter reprise version in the form of Nahin Woh Saamne), this one is melody at its best with a good, even pace.
What surprises is the manner in which Shalmali Kholgade brings variation to her voice and turns out to be a good accompanying partner. A little more aggression in the song's promotion and it should soar further.
The real fun arrives a little later with Johny Johny. It features real life couple Jigar and Priya Panchal behind the mike with Madhav Krishna joining them.
Johny Johny is a killer of a number. It has addictive beats that get you hooked at the first listening. The lyrics are fun too and the singers render them really well, especially Priya who is clearly having a lot of fun behind the mike with her child-like rendition.
This one will be played for many months, till the next New Year party at least.
The concluding number of the album, Teri Mahima Aprampar has a good beat, the pace is ferocious and the mood is created well. Like Johny Johny, it has echoes of the nursery rhyme Twinkle Twinkle Little Star.
Still, when compared to the songs preceding it, this one waits in the wings even though Udit Narayan brings on the kind of energy behind the mike in a way that only he can.
Also, though Anushka Manchanda is good, her presence in the song is way too brief.
It's Entertainment's music is entertaining, providing good fun at a frantic pace.
Rediff Rating: