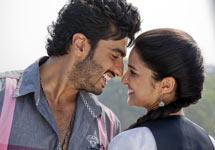 Soaked in sexism, the second half of Ishaqzaade lets it down, writes Raja Sen.
If we in India don't yet have a Society For Prevention Of Cruelty To Actresses, we bloody well should.
There is much to admire in
Habib Faisal
's new film, but each lovingly crafted nuance is reduced to window-dressing as this alarmingly regressive film first creates a memorably great heroine character, and then misogynistically puts her through the meat-grinder till her spirit breaks and she turns into yet another spunkless pushover. What Faisal does to his Zoya is shameful, dousing a firecracker by turning a genuinely energetic film into a wet blanket.
Set in a lawless world of corpses without consequence, the fictional town of Almore is torn between two families, the Chauhans and the Qureshis. Fighting for everything including political office, theirs is a blood feud that runs deep. So deep that children of the families stone each other on the way home from school, putting the vent in convent.
Faisal, the man who made
Do Dooni Chaar
and wrote dialogues for
Band Baaja Baaraat
, has been lauded for flavour more than anything else, and this time the pressure to keep it crackling shows. The dialogue is better than average, but seems overwritten and often too heavily sprinkled with colloquialisms and idioms. The occasional mispronunciations -- "
biksit
" for biscuit, for example -- seem too calculatedly thrown in, and the 'sister' of a faulty generator is profanely evoked twice, in two lines. The lines are clumsier than usual, that's all.
Yet it's hard not to be hooked as we meet the leads. Parineeti Chopra's Zoya, a feisty heroine of overwhelming verve, and Arjun Kapoor's loutish Parma, a
gunda
you'd like in your corner if you want some girls abducted. The Capulet-Montague conflict is on full-swing, and one night when Parma storms the Qureshi citadel to pick up a dancing-girl named Chanda (for it is only fitting that these diametrically-opposed families fight even over the moon) all hell breaks loose as he points his tamancha at Zoya, who immediately sets out with her bloodthirsty but incompetent brothers.
After all, as she reminds the menfolk, she has first dibs on slapping him.
A college girl who campaigns passionately for her father (election symbol: computer) Zoya delivers the film's finest and most telling turn of phrase as she demands votes promising her peers a prosperous and awesome Almore, a "
dhani aur dhaansu
Almore."
Like I said, hers is a remarkably spirited character, and Chopra plays her very impressively indeed, with both bandook-bravado
and childish enthusiasm. As she goes around hawking gold earrings for a gun and barking orders at the leading man to hold her sharara, its evident this young lady means business. And looks good in charge.
Arjun Kapoor, on the other hand, might be playing the scummiest leading man our screen has seen for quite some time. Parma -- named thus perhaps to make him even more unpalatable to Zoya's Muslim clan -- is a monumental scoundrel, a cocksure ruffian with barely any redeeming quality. And no matter how loosely the word is used, this ain't no 'hero.'
Kapoor scowls adequately enough but this film doesn't demand a performance, and all we can say about him for now is that his dialogue delivery needs serious work. What Parma does to Zoya in the film is plain unforgivable and yet the filmmakers let him off the hook. As does Zoya herself, after her character is brutally altered into that of an overindulgent, besotted fool.
When I call it the new
Laaga Chunari Mein Daag
, I don't mean Faisal's film is as meritless as that
colossal disaster
.
No, there is quirky fun to be had in the detailing and the supporting characters, Hemant Chaturvedi's cinematography and a couple of songs, but after it starts sadistically abusing its heroine, item songs seem gratuitous and insensitive. The film's post-interval descent into pointless gunfire and melodrama, with smiles only to be found behind the blouses of golden-hearted prostitutes, marks cinema of a different time. A time that needs no celebrating.
There is much craft on display, and some lovely moments, but the immense promise shown by the first half turns out as hollow as a politician's. Soaked in sloppy sexism, the second half has the heroine repeatedly tortured -- cheated, slapped, bound, gagged, shot at and abused -- and yet the film decrees that she forgive. In the heartlands the film is set in,
maafi
is an all-absolving concept, an irretractable token of instant forgiveness, like a church confessional.
Ishaqzaade
, despite its artistry, deserves no pardon.
Rediff Rating: