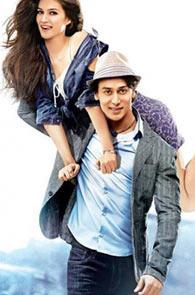 Heropanti is a very good album, raves Joginder Tuteja.
Sajid Nadiadwala's films have always had good music. So, one looks forward to the music of his latest film Heropanti directed by Sabbir Khan.
There is an ensemble of composers and lyricists joining hands led by Sajid-Wajid and Kausar Munir.
It is the legendary flute tune from the Subhash Ghai-Jackie Shroff Hero that kick-starts the proceedings for Heropanti.
Guest composer Manj Musik joins Nindy Kaur in the first track, Whistle Baja, an instant chartbuster.
The signature tune of Hero has been wisely remixed for the current generation.
Raftaar's lyrics are contemporary too. The intermittent rap reminds one of Yo Yo Honey Singh's numbers in recent times. The song gives the album a heady beginning and is a lot of fun.
There is an about turn with Sajid-Wajid coming on the scene. They deliver a classy love song in Rabba that starts with the sound of the guitar and has a heart-warming feel.
Kausar Munir's lyrics are poetic, yet simple.
Mohit Chauhan is at his best in this melodious love song by Sajid-Wajid. If you are a follower of quintessential Bollywood romance, give this one a listen.
A hat-trick is scored with Raat Bhar turning out to be chartbuster material too. Two of the most in-demand singers, Arijit Singh and Shreya Ghoshal, come together for this winning track from Sajid-Wajid and Kausar Munir.
It has a terrific mix of romance, melody and rhythm with a club sound to it. It reminds one instantly of Sajid-Wajid's earlier work Mukhtasar (from Teri Meri Kahaani with Shahid Kapoor and Priyanka Chopra) which had unfortunately never got its due.
The composer duo and lyricist keep the momentum on with Tabah. The arrangement and choice of instruments with a pop mix makes Tabah rise above the ordinary. Mohit Chauhan's rendition is particularly appealing
The 'remix version' is a killer.
With four good songs in a row, Heropanti's music is pretty much a paisa vasool experience already. So, though you may be taken aback by the title of Manju Musik Raftaar's next offering The Pappi Song, you would like to hear it.
Despite the cheesiness initially, go with the flow in this quick-fire 150-second number. The Yo Yo Honey Singh influence is felt here too, but Manj Musik too has been exploring this sound for quite some time now. As for the Pappi Song, how one wishes it could have been avoided.
Last to arrive is Tere Binaa, with music and lyrics by Mustafa Zahid and Bilal Saad. Mustafa plays the triple role of singer too and he does quite well in this love song.
There is some thehrav in the end of Tere Binaa, which has a sweet and romantic sound with the guitar as the only accompaniment.
Heropanti is a very good album. Contrary to what the film's title suggests, there is no tapori element in the music. In fact, the multiple love songs in the album courtesy Sajid-Wajid and Kausar Munir are the highlights of Heropanti.
Like it happened for his father Jackie Shroff in Hero, Tiger too can rest assured that musically, he has found just the right start with Heropanti.
Rediff Rating: