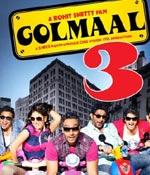 Raja Sen reviews Golmaal 3. Readers can also send their reviews here.

Settling in to watch Rohit Shetty's Golmaal 3 next to me yesterday, a friend and fellow critic discreetly confessed that he'd been to a screening of the same film a day ago. I must confess to being momentarily struck dumb, unable to conceive of someone having turned into enough of a franchise fan to repeat a viewing on successive days.

Yet my 'wow, Mr Shetty' line of surprised-impressed thought was almost instantly interrupted by the aforementioned pal, further revealing that he had fallen asleep and now needed to watch the film again to review it. Ow, Mr Shetty.

A little over two and a half hours later, I staggered out of the theatre looking for caffeine, in complete empathetic sync with the friend. The phone rang. Another critic who saw it yesterday had plain forgotten the plot, and so wanted a quick recap. I wish I was making some of this up, but no. The best thing that can be said about Golmaal 3 is that it both enters and exits your system rather comprehensively, leaving behind nothing either memorable or of consequence.
If you're looking for a scene to quote later, this is not the film. Really.
If you have suffered through either the half-funny Golmaal or the dimwitted Golmaal Returns, you know what to expect from this franchise built sacrilegiously on the name of one of the funniest comedies in Hindi film history: an Ajay Devgan vanity project where he plays a halfbaked hero while a returning ensemble cast of actors and comics monkeys around, hamming like mad, and led memorably by a mute Tushhar Kapoor.
Earlier versions have included a bevy of dimwitted heroines. But the new film just has the one Kareena Kapoor. Not that any of that matters, the only brief spark of fun you have is with Mithun Chakraborty and Disco Dancer.
Yup, the legend lives through a flashback'd romance with his best songs, and references are made to all his most iconic film roles, from Dance Dance to Agneepath to -- and here we must all bow reverentially -- Gunmaster G9. And that brief interlude -- from all the chaotic, finger-breaking yelling and screaming and overacting -- comes to us like an oasis in the midst of murderous mayhem, and we laugh out of sheer relief. Or because it's genuinely fun to see Mithun exchange lyric-turned-dialogue quips with the one and only Prem Chopra.
Not that this lasts. The film's plot consists of Mithun and his onetime lover Ratna Pathak Shah being hustled into marriage by an annoyingly ebullient Kareena, making sure their respective boys -- all sworn enemies -- have to share the same roof.
Here it becomes vaguely like the lovely Khatta Meetha movie from the 1970s, minus, of course, anything remotely Meetha. The jokes are ill-conceived, and constantly over-written. The dialogue is tacky, witless, puerile. And, for no reason other than the director having a crash-bang fetish, there are prolonged fight sequences and all manner of cars and boats and rollercoasters are destroyed. To match our sleep cycles.
Devgn, playing a fetishistic fanatic, appears so conscious of every shot of his being filmed in slow-motion that he seems to be moving thus even when everyone else is at normal speed: frown, scowl, grimace, fight.
Kareena is, as mentioned, bubbly to the point of pain.
Arshad Warsi is killing all the streetside-cred he's built up with bhai-sidekick roles by overdoing it.
Shreyas Talpade, a fine actor, just looks bored.
Kunal Khemu goes through the motions.
The only genuine fun had by anyone in this movie -- and that includes us, sitting in the audience -- is by Tushhar having a blast with his mute routine, the actor using pelvis more than eyes to mime his way energetically through a script that expects us to laugh at one actor's stammer and another's lack of voice.
I wasn't looking for sensitivity or smarts in Golmaal 3. All I wanted were a few good jokes. The film doesn't oblige.
Rediff Rating: