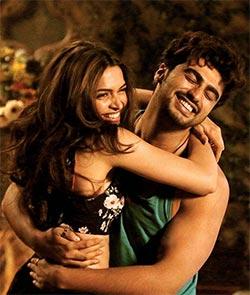 Finding Fanny strikes gold, raves Raja Sen.
Some beholders like it big.
Colombian artist Fernando Botero, a fine fetishist of the fleshy, spent decades drawing and sculpting the ornately obese, men and women chubbily camouflaged from the world by an abundance of curves -- and by unexpected softness.
Botero's influence in Homi Adajania's wickedly titled Finding Fanny is an obvious one -- I thought I saw a print hanging from a balcony early in the film -- but also one that directly inspires a character.
Don Pedro is a worshipper of womanhood, a painter and poser who, with orotund declaration, reveals his love for the large.
A genuine vulgarian who peppers his conversation with cliched phrases and fills majestic brandy bottles with cheap whiskey, Don Pedro -- bestowed with unlikely elegance by the fabulous Pankaj Kapur -- is just one of this film's oddball cast, a cast made up exclusively of cartoonish characters who each, like a certain narcoleptic pussycat, fail to land on their feet.
These are more caricatures than people, true, but they are fondly sketched, best compared to those immediately evocative Goan screwballs made up by the late great Mario Miranda with a few trademark wiggly lines: a postman with no letters to deliver; a gloomy mechanic with a penchant for sunglasses; an overbearing lady with a sharp tongue; and, well, a girl so pretty nobody dare touch her.
Instead of the fictional village of Pocolim, they could all live on the unchanging walls of Mumbai's Cafe Mondegar.
There is a story, of course, and it is naturally that of a goose-chase: for isn't all fanny-finding, any hunt for skirt, ultimately a great big shot in the dark? But this 93-minute gem isn't about plot.
It is about these wonderfully whimsical characters and about the mood they inhabit.
It is about novelistic narration and cinematography that appears tinted by Instagram. And, perhaps more than anything else, it is about English that is as broken as the characters.
India, you see, is entirely occupied by the Bollywoodites. Well, not entirely...
One small corner of indomitable Goans holds out... against, at least, the incessant thumkas emanating from cinema both Hindi and Southern. Goa, like so many of us, speaks English, but Goan English -- by way of the Portuguese and the Konkani, by way of pork vindaloo and feni -- is a unique beast, a frisky lizard that often darts off in an unexpected direction mid-sentence.
Finding Fanny plunges boldly and determinedly into this port-wine patois, and strikes gold.
Yet making an absurdly loopy film isn't just about kooky characters and madcap milieu (though they are a tremendous help).
It is about consistency, for it must stay true to the flavour it promises in order to ground the lunacy into something we can appreciate over a feature-length period, rather than a string of gags forced onto the same backdrop, and Adajania's film impressively holds steadfast.
Every minute is silly, unexpected, cheeky.
Apropos to the film's title, cinematographer Anil Mehta's camera pointedly (but casually) lingers on the women's derrieres and the men's crotches, and there is a gloriously puerile preoccupation with, as the Generals in Dr Strangelove would say, "bodily fluids" throughout the film, as we witness bedwetting and spitting and sneezing and dreams that are more than moist.
Most of this dreaming comes from the postman, Ferdie, played by Naseeruddin Shah sounding considerably shriller than usual. It is he who seeks the girl named Fanny, and angelic Angie, a local widow, comes naturally to his aid.
Deepika Padukone's Angie initially looks to be the film's straight-man, the one normal cog in a sea of nuts, but it is soon apparent her quirks are as strong, albeit less obvious.
Her officious mother-in-law (Dimple Kapadia, with a posterior that would have pleased the lads from Spinal Tap) can't help but tag along for the ride, the ride in turn chauffeured by the reluctant Savio, (Arjun Kapoor) a tattooed scowler with designs on Angie.
And of course, Don Pedro.
Padukone is luminous, a sly girl with a loose-slippered gait, a casual floppiness that nearly camouflages her look-at-me narcissism, and the heroine gets the body language astonishingly right. She is a very good narrator and -- as evidenced by her eyes during the instances of vulnerability the script allows her -- a captivating actress. Her Goan accent slips a bit (everytime she says "yaar," for instance, it is with a city twang) but that happens to the finest actresses. This is a role Padukone should be justly proud of. Not least because it balances the film.
For, on one hand, we have Dimple Kapadia and Arjun Kapoor, acting sparsely and naturalistically, letting tush and tattoo respectively do the exaggeratedly heavy lifting for them while they mostly just react.
Kapadia is excellent in her part, and Kapoor is a revelation, one who should seek out clever films that allow him to shine with his lackadaisical lustre.
On the other end is Pankaj Kapur, grandstanding with hammy theatricality, a perfect foil to the equally overplayed Naseeruddin. The first time the two meet and shake hands there is a distinct sense of Beckett, and I wager Kapur is intended to be the pretentious Pozzo to Naseer's Estragon, a forgetful, perpetually put-upon dreamer lacking in conversational skills. (Why, he even runs into a character named Vladimir who looks like a Soviet version of himself, even crying just like him.)
It is this equilibrium Adajania must be applauded for loudest: when things get all shouty near the film's climax, one character balances it all out with a big, big grin even as he is surrounded by outrage.
Admittedly, the climax is a muddied one, with Adajania straining to tie up loose ends when his very storytelling style -- in both this film and his promising debut, Being Cyrus -- seems best suited to leaving knots ambiguously open.
The epilogue is particularly unnecessary.
But, made in a land of Hindi genre movies and starring one of Bollywood's glitziest girls, Finding Fanny is bold enough already. It gives us much, much to smile pleasantly at, to guffaw at, and one moment that will make the theatre gasp -- before it brings the house down.
Drink in, then, the grainy blue skies and the utter timelessness, for this film could be set in 1984, 1965 or tomorrow).
Drink in the characters we (and the actors, clearly having a blast) could use more of.
Drink in the originality and the swiftly economical storytelling.
Drink it all in, and order seconds as you would at Mondegar, without worrying about the cheque. Because -- as we ought learn from Don Pedro -- sometimes we just need a new drink in a marvelous old bottle.
Rediff Rating: