After 20 plus years of threatening to offer us new sensations, Nagesh Kukunoor has finally let it rip, raves Sreehari Nair.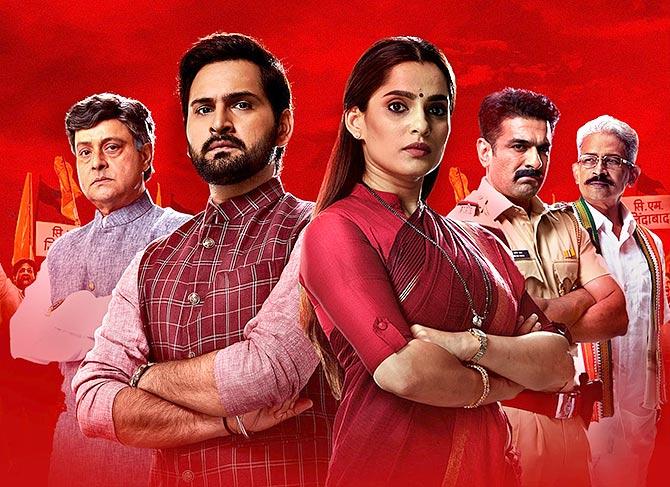 Despite the campiness in its title song and the shoddiness of its production values, Nagesh Kukunoor's City Of Dreams is a surprisingly sexy show.
Though I could not put a finger on the exact source of the sexiness, a lot has to do with how the people in the show sit, how they move about each other and how we are slowly made aware of the contrasts that exist between the characters' exteriors and their inner lives.
In one scene, a high-born businessman says to an up-and-coming politician, Poornima Gaikwad (Priya Bapat, statuesque, with that sense of slyness one associates with all great statues) who threatens him, 'I know you would f*** me, but I wouldn't let you do it up my ass.'
Poornima listens intently and comes back with an equally filthy metaphor.
The women in City Of Dreams out-swear the men. The men bore them: in point, the women seem turned on by the power that they and other women wield.
The city has made poets out of these women, and they are forever waiting for the men to renounce their conventionalities and catch up with them.
None of this, however, is pitched at the level of liberation or unapologetic behaviour.
In fact, nothing on the show is held for too long.
Nothing is pamphletised.
The narrative just seems to emerge, and emerge in inventive, new ways.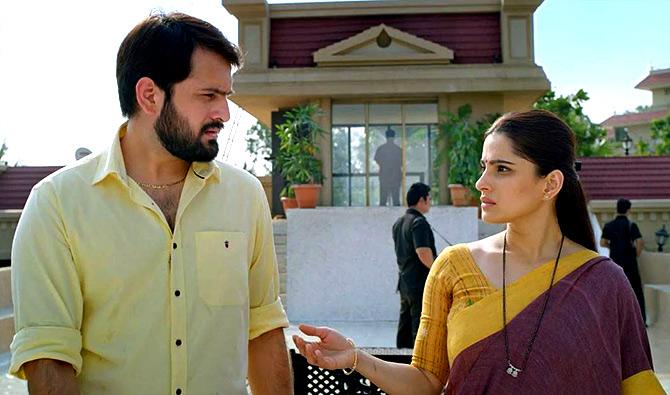 As real as the sexiness is, the dangers in City Of Dreams are also real.
The dangers, though, have very little to do with killing or blood -- that would be conventional.
Throughout the show, we are awake to the reality that we are in a force field of sex and death.
Of small talk interrupting grand ideas.
A world where people aren't fighting the apocalypse; merely trying to distract themselves from it.
The city is Mumbai, but the story seems to be playing out in a land where dirty thoughts are perpetually mating with grief, and with fleeting moments of happiness.
The show is beyond grey -- one may have to formulate a new colour to describe an artistic sensibility which assumes that Good Intentions and Hell are eternally entwined.
After 20 plus years of threatening to offer us new sensations, Nagesh Kukunoor has finally let it rip!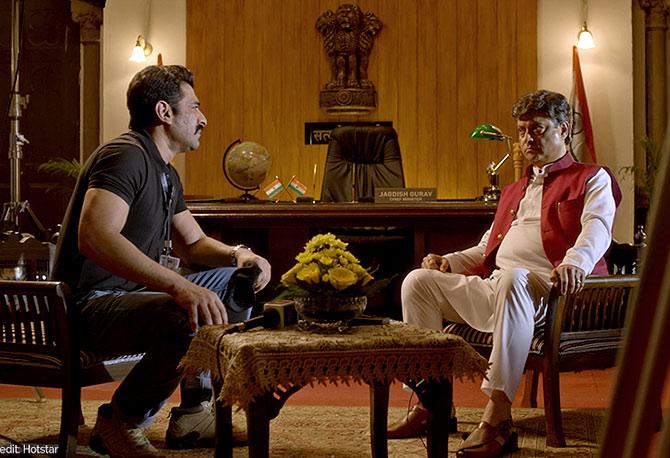 The setting is as banal as they come: A giant of Maharashtrian politics, a sitting MP, Ameya Rao Gaikwad (Atul Kulkarni) is shot down in broad daylight.
As Gaikwad battles for his life, we meet the stakeholders and the sufferers of his political legacy: the stately-seeming daughter, the prodigal son, the strategists and the small fish, the rebels, the fools, the boors and a disgraced policeman.
What pushes City Of Dreams beyond its banal central idea is Kukunoor's personal project: he wants to show us how much Mumbai has changed in just 20 years.
1998 was probably when this chemical engineer-turned-movie director first got a real feel of the city and, through a blend of imagination and research, he and his co-writer reveal the many underbellies that have since materialised behind the unchanging iconographies.
Kukunoor may have his theories, but they stay in the background and we only get their dramatisations -- delivered through a bunch of memorable characters.
City Of Dreams probably contains the finest mugshots of sweaty Mumbaikars since Vishal Bhardwaj's Maqbool. Nagesh Kukunoor and co-writer Rohit Banawlikar have pinned down the wriggling personas of this punting lot, for all of us to gaze upon.
The writers perform necessary acts of vilification, but with the curious pen of an artist. And so, even in the most evil and the most self-centered actions of the characters, we can feel true force of life.
It's no coincidence, perhaps, that the large majority of Maharashtrian characters are played by actors from the state.
Priya Bapat, Siddharth Chandekar, Sandeep Kulkarni, Sachin Pilgaonkar and Uday Tikekar are all wonderful -- most importantly, as if on impulse, they allow those Maharashtrian tics and mores to shade their smallest actions.
When Chandekar, as the prodigal son, seethes and grunts, you wouldn't mistake him for a son of another soil.
Maharashtra, along with Kerala, possibly produces the country's finest acting talents.
There's something distinctive about the Maharashtrian style of acting, nonetheless.
What do we call it: Theatricality that never feels hammy?
These actors have honed their physical routines on the stage, over numerous mono-act plays as children, and at Ganeshotsav pandals.
The Marathi actors we meet in City Of Dreams belong to that grade; they have pride in their skill, as also a real sense of acting as a popular art form -- and so it hurts to know that the average Maharashtrian does not think of them as much as they think of, say, Swapnil Joshi.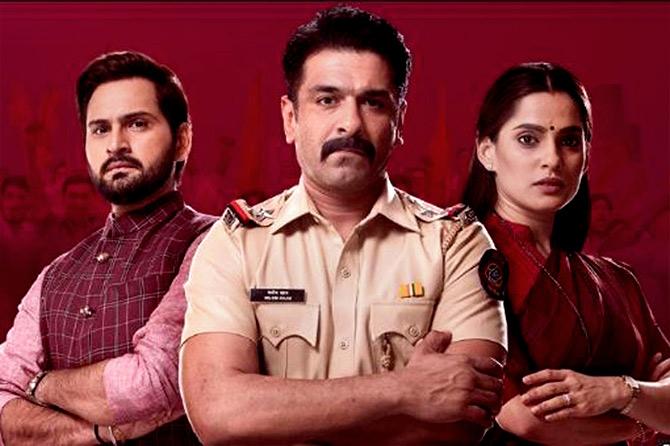 That said; how good is Eijaz Khan?
As Sub-Inspector Wasim, he has a more difficult part to moor geographically. And in the actor's performance, in his etiquette and in his manner of speech, we catch a bit of both Mohammed Ali Road and Borivali (located at different ends of Mumbai, both places have different sensibilities).
It's always difficult pulling off the classic Bogart-figure and landing your character between cynical and schmaltzy -- but Khan hits just that perfect note.
Inspector Wasim knows both sides of the law, and he still does right.
Life can't be easy for such a man and Eijaz Khan's jaws move in a way that suggests the punches he has taken.
These are people, all troubled by their pasts; their pasts, however, are not unloaded upon us.
There's almost a fantastical quality to the way in which the elements connect.
Episode 2 (for my money, the best-written episode of any Indian web series) has Inspector Wasim drinking in a bar, when a bald head appears, as if from a different era, and introduces himself as the gangster that the ex-encounter-specialist had pardoned.
"Wasim bhai, you need a change of plan. By the way, I own this bar. Do try our Prawns Tikka," says the bald head, draining the inspector's face of all colour.
This sensation of falling is constant; and it becomes a style.
But the craft of the show could do with some.
It's the stylistic slip-ups, apparent here and elsewhere, that stopped me from making the ultimate fanboy's declaration: of comparing this burst of interesting Indian web shows with the HBO culture that gathered steam in the West in the late 1990s.
These shows, I think, must be seen as indicative of the step we missed when the golden age of Indian television got wiped out and was replaced by the monstrosities of the early 2000s and hence. These web series must be regarded as the renewal of a promise that was once made and later broken, over and over again.
It's the style of an artistic work that affects our perception of it and, thus, creates its morality -- this is the sublime truth that those innocent craftsmen of Indian television's golden age didn't quite know. And it's this very truth that the makers of our most interesting web shows also seem ignorant of.
It somewhat works to City Of Dreams' disadvantage that the whole thing feels like your average Joe thriller -- with backdrops that look digitally created; croaking of frogs being passed off as a score; and the editing jerks.
Also, the relationship between Ameya Gaikwad's children -- the brother-sister animus and the spouting of nostalgia -- is the stuff of pure soap opera; which, ironically, is the reason for it dominating those hoardings on Mumbai's Eastern Express Highway.
If such standard tropes stick out so badly, it's because the best parts of City Of Dreams are so out there.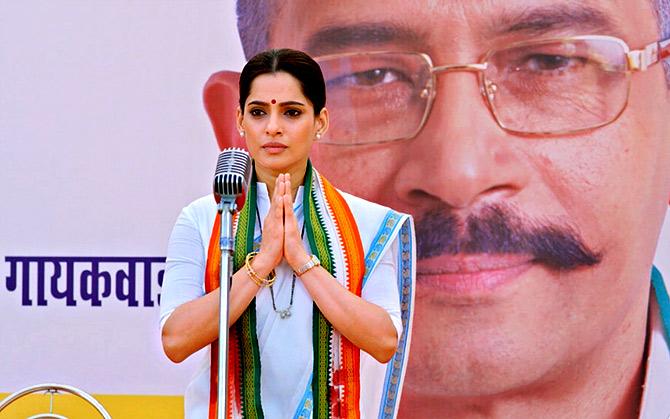 I cannot think of another Indian web show in which the characters lead lives that are continuously altered by their fantasies.
There's Sandeep Kulkarni, as Purshottam, a lower middle-class man who manages a high-risk business for a top political boss.
In an ingenious section of the show, we see this gutkha-chewer walk into what seems like a parallel universe -- where he gets tailed by a stunner of a woman, who asks him to cough up his bedroom secrets, while she blows smoke in his general direction.
This tone of 'the world becoming a dream and a dream becoming the world' is at the heart of COD.
The tone supplies the high intelligence that runs through the web series -- an intelligence that cuts through the lard, and the smog, and the deadness of the extreme ways in we react to Mumbai: we either salute the city's spirit, or condemn it for being unforgiving and cold.
Nagesh Kukunoor, through his version of Mumbai, shows us that Mumbai's spirit and Mumbai's coldness are terms which mean the same thing; just as development and corruption, in the most secret corners of our heart, have become one.
The only way to honestly present any great city, in a work of art, is to present it as an extended dream.
The hypothesis holds as true for Dickens' London novels, as it does for Blade Runner.
Kukunoor, with City Of Dreams, has achieved this ideal.
He notes the transience and impermanence of the things that define Mumbai; and notes, also, the contradictions implicit in it.
There are no gangsters left in Mumbai; the city, though, is hardly a better place.
But then, can any land where ambition flows unchecked ever be a paradise?
Yet, when the dream is so interesting, why wake up?
Rediff Rating: