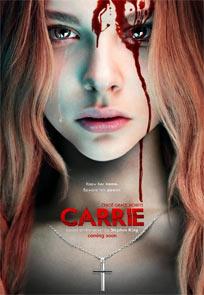 Paloma Sharma says Carrie could have been a true horror flick if the casting would had been better.

There's something about Carrie.
Born "out of sin" to a deeply religious, mentally unstable single mother, Carrie White must endure the worst of both worlds. A shy 17-year-old with very little self esteem, Carrie is tormented by her peers in high school and kept under suffocating control by her mother at home.
Carrie's mother, Margaret White, keeps Carrie as far away from the other students as she possibly can, especially the male ones.
Unable to seek warmth and comfort within or outside home, all Carrie wants is a friend in a world that keeps making her the butt of cruel jokes.

But when Carrie blossoms into a young woman who starts to get in touch with her strong telekinetic powers, all those who have pushed her to the edge begin to regret that they did so.

Carrie (2013) is based on the cult-status novel of the same name, and has been sufficiently re-imagined by director Kimberly Pierce. I am not quite sure if I appreciate people taking such liberties with one of Stephen King's best works.

Carrie has been sufficiently modernised for teens of the 21st century to relate to it. But it fails to give you the goose-bumps that Brian de Palma's 1976 version did.

Chris, Carrie's arch enemy, has been upgraded from a spoilt little brat to a full-blown head case – oh, and guess what? She's got an iPhone! Yay!

The softer tones added to Carrie's gym teacher, Rita Desjardin (Judy Greer), are welcome.

But despite the changes, Pierce's Carrie has nothing new to say.

The mediocre and largely ignorable background score, along with K-serial like shots of the famous pig's blood scene at the prom – all three taken from different angles – do not help make Carrie's case.

With due respect to Pierce's skill (I've seen Boys Don't Cry more than once), Carrie seems like it was directed by a corporate suit looking to mint some money out of a tried and tested formula, instead of by a filmmaker with passion for the story.

The film becomes less about Carrie's transformation and more about her being torn between her lust for freedom and her mother's sheltered but dark world.

Carrie paints a scary picture of a mother-daughter relationship gone wrong.

Chloe Grace Moretz is Carrie and Julianne Moore, her abusive mother.

Moore is terrifyingly real to the point that she made me afraid to go back home to my own mother. And while Moretz may have kicked ass in Kick Ass 1 and 2, Carrie just wasn't her thing.

Moretz's Carrie is too confident and stable to be a victim of the world. Her trauma is in her screams and not in her silences.

Watching her attempt to portray rage and insanity becomes almost painful as she begins to walk like a short -armed T-Rex covered in blood at the end.

Had it been cast better, Carrie could have been a true horror flick, but now it's just truly horrifying.
Rediff Rating: