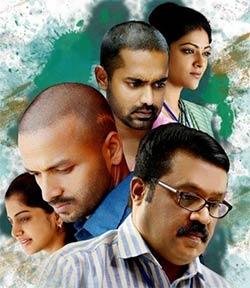 Apothecary does not have any subtlety, everything that the director wishes to convey has been overtly pronounced by the actors through their dialogues, writes Paresh C Palicha.
The medical profession has always been a fertile ground for filmmakers to plough their stories, maybe because every human emotion seems to be amplified in a hospital.
When we are speaking of dilemma, then what can be more conflicting than life and death.
Director Madhav Ramadasan who made an impressive début with Melvilasom (2011) tries to explore this theme in his new venture Apothecary, which is about a multi-speciality hospital where importance is given to making money, not serving the sick or saving lives.
The centre of attention here is Dr Vijay Nambiar (Suresh Gopi), a neurosurgeon who is lying in the comatose stage in the same hospital where he was working.
His condition is the result of a freak road accident. As the doctor is swinging between life and death, we go into his past where we see how these five star hospitals are becoming money guzzlers, squeezing every penny out of the poor patients. He is against it initially but being the part of the system, he had to accept some facts and deal with them in a practical way.
The screenplay uses hallucination as a device to let us know what had happened in the past; with Vijay imagining the sufferings his poor patients went through due to the unethical clinical trials on them. The luxury hospital turned poor patients into guinea pigs by luring them by offering free treatment. Here, it feels similar to the Oscar nominated film Dallas Buyers Club.
One of Vijay's patients is Subin (Jayasurya), who sneaks into the ICU where brain-damaged Vijay is being treated and starts having one sided conversation with him.
Subin had a complicated problem in his facial nerves that needed a costly treatment. But, his family leads a hand to mouth existence; so, they too agree for the free treatment and sign the required papers (or to put it precisely Subin's father puts his thumb impression on the papers, so much for 100 % literate state).
The story does not have any subtlety, everything that the director wishes to convey has been overtly pronounced by the actors through their dialogues, whether it is the desire of the financial benefits for the owners of the hospitals or the nexus between pharmaceutical companies and the hospitals.
There are a couple of sparks in between when we feel something understated but still hits hard; take for example the scene where Vijay is showing the design of his new home to his daughters on his iPad and his younger daughter mistakes a bathroom to be her bedroom, at the same time Subin's father enters the cabin pleading for a discount in the hospital's bill.
Suresh Gopi's performance is shorn off any superstar mannerisms and the slight grey shade on his hair and moustache does not define him age wise as his subdued acting does. His guilt trip once in a while becomes repetitive. Still, he can hold our attention and makes us feel for him.
Jayasurya has to go through physical transformation to look realistically sick. His character Subin is of rural background lacking intellect to deal with his condition yet presenting a brave front, wins our heart hands down.
Abhirami, who makes a comeback on the big screen with this film as Vijay's wife, has to shed tears for her husband and little else to do. Somehow it makes us feel that her character was sacrificed on the editing table.
Asif Ali becomes one among the legion of supporting characters troubling Vijay's conscience.
Apothecary leaves us with a feeling that it could have been better.
Rediff Rating: