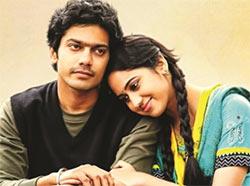 Director Jeeva Sankar's Amara Kaaviyam is an unmemorable love story, feels S Saraswathi.
Popular actor Arya's brother Sathya made a not-so-impressive debut with Puthagam last January. Now, he teams up with director Jeeva Sankar of Naan fame for the romantic drama, Amara Kaaviyam.
Malayalam actress Miya George plays the female lead. Ananth Nag, Aroul Djodi and Thambi Ramaiah form the rest of the cast.
Set in the 1980s, Amara Kaaviyam is a teenage love story inspired from a real life incident in the director's own life. Interestingly, the film is produced by big brother Arya's The Show People.
The opening scene has Jeeva (Sathya) being taken to court by the police. The entire story is narrated in the form of a flashback.
Jeeva and Karthika (Miya) are class XII students. His friend Balaji is deeply in love with Karthika. Being afraid to express his feelings, he asks the more aggressive Jeeva to approach her on his behalf.
But Karthika professes her love for Jeeva instead and thus begins their great love story.
Quite early in their courtship, however, their families become aware of their deep affection for one another. They are totally against it and this predictably ends in fights and tears.
The two decide to stop seeing each other until their exams, but Karthika's father cleverly packs the family off to Coimbatore spreading false rumours that they have shifted to Chennai.
Grief-stricken, Jeeva becomes excessively violent and is forced to undergo psychiatric care. Everyone believes he is insane and this makes him even more agitated.
Just before the end of the first half, we are once again taken back to the present, where Jeeva manages to escape the police and rushes to a cemetery, where last rites are being performed for someone.
The entire film builds to the tragic climax and what eventually lands Jeeva in prison. There is very little by way of surprise and you almost guess the sequence of events.
Miya gives an admirable performance, but her expressions and actions remind us of a younger Revathi during her Mouna Ragam phase.
Sathya has many shades to his character and he gives a mature performance. The National award-winning Thambi Ramaiah appears in an almost non-existent and insignificant role and is totally wasted.
The man behind the camera is the director himself and he has chosen the perfect location for his film. Ooty's breathtaking beauty comes alive in every scene, and the backdrop seems almost like a painting, picture perfect.
The haunting BGM and some exquisite melodies make Amara Kaaviyam one of Ghibran's best so far. Edhedho Ennamvandhu and Mounam Pesum by the legendary Chithra are the pick of the lot.
Director Jeeva Sankar has attempted to portray an intense love story and he does succeed to some extent.
Rediff Rating: