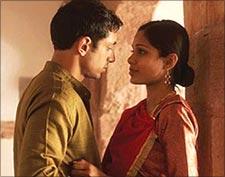 A few good reviews did not prevent the Freida Pinto-starring
Trishna
from turning into a flop in the UK. The movie collected a pitiable $215,000 in two weeks and could be out of the theatres in the next two weeks.
In the second weekend it was showing in 40 theatres and made a paltry $43,000 over the weekend. On the other hand, the feel-good comedy,
The Best Exotic Marigold Hotel
, which is also partly set in Rajasthan, is turning into a solid hit in the UK and is playing well wherever it is released.
It has grossed $23 million in nearly 500 theatres in the second week in UK and Ireland and is on the way to a bumper $30 million harvest. In Germany, for instance, it grossed about $1 million in the first week.
The film, which is yet to be released in most parts of the world -- it is arriving in America through the
Slumdog Millionaire
distributor Fox Searchlight in May -- is a triumph for its somewhat elderly stars, Judi Dench and Maggie Smith. It also has Dev Patel in an important role as the exuberant manager of a hotel that has seen better days.
Trishna
is based on the Thomas Hardy classic,
Tess of the D'Urbervilles
, but transported from rural England of the 19th century to modern India and it is director Michael Winterbottom's third adaptation of a Hardy novel.
It focuses on a young woman from a traditional Rajasthani family whose life is turned upside down by a romance with the son (the magnetic Riz Ahmad) of a rich man living abroad. The young man has no sense of commitment and his action leads to a very powerful and yet highly disturbing climax which could put off many viewers.
The film was one of the better received movies at the Toronto International Film Festival. In an
interview
with
Rediff
, Freida Pinto said she would love to make one small, offbeat, but challenging film for every big budget project such as
The Immortals
.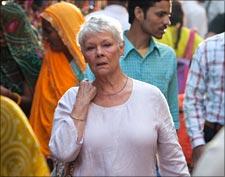 The Telegraph
(London) which gave the film three stars out of five, while admitting the film is too leisurely, wrote: 'Pinto shines here as never before, exuding a hopeful artlessness combined with the consciousness that she is in no position to demand anything:
a pitiful flock of dependents clings to her for survival. In fact, she could assert herself -- a worldlier girl would have bartered her sexual power for security --but we watch helplessly as Trishna simply agrees to everything her lover asks of her, whether that is love or, latterly, humiliation.
'Ahmed, too, is subtle in his portrayal of an immature man who never openly acknowledges the true frailty of Trishna's position, although his worse nature moves silently to exploit it.'
The Telegraph
review faulted Winterhottom for not creating enough tension for most part of the film. '… Winterbottom's air-conditioned direction prevents us from ever feeling the heat. More fascinating is his vision of India: a country where the cities throb with engine noise and drumbeats and the country air trembles with pollen. Nature here is a primitive, almost sentient force: in some ways, we're not so far from Hardy's Wessex after all.'
The Guardian
, a very tough newspaper, too, praised the performances: 'The movie is dominated by the performances of the beautiful Freida Pinto, who since her appearance in
Slumdog Millionaire
has become an international star, and the handsome Riz Ahmed, who got his break in Winterbottom's
The Road to Guantánamo
. Both are actors with striking presences playing people uncertain of their identities, discontented with their lots and seething with doubts about their roles in evolving India.'
No one expected
Trishna
to do the business or even half of the business of
The Immortals
, a $70 million film that grossed $225 million worldwide and sold $20 million in DVD sales in a week in America. But
Trishna
, which was made reportedly for $6 million, might find it difficult to recover the cost.
The Daily Mail
, which was most critical of the film, giving it two stars out of five, still loved Freida. 'This offers welcome evidence that Freida Pinto, the beauty who starred in Slumdog Millionaire, can act,' it said. 'Unfortunately, until the climax she has an exceptionally passive role.'
Trishna
, the reviewer added 'offers an interesting contrast to
The Best Exotic Marigold Hotel
, but while texture and local atmosphere are all very well, I wish Winterbottom had speeded up the plot and delved deeper into the characters.'