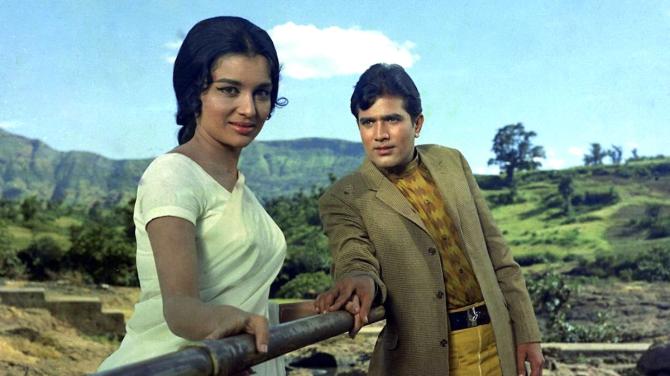 In her 30-year career as leading lady, Asha Parekh says she has never seen stardom like Rajesh Khanna's.
"When we were shooting for Aan Milo Sajna (which completed 50 years since its release in December) and Kati Patang, there were hundreds of girls mobbing him. We had to cancel the shooting," she tells Subhash K Jha.
"I first worked with Rajesh Khanna in his second film Baharon Ke Sapne," Ashaji recalls on the late superstar's 78th birthday, December 29.
"He was an unknown shy actor then. Everything changed in two years. By the time we worked together again, he was a superstar like none before him and none after. The only stardom I have seen seem that would comparable with Rajesh Khanna's is Dev Anand's," Ashaji recalls.
"Deewane the fans Devsaab ke. When we shot Mahal together, we had to cancel many times, the crowds were uncontrollable. They wanted to touch him, kiss him, hug him... just like they wanted with Rajesh Khanna."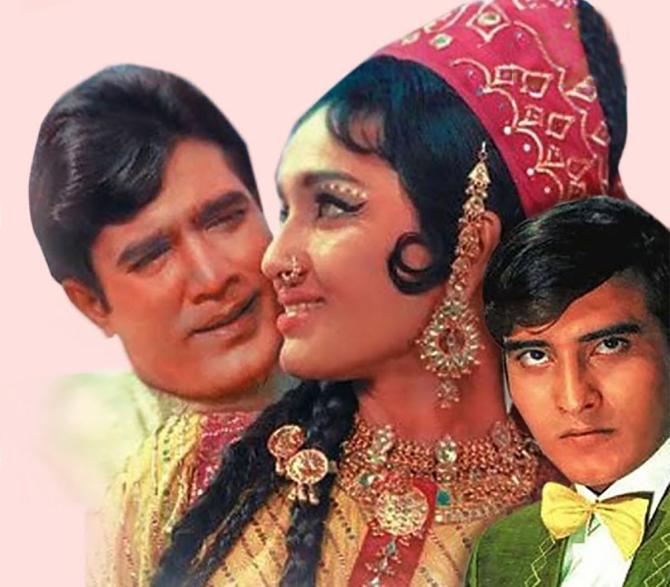 Did Ashaji see any changes in Rajesh Khanna?
"Changes toh hona hi hai. But he was always sweet and polite with me," she recalls.
"There was no change in his behaviour towards me. I remember we had a lot of fun shooting for the song Achcha Toh Hum Chalte Hain in Aan Milo Sajna. We had to hurry the shooting as we had to catch the sunset."
"In haste, Rajesh and I got confused about the lyrics and began to mime each other's lines. We had a good laugh over that."
The song was among the most popular of their careers.
"We knew it was a big hit. Both Rajesh Khanna and J Om Prakash, the producer of Aan Milo Sajna (whose brother-in-law Jagdish Kumar fronted as the film's producer) had a terrific music sense," the legendary actress remembers.
"Rajesh Khanna sang such big hits on screen in Aan Milo Sajna, Kati Patang and many other films. With J Om Prakash, I did three films -- Aaye Din Bahaar Ke, Aaya Saawan Jhoom Ke and Aan Milo Sajna. All had chartbuster music composed by Laxmikant-Pyarelal," recalls Ashaji fondly.
What made J Om Prakash repeat her in his films?
"Because I gave the hits!" she exclaims. "Also, I was professional and worked hard. I didn't bring any baggage to the sets."
"When I look back, I see how hard I worked and how careless I was about keeping good health. Twice I suffered back injuries when the same hero (Joy Mukherjee) dropped me while carrying me, once during the shooting of Ziddi and once during Love In Tokyo. Do I regret anything? Nothing at all. It was all very fulfilling."