'In this day and age when love is just a swipe away, Shiddat talks about love in its purest, most honest form.'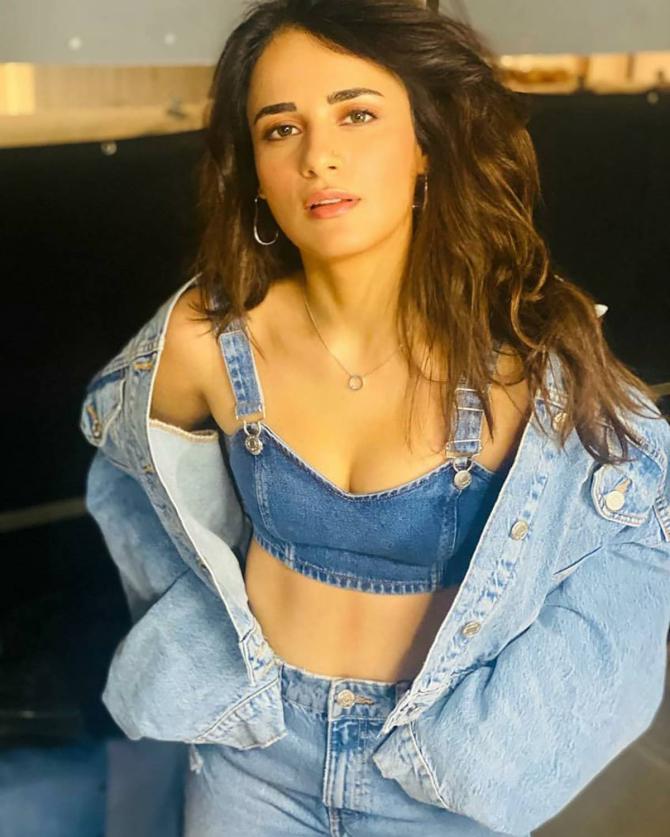 Radhika Madan believes marriage is for keeps and is looking for someone who is a student of life, who's always learning and growing, and bringing this quality into the relationship too.
When she meets her match, she wants to marry him in a small, intimate, ceremony.
Till then, the actress can fantasise about running into Ryan Gosling in Paris!
"And if that happens, it will be way more romantic than what happens in Shiddat," she tells Rediff.com Contributor Roshmila Bhattacharya.
Your upcoming film, Shiddat, started before the pandemic, was completed during it. How will you remember it five years from now?
As a film, Shiddat will always be fresh, relatable and relevant.
In this day and age when love is just a swipe away, it talks about love in its purest, most honest form.
It asks if we are even equipped to deal with it.
I'll remember it as a film that made me change my perspective of love.
How would you define love?
For me, love is accepting a person, wholly and completely. Not just for their strength but also helping them overcome their weakness and heal their wounds.
I love Turkish author Elif Shafak's famous novel, The Forty Rules of Love: A Novel of Rumi. It plays out through two parallel narratives, one set in the contemporary world of Ella Rubenstein, 40 years old and unhappy in marriage.
She is given Aziz Zahara's novel, Sweet Blasphemy, set in the 13th century, revolving around Sufi poet Rumi and his spiritual mentor, Shams of Tabriz, to read and review.
Together, the two narratives offer a timeless message that love is just love.
That's how I see it too.
With all its imperfections, and not attached to anything else.
What kind of a person would make this kind of a love come true?
Someone who is vulnerable, empathic and never stops working on himself.
Someone who is a student of life, always learning and growing, and bringing this into the relationship too.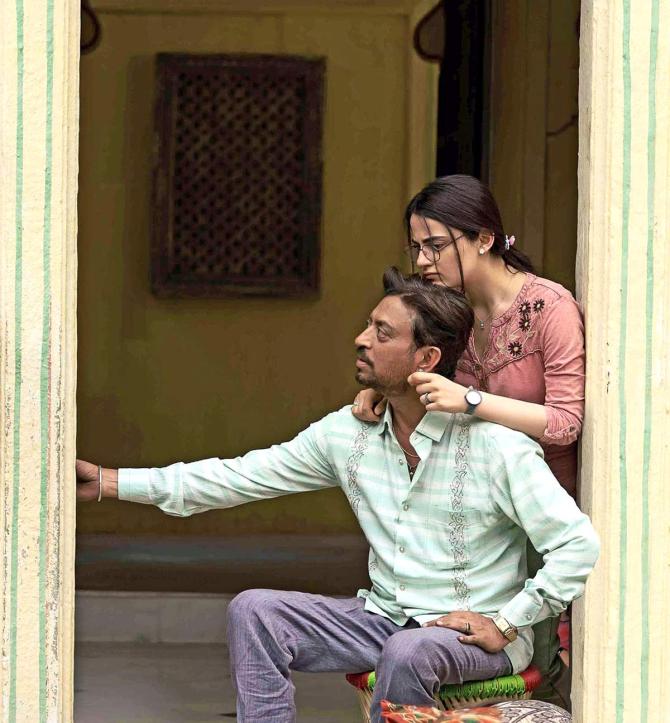 'Student of life' is a phrase I associate with Irrfan Khan who played your father in his last film, Angrezi Medium..
On his first death anniversary, you posted a picture from the set, of you playing with his beard and recalling how he would say that's perhaps why Champak would have never shaved it off. That's love too, in its purest form.
Definitely. I used to call papa on the set and he left a huge impression on me.
He taught me about life and art every single day.
He would never spoon-feed you.
But if you were observant, you learnt from his actions, from the way he was as a person.
I learnt that one should never stop being a student of life, no matter where you reach.
One should treat people equally, irrespective of whether they are newcomers or legends.
He inspired so many actors like me.
Today, I hope we can take the film industry to the next level with our art, and the lessons we learnt from him.
What has the last year-and-a-half taught you? Has the pandemic changed your perspective about life?
I hit the reset button, and that helped me prioritise.
Work is something I love doing.
But I'm also here for my family, I want to see them happy.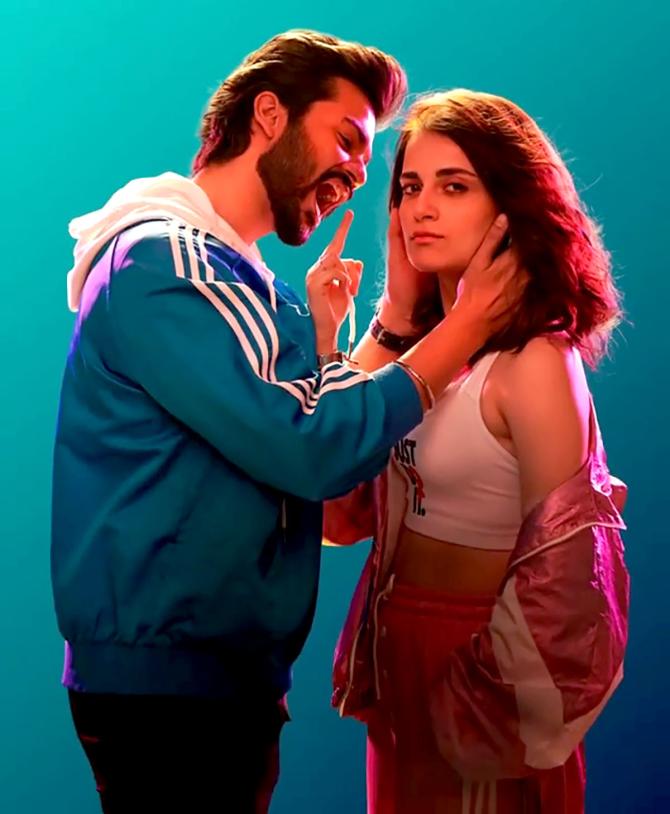 In Shiddat, your character is engaged to be married to someone while being crazy in love with someone else. What would you do if faced with a similar situation?
I would be engaged to the person I love.
Every girl has a certain vision of how she would like to get married. What's yours?
I want it to be an intimate affair, just 50 guests who are close to me, and nothing too fancy.
You are the perfect candidate for a pandemic wedding then.
I love pandemic weddings.
My best friend got married in the house where we grew up. It was so beautiful.
That's where I got idea that I want this kind of a wedding for myself too.
I don't want 500-1,000 people, some of whom I don't know at all, and some whom I haven't see in five years, come for such a special day. It's not fair!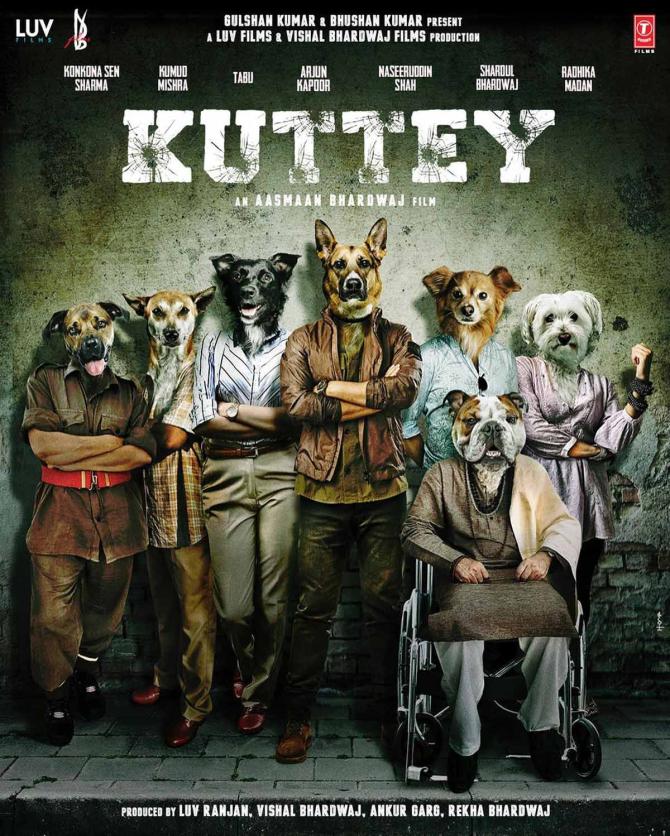 You started your innings with Vishal Bhardwaj's Pataakha and now you are on board a film, intriguingly titled Kuttey, directed by Vishal's son, Aasmaan.
Aasmaan and I used to hang out during Pataakha.
I had an idea that he was planning a film, but back then, he was still writing it.
More recently, when I read the script, I was so proud of him.
I hope I can do justice to his beautifully written script.
Pataakha was not just my debut film, it was a really special project which changed me as a person and an actor.
I found a good friend in Sanya (co-star Sanya Malhotra) and a family in Vishal sir and Aasmaan.
I can't wait to collaborate with them again. This is one production house that has always felt like home.
You are equally close to Dinesh Vijan's Maddock Films.
Dinoo is the one person who believed in me when nobody else did.
He hadn't even seen Mard Ko Dard Nahin Hota, only Pataakha, which had me playing a 32-year-old village girl, with bleached hair, tanned skin, stained teeth and 12 kilos overweight.
Still, he imagined me as an 18-year-old college girl and offered me Angrezi Medium.
Because he believed in me, I could believe in myself too.
The same thing happened with Shiddat.
He visualised me as Kartika. He was sure I could look a certain way and pull of this character who is so different from me.
She even compartmentalises love. I'll always be grateful to Dinoo.
Now, I'm doing a Web series with Dinoo and Homi (Adajania), my amazingly talented Angrezi Medium director. It's so much fun to collaborate with them again.
In Shiddat, you run into Sunny Kaushal's character Jaggi in Paris and fall passionately in love. If you were to go to the City of Love on your own, who would you like to cross paths with?
Ryan Gosling. I don't know if I would chance upon the La La Land and Crazy, Stupid Love actor there, but I want to believe I would.
And then...
(Laughs) And then it will be way more romantic than what happens in Shiddat.