'The amount of warmth I received from Aamir Sir during the shooting of Laal Singh Chaddha is very difficult to describe in words.'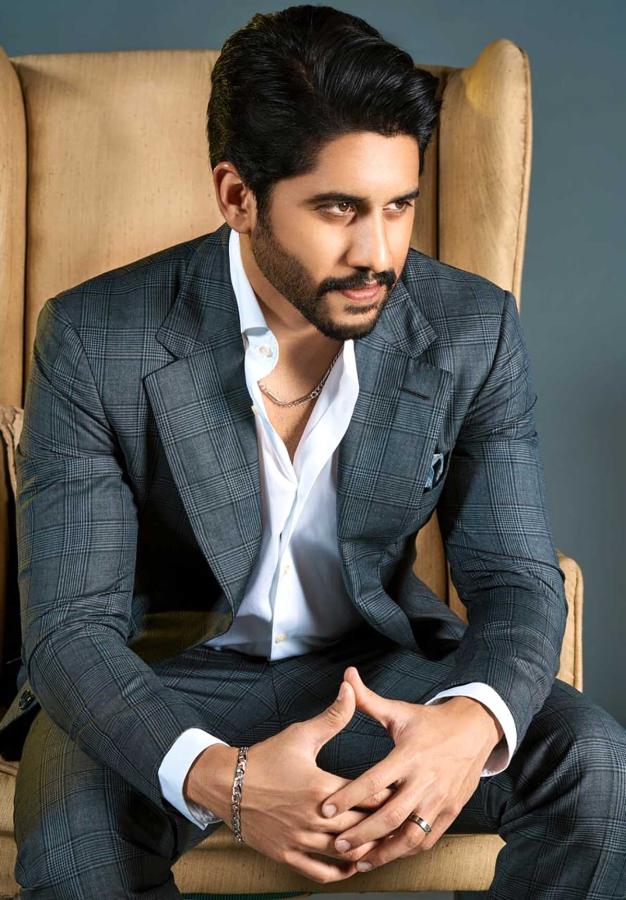 Naga Chaitanya's film Love Story, where he romances Sai Pallavi, releases on September 24.
Before the release, the star speaks to Subhash K Jha about the movie, his association with Aamir Khan and his forthcoming film with his father, Nagarjuna.
Aamir Khan had some wonderful things to say about you on the stage in Hyderabad.
It was a truly unforgettable gesture.
He didn't have to be there and he didn't have to say the things that he did.
It was totally unexpected.
Aamir Sir saw the trailer of Love Story, and he said he wanted to be there to support the team.
Having him there at the event was magical! He is too kind a person. The amount of warmth I received from him during the shooting of Laal Singh Chaddha is very difficult to describe in words.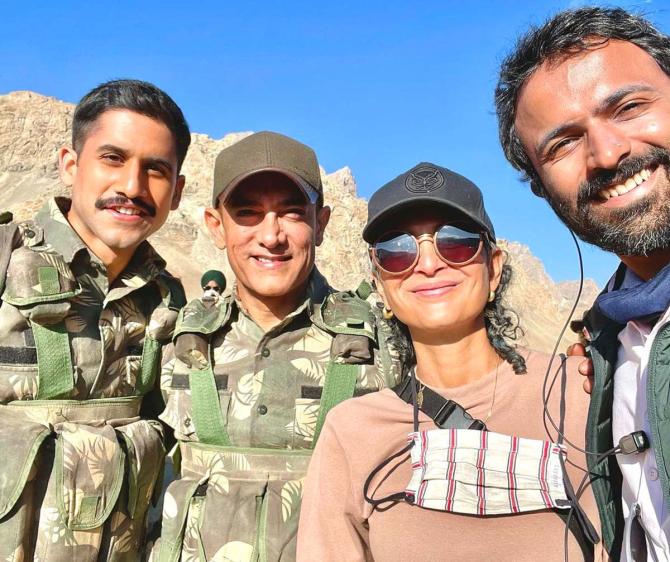 What was it like shooting with Aamir in Ladakh?
Lal Singh Chaddha is my debut in Hindi. And I'm so glad it happened with Aamir Sir.
It all happened very organically.
I first got a call from his office. Then, in the night, Aamir Sir spoke to me over a video call.
I flew to Mumbai and spoke some lines in front of him. Then, the dates went haywire because of the pandemic.
We were supposed to shoot in Turkey. But that didn't happen. We ended up shooting in Kargil.
Fortunately, everything fell into place eventually.
Do you say your own lines in Hindi in the movie?
Yes, I do, although my Hindi is not that good.
But I play a South Indian character and they wanted an accent. So they left my Hindi the way it is.
I had almost six months to work on my Hindi dialogues. The director sat with me and we worked on it.
It is not easy to emote in a language you don't think in. The process took time. But finally, I owned the dialogues.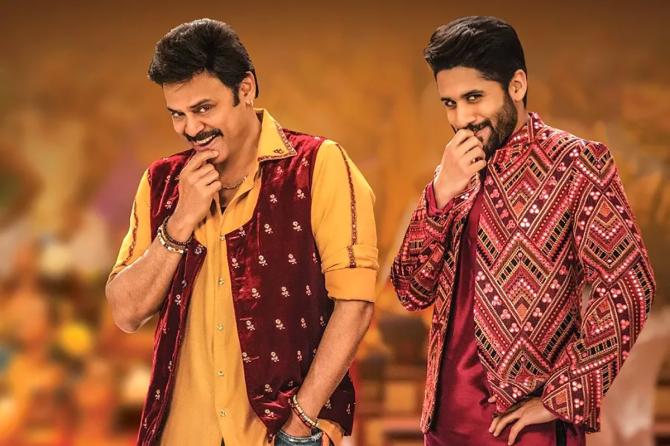 Your last release was Venky Mama with your uncle, Venkatesh. Did you choose a comedy to get over the intense roles you have been doing?
Yes, it was a break. I would like to add, though, that I like doing intense films. Real human relationships are my forte.
More than the comedy, working with my uncle was on my bucket list. He is great with comedy and family dramas.
It was a no-brainer that I'd do a comedy or a family film with him.
Doing comedy, let me tell you, is most challenging; it is the most difficult genre.
Interestingly, when you see a comedy film with the audience in the theatre, you hear them laughing at moments that you never thought would turn out to be funny.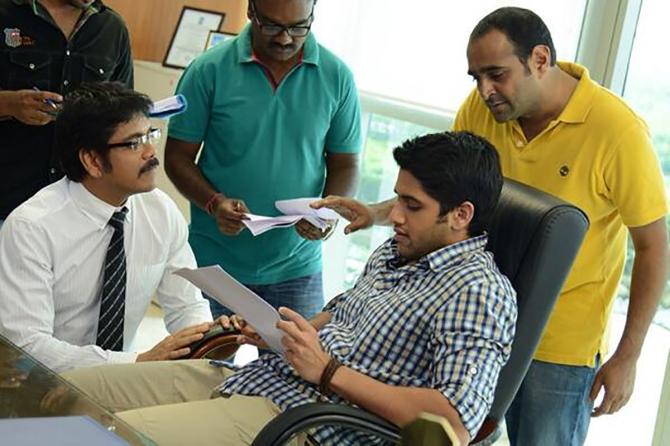 Is a sequel to Venky Mama on the cards?
No, no. But a sequel to my father's superhit film Soggade Chinni Nayana is happening. It's called Bangaraju and it will star my father and I.
The plot is slightly modified from the original. A role for me has been stitched in and there's some action too. It's going to be a commercial entertainer.
Is loud acting difficult for you?
While I prefer a more low-key style of acting, my uncle and father belong to the larger-than-life school of cinema for which I have to rearrange my acting chops.
People think commercial cinema is easy. I think it's very difficult to attempt anything in the larger-than-life genre.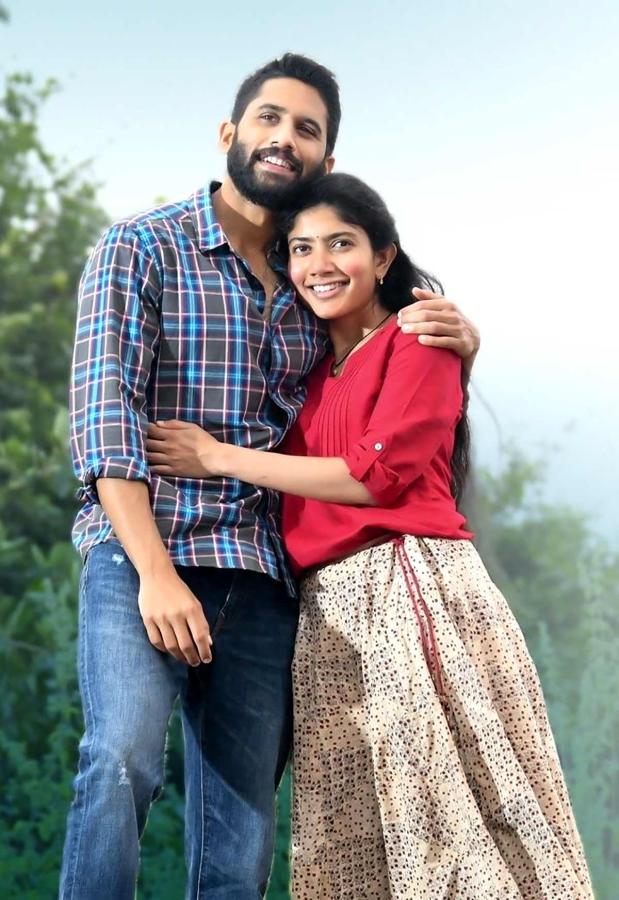 So is Love Story a larger-than-life love story?
No, it's very much in the realistic space.
Sai Pallavi and I play a working class couple struggling to realise our dreams.
The film looks at sensitive issues -- the caste system and gender discrimination.
It deals with real-world problems.
I play an underprivileged guy new to the city, trying to find his bearings. It required a lot of preparation on my part. It was a completely alien world for me.
Also, I speak my dialogues in the Telangana dialect for the first time. So far, all my films have been in the Andhra dialect.
The director, Sekhar Kammula, took me through my character for months before shooting.
I watched a lot of reference movies like Sairat.
This is the most challenging role of my career.
So far. You've just started.
Thank you for saying that. It makes me happy about the progress I've made.
What can you tell us about Sai Pallavi?
God, don't even ask! Very patient, very human, very real, very kind. She definitely complemented me on screen.
Finally, I hope everything works out well in your personal life. You deserve only happiness.
Thank you, Sir. Thank you for understanding.